You Don't Need a Driver and That's a Start
Or– Driver Updaters: Good For Nothing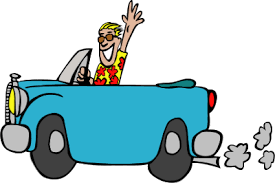 Whenever I write about drivers, I can hear the Beatles' song "Drive My Car" echoing in my brain. I think of the line that goes — "But I've got a driver and that's a start." And that's a perfect segue into the article – because you've already got a driver (many of them) and that's a start.
Darcy and I have the great honor and privilege of helping many people with their computers. From the help we provide via our Web site and email, to our Cloudeight Direct Computer Care services we are around a lot of computers every day.
During last dozen or so Cloudeight Direct Computer Care sessions we've had, we have noticed that almost all of them had at least one driver updater program installed. One PC had two driver updater programs installed, both running at Windows startup.
On the surface, driver updater programs sound like they would be beneficial to your computer – after all, the constantly scour the web looking for new drivers for your hardware devices. But newer drivers are not necessarily better, and oftentimes are not well tested. Have a program install new drivers just because new drivers are available is like having your car mechanic install a new water pump because a new one is available. Other than being great gimmick to make more money, it's not going to do you any good if your old water pump was working fine and not causing you any problems.
Driver updater programs are gimmicks. The companies that make them have a way of making them sound indispensable as if using an older version of a driver is bad for your system. It's not. Driver updater programs are generally worthless; you don't need one. Driver updater programs can and do cause problems by updating drivers that don't need to be updated and/or updating drivers that are working with newer drivers recently released and which may have not been well tested.
Many times, driver updater programs are distributed as part of questionable software bundles which can load up your computer with PUPs, browser hijackers and browser homepage hijackers.
We don't even like Windows Update installing drivers. Here we show you how to stop Windows Update from automatically updating drivers.
If you have a driver updater program installed, now  is the time to remove it from your computer before it causes problems. If you leave driver updater programs on your system long enough they can cause major problems.
The only time you ever need to update drivers is if a device is not working correctly. The old adage, "if it ain't broke, don't fix it", applies here. There are only two safe ways to update drivers and they are:
Visit the hardware device's manufacturer's Web site and download them –

Or get the correct driver for your device from your computer manufacturer's Web site.
Take our advice and get rid of any driver updater programs you may have installed accidentally – or on purpose. You just might be saving yourself a lot of trouble down the road. And why take chances?
Here are some names of driver updater programs you may find on your computer:
Slimware Utilities Driver Update
Driver Support
Driver Booster
Advanced Driver Updater
Smart Driver Updater
But there are many others.