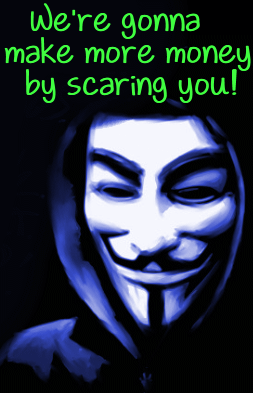 We have been literally besieged with emails from folks who subscribe to other tech newsletters – besides ours — who want to know if a new program created to stop the Cryptolocker ransomware malware, which as  featured in newsletters x, y, or z is any good.
We wrote an article, a while back, about Cryptolocker and in that article we noted that Cryptolocker isn't new, it's just the same, old ransomware with a new name and a new modus operandi. These kinds of malicious programs have been around for a decade, but leave it up to visitor-hungry Web sites and subscriber-thirsty newsletters to sensationalize for no other purpose than to scare readers and attract attention.  If you read some newsletters, you would think that Cryptolocker is brand new – and the worst malware to ever hit the Web and you can hardly avoid getting it. But folks, these newsletters know better. They just want more visitors and more subscribers, because that means more money for them. And there is nothing wrong with expecting to be paid for your time. It's not malevolent to make a profit, but profiting from scaring people and fear-mongering is just plain wrong.
When we discussed Cryptolocker,  we tried to make it very clear that as with most other malicious software, your best defense is your brain and your common sense. Cryptolocker (like the many other variants of ransomware over the years) spreads through user carelessness; people infect their computers by opening attachments when they don't know what the attachment is or they're not certain they even know who sent it;  clicking links in email from people or places they don't know; clicking links on compromised Web sites, and falling for scam ads that promise to speed up or which find loads of viruses and Trojans on their computer (none of which exist), then offering to clean them up.
Installing the program featured lately in many tech newsletters, may well fend off Cryptolocker, but no better than you could do but just stopping to think before you click. It's an unnecessary crutch you don't need, though it may work as described. If you keep using crutches to walk, eventually you won't be able to walk without them.
You can load your computer down with all manner of anti-spyware, anti-malware, anti-virus, anti-phishing, anti-hacking programs, but not one of these is necessary if we all just used common sense, slowed down and use the software God installed between our ears.
No, we're not recommending that you not use a good Antivirus program, nor are we saying you shouldn't use a firewall.  These are good backups to your brain and your common sense. But to install a program designed to stop just one thing — Cryptolocker, is unnecessary. Installing unnecessary programs is just cluttering your computer and who knows what kinds of software conflicts installing specialized software may cause with your regular security programs.
Some antivirus / anti-malware programs already, as a matter of course, provide protection, not only from Cryptolocker, but from most of the other ransomware from which Cryptolocker evolved. Emsisoft, is one anti-malware / antivirus we know of, that protects you from Cryptolocker and the other ransomware floating around out there. There are probably others as well.
We would love more Web site traffic; we would love more subscribers. But we refuse to assume a sensationalistic posture just to acquire more visitors or more subscribers. Sensationalism is a form of prevarication. It's hard to believe the editor of a tech newsletter would ever download and install a program created which has but one purpose. And if he or she wouldn't install it, why would they recommend it to their readers? Can you guess?
We will continue to give you the truth and the best possible advice regardless of the number of visitors or subscribers we have. We want you to trust what we say and teach you to think logically. Our best advice is:
Install a good antivirus / anti-malware like Emsisoft
Always use the latest version browser available (Chrome, Firefox, or if you must, Internet Explorer)
Do not click links in email unless you know who sent you the email.
NEVER EVER OPEN ATTACHMENTS IN EMAIL UNLESS YOU ARE 100% POSITIVE YOU KNOW WHO SENT IT, WHAT IT IS, AND YOU WERE EXPECTING IT.
SEE NUMBER 4
Never Panic
Don't rush – take your time and think before doing
Take your common sense with you on the Web and use it 100% of the time
Don't count on software to protect you 100% of the time against 100% of all malicious programs; it's an imperfect world, an even more imperfect Web, and not a single perfect program exists anywhere.
We want to help keep you safe. And if you follow the steps above, you will never get Cryptolocker or any other ransomware. You don't need no stinkin' special software to protect you against Cryptolocker… you just need your common sense and your brain.