You Say It's Your Birthday!
The Birthday Calculator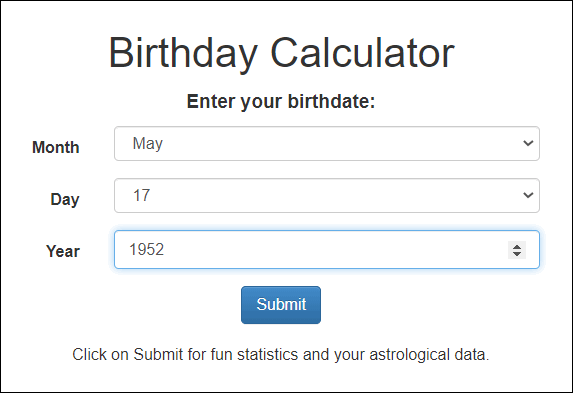 This site can tell you everything you ever wanted to know about your birthday, a friend's birthday, or a family member's birthday. Today is May 17, 2021. So, for example, let's say you were born on May 17, 1952. What does the old Birthday Calculator say about you and the day you were born?
Trivia
May 17th was the 138th day of 1952 and a Saturday.
Most people know their age in years, but did you know there have been 25,202 days since this birthday? That's 69 years old. In weeks, someone born this day would 3,600 weeks old.
May 17, 1952 was 6 days after Mother's Day.
Excluding solar-based holidays (like Easter), you could reuse your 1952 calendar in 2036. Both calendars will be exactly the same!
Someone born on this day has been alive during 18 leap years (including 1952).
From this birthday up to this day, there have been 853 full moons. How many of them did you see? The next full moon will be on Wednesday, May 26 at 11:16:00 GMT.
Other stuff you'll learn on the Birthday Calculator site.
Alternative Calendars

Zodiac Signs

Birthstones

Moon Phase

Celebrities with the Same Birthday

Famous People in History with the Same Birthday

Historical Events on this Date
So, you say it's your birthday, eh? Well, if you visit our site pick, you'll learn more about the day you were born than you ever knew… and maybe even more than you ever wanted to know.
Visit the Birthday Calculator page and learn all about the day you were born.
PS:  I just learned that EB has been stalking the planet Earth for 36,086 days. Wow! I'll be nicer to her for sure!