The New Windows 10 Taskbar Widget Called "News and interests"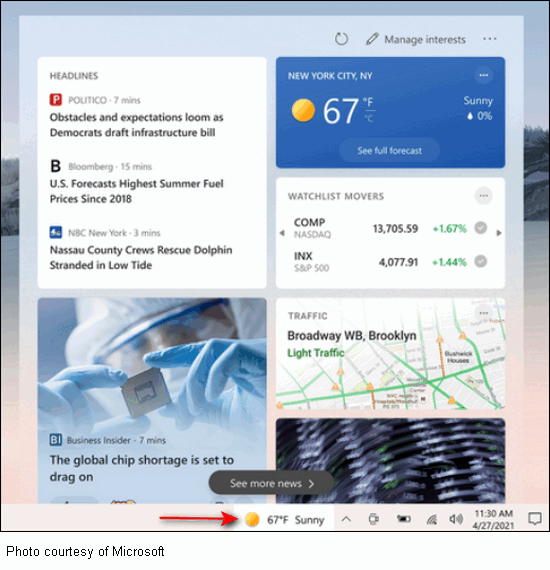 If you're using Windows 10 version 2004 (May 2020 Update), Windows 10 version 20H2 (October 2020) update or (when it is released) Windows 10 version 21H1, you will soon be seeing a new feature on your taskbar. It's called News and interests.  It displays your local temperature and weather conditions and when clicked opens a large panel showing the news from several sources. 
Some users have already received the feature and didn't want it and could not figure out how to remove it. Well, you can't remove it, but you can turn it off. Before we show you how to turn it on and off, we'll let Microsoft tell you more about the News and interest widget.
There's a new feature coming to Windows. As people spend more time on their Windows PCs, working, learning, connecting and creating, we're making it easier to access personalized content that is available at a glance and updated throughout the day. News and interests on the Windows taskbar will begin rolling out to customers over the next several weeks. We are taking a phased and measured approach and broad availability will occur in the coming months.

It should be easy to catch up on the things we care about. Yet, we're often stuck juggling devices, jumping between websites and looking across sources before finally getting what we're looking for: relevant and high-quality content. News and interests on the Windows taskbar simplifies this process with a convenient and personalized experience centered around you… (From the Windows Blog)
The "News & interests" widget also displays the weather on the taskbar as well. Because it's not a program or an app — it's a taskbar widget — you cannot uninstall it, but you can turn it off.
To turn off (or modify) the "News and interests" widget in the Windows 10 taskbar do this:
1. Right-click on an empty area of your taskbar.
2. Select "News and interests" from the popup menu and click on "Turn off" (see screenshot below).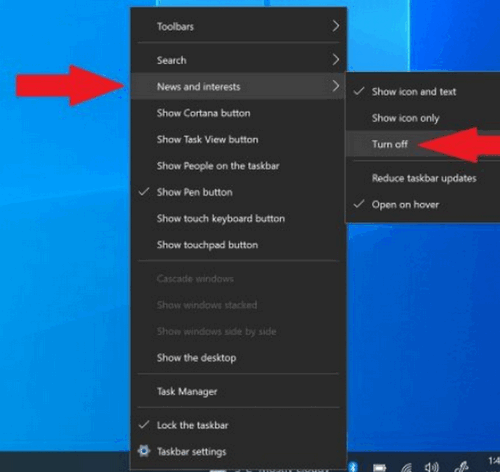 That's all there is to it. You can turn the News and interest taskbar widget on or off, select "icon only", "Show on hover" and reduce the frequency of updates, all by right-clicking on the taskbar and selecting "News and interests".
If you don't have the News and interests widget on your taskbar yet, you will. Microsoft is rolling it out slowly via Windows Update.
If you're interested in learning more about this new Windows 10 feature, stick around and watch the Microsoft Windows video below.