Partitioning your hard drive is good thing to do, especially if you have a very large hard drive (500GB or more). Partitioning is really just dividing up your hard drive like a piece of pie. Imagine a great big cherry pie…yum! Now imagine you cut it into three big pieces. One of those pieces contains cherry pits and so you don't want to eat that because you've already lost enough teeth. If this cherry pie was your hard drive, the piece with the cherry pits would be the partition on which Windows was installed. You don't want to mess with it.
So, let's say you have a brand new computer with a 500GB hard drive, which is Drive C. That's the cherry pie. Now let's say you wanted to cut that pie in 3 pieces. You could partition your drive into a 200 GB drive (Drive C) on which Windows is installed – the piece with the pits. Giving Windows 200 GB of space is a good thing – the more space Windows has the more it can do its thing. That gives you 300GB of space left. You can create two partitions with 150GB each (Drive D and Drive E). You're thinking wait! My DVD/CD drive is D, what about that? Well your CD/DVD will become F Drive.
OK, now anyway you've carved up your hard drive pie into three partitions: Drive C with 200GB and Windows installed on it; Drive D with 150GB of space with nothing on it; and Drive E with 150GB of space and nothing on it. You can be really OC and use Drive D for programs and Drive E for media files (pictures, videos, music) and you'll be organized and happy. Or you can be like TC and start off with good intentions and end up with programs installed all over the place. Either way, it's OK as long as Windows is separate from the rest.
Why is keeping Windows separate from the rest a good idea? Ha! That's easy. If Windows goes belly-up and you have to reinstall Windows – after you've reinstalled Windows, guess what? Drive D and Drive E are untouched. All your files are still there. You might have to reinstall the programs again becuase many programs require registry entries and reinstalling Windows wipes the registry too. But if you have your registration keys and installation files, reinstalling the programs to the exact same location on Drive D (for example) is a snap. And of course, all those precious photos and other media files are untouched on Drive E. No more fretting that you've lost that picture of yourself when you used to be slim and attractive.
Well, we're getting way off-topic here. Those of you who know what partitioning is don't need a lecture and those who don't probably won't care – but maybe those of you who don't know anything about partitioning have learned a little about cherry pie?
Yes, yes! It's time to bring in our featured software author, Mr. Partition Wizard himself to tell you all about his wonderful program. Take it away Mr. Partition Wizard!
Partition Wizard Home Edition is a free partition manager designed by MT Solution Ltd. It supports 32/64 bit Windows Operating System including Windows XP, Vista and Windows 7. Home users can perform complicated partition operations by using this powerful but free partition manager to manage their hard disk partition such as Resizing partitions, Copying partitions, Create partition, Delete partition, Format partition, Convert partition, Explore partition, Hide partition, Change drive letter, Set active partition and Partition Recovery.
Partition Wizard Home Edition is designated for home user (sic) only, to use Partition Wizard in a business envirnoment (sic), Partition Wizard Business Edition is required.
Main Features
* Support Windows 2000/XP/Vista/Windows7 (32 bit & 64 bit) operating system.
* Support RAID.
* Extend system partition to improve computer performance to maximum.
* Manage the hard disk to get the best performance of computer.
* Create , Delete and Format partitions with simple steps.
* Disk Copy to protect or transfer data.
* Support disk and partition size larger than 2 TB.
* Convert partition format from FAT to NTFS.
* Partition Copy: Copy the entire hard disk to another one.
* Copy Disk Wizard: Copy the entire hard disk to another one without windows reinstalling.
* Disk Map – Visually demonstrate your disk/partition configuration; preview the changes before applying.
* Hide/unhide partition, set active partition, etc. – Change partition properties.
* Explore FAT/NTFS partition…"
Thank you, Mr. Partition Wizard! I'm sure our readers enjoyed your description and verbiage. Now I'm sure, they'll enjoy a screen shot of Partition Wizard which proves, beyond a doubt that we actually installed and tried it: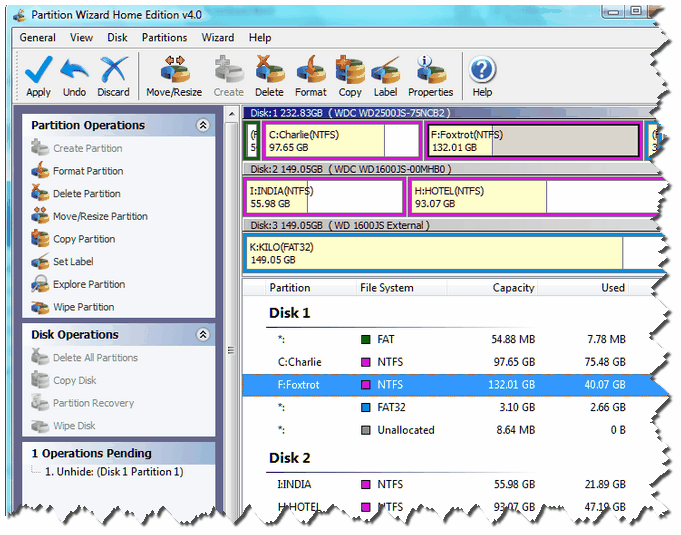 Yes, folks, that's an actual screen capture of TC's desktop computer with all those wonderful drives and partitions! Ain't he the bomb? See we really do try these programs, folks! OK enough of this. I'm tired of typing and you're tired of reading. All you want is the darn program right? After all it has passed our rigorous tests and we've certified Partition Wizard as one of our freeware picks. Go get it!
Partition Wizard
Windows XP, Windows Vista and Windows 7
32bit and 64bit Windows
5.5 MB Windows Executable (EXE)
Download times: 35 minutes on dialup; a few seconds on broadband