FotoSketcher
What is it? A photo editor
What operating systems? Windows 98, ME, NT, 2000, XP, Windows Vista, Windows 7
How is it distributed? Freeware, Windows EXE file
How big is the file? 2.9 MB – Dialup users will take about 15 minutes to download it. Broadband users – a second or two.
Have you ever wished you were an artist and could paint or sketch Arcadian scenes or bucolic landscapes? Most of us aren't so talented so we have to rely on the talent of others to provide us with paintings and sketches. EB was an artist at one time, but she lost her artistic talent at the age of five when she fell head-over-heels in love with Robert, a svelte seven year-old from Tasmania. It was love at first sight. But, alas, Robert's parents returned to Tasmania with their pet devil and EB was heartbroken and never picked up a palette again.
Seriously, now, we've all wanted to create beautiful works of art but few of us have the talent. That's where this week's freeware pick of the week can fill the void. With it, you can take your digital photographs and turn them into pen & ink drawings, pencil sketches, watercolor paintings, oil paintings and more. Best of all you don't need any talent – just play around with the settings until you get the look you wand and click "File" "Save as" – that's all the talent you need. And, we're not kidding when we say that this is one of our best freeware picks ever – everyone can have fun with it and everyone can use it. You don't have to be a software engineer or even read the help files to fire this program up and use it the first time. Really. We're  not kidding!
Here, take a look at something we did in about 45 seconds with FotoSketcher. We could have made it look even more like a painting had we played around with the program's slider adjustments a bit more. But, hey, it looks great to us – how does it look to you?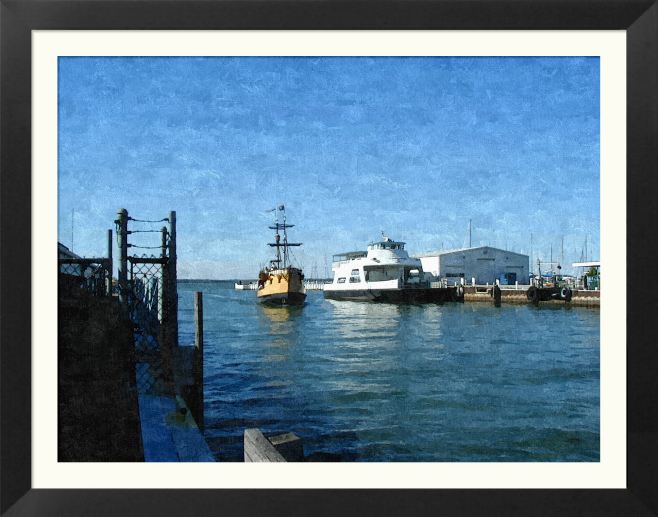 The picture above was a digital photograph taken at Sandusky Bay and rendered by FotoSketcher. You can see all kinds of different renderings in the FotoSketcher gallery.
At this time we'd like to introduce FotoSketcher's creator, Mr. David Thoiron:
"FotoSketcher is a 100% free program which can help you convert your digital photos into art, automatically. If you want to turn a portrait, the photograph of your house or a beautiful landscape into a painting, a sketch or a drawing then look no further, FotoSketcher will do the job in just a few seconds.
Thanks to FotoSketcher you can create stunning images to make original gifts for your friends or relatives. Create birthday cards, season's greetings stationary or simply print your work of art and hang it on the wall.
Different styles are available: pencil sketch, pen and ink drawing, various painting renderings. You can also improve your original photo with simple tools (enhance contrast, sharpen, simplify image, increase luminosity, color saturation etc…).
FotoSketcher is completely free and does not contain any adware, spyware or virus. It runs on any version of Microsoft Windows (sorry, no Mac version available)…"
There you have it, from us and from the program's author – we will be shocked if you're not fascinated and amazed by this really great program with the really great price tag – $0.00. So, ,if you're interested in reading more about FotoSketcher or in downloading it, please visit the FotoSketcher home page right now. It's one of our best freeware picks ever.
Get more computer tips, more freeware picks, and a lot more in our Information Avenue free newsletter. Our weekly newsletter is published every Saturday. Signup here – it's free!