Beware the Adobe Flash Player Bundle
If you're using a browser like Firefox or Internet Explorer where Flash Player is still an add-on… heads up!
Adobe has long played games with its installer. They used to try to trick you into installing McAfee Site Adviser. But now Adobe and McAfee have teamed up to make things even worse… with  Adobe now bundling two questionable McAfee products with its Flash Player installer.
It's important that you keep Flash Player up-to-date, and it's too bad that Adobe takes advantage of people by bundling two essentially worthless McAfee browser extensions with Adobe Flash Player.
We recently became aware of this when one of our subscribers noticed he had McAfee software on his computer, but never installed any – and no McAfee software came pre-installed on his computer. So, today we did a test. Our Firefox browser showed that Adobe Flash Player was outdated and needed an update We went ahead and did the update and this is what we found.
When we tried to install the Adobe Flash Player update, there were two "Optional offers" – both were pre-selected.  The first pre-selected offer was "McAfee Security Plus" a useless browser extension. The second offer, even more worthless than first, is called McAfee Secure Connect – which supposedly protects your "online activities and personal info" you with a single click – which it most certainly does not.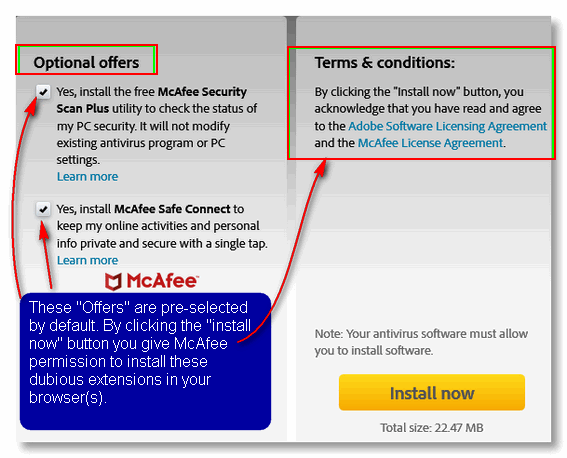 Be sure you don't rush through the installation of this tricky "brand name" software bundler.  Uncheck both boxes on under "Option offers" before you click the "Install now" button.  This is a really tricky one – you must click the "Install now" button to install the software you came to get, but if you don't uncheck those two "offers" you're going to end up with two browser extensions you didn't know you were getting – and most assuredly don't need.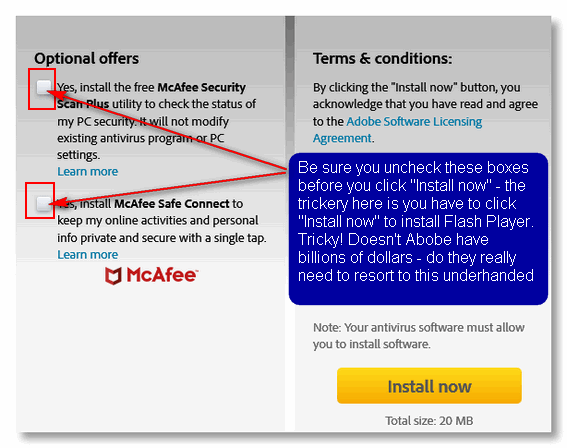 Now you now what to look for, you should be able to avoid this software bundling attempt by two brand names you should be able to trust, but unfortunately can't.
If you're using Chrome or Microsoft Edge you never need to download Flash Player or update it. Flash Player is included with Chrome and Edge and is updated whenever the browser is updated.