Changing Font Sizes In Windows 10 is Soon Going to Get Much Easier
A couple days ago we showed you some of our favorite features that will be included in the next version of Windows 10 (Version 1809; October 2018 Update). We left our most favorite one off that post because this one deserves it's own place. This feature is sure to one of the most, if not the most welcome of all the new features coming to Windows –especially to those of us who are getting older and often find the text in Windows too small… squint… squint.
Up until the Creators Update  (Version 1703) you could easily change font size in Windows 10. But for some unknown reason Microsoft removed that feature. And since then, if you wanted to change font sizes without jumping through registry hoops, you had to install a 3rd party program like System Font Size Changer.
Microsoft must have heard the gnashing of teeth and the sighs of exasperation from us older Windows 10 users, because in Windows 10 Version 1809 (coming in October) all you have to do is press Windows Key + U to open the Ease of Access center and click "Display". When you do you'll  see a slider you can use to make to make the font bigger… much bigger if you like.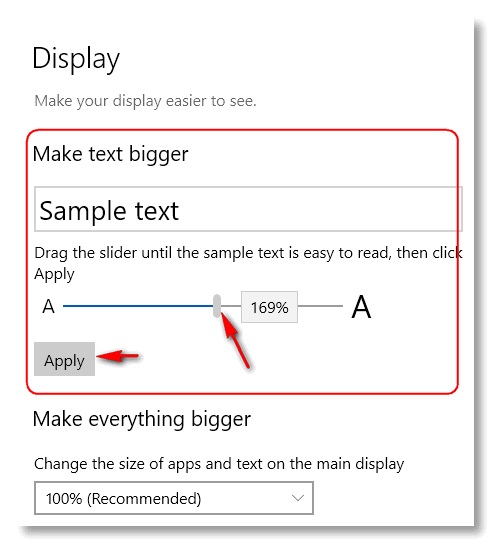 In the screen shot above: You will note that the size of the text increases as you slide the slider to the right. Look at "Sample text".  It gets bigger as you move the slider to the right and smaller when you move it to the left. When it's the size you want, click "Apply".  It doesn't get any easier than that. 
The best part? It actually works. It's our very favorite new feature coming in Windows 10 Version 1809, which so far looks to be one of the best new versions of Windows 10 ever. But we'll hold off on making any rash judgments. Only time will tell. The beta (test) version of Windows 10 1809 actually runs better then the current released version (Version 1803). It doesn't seem buggy at all . But remember – your mileage may vary. And there's still a couple months to go before Windows 10 October 2018 Update (Version 1809) is ready for prime time. So far though, we like it.