Chrome Broken? Here's the Ultimate Fix
Over 1500 of you have voted in our most recent browser poll, and Chrome is by far the most popular browser – at least among those of you who voted in our poll. Here are the results of the poll: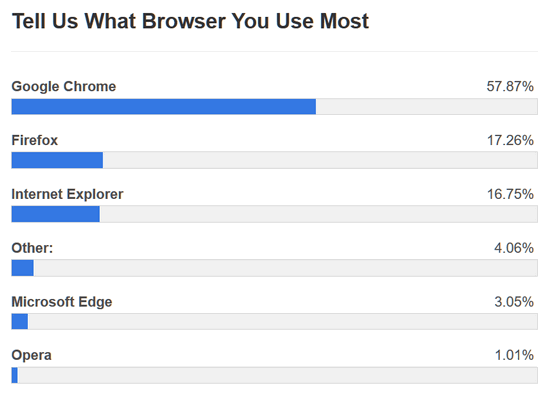 Google Chrome's percentage would be higher, but it seems some Chrome users are finding out that Chrome can break like any other program. If Chrome is not working correctly for you, and you've tried disabling extensions, clearing history and resetting it to no avail, here's a tip that may work for you. We have used this tip when repair Chrome on our own computers and when we work on computer with our Cloudeight Direct Computer Care repair service.
Remember, this is only if you've tried everything else and nothing seems to work.
 Export your bookmarks by following the instructions here. Remember where you saved your bookmarks file, you'll need it when your done completely uninstalling & re-installing Chrome.
 Make sure you've enabled "View hidden files and folders" . On Windows 10 type File Explorer Options in the taskbar search and press Enter when you see File Explorer Options appear at the top. On older versions of Windows open Control Panel and in Icon View (not Category view) click on Folder Options (Windows 7) or File Explorer Options (Windows 8.1).
In File Explorer Options (or File and Folder Options in Windows 7) tick the circle next to "Show hidden files, folders, and drives".
Uninstall Chrome using Control Panel / Programs & features – or your favorite uninstaller such as Geek or Revo Uninstaller.
After you've uninstalled Chrome, find the folder called Google in C:\Users\***Your User Name***\AppData\Local. Right-click on it and delete it. Next check C:\Users\***Your User Name***\AppData\Roaming. Find the folder named Google and then right-click and delete it. If you don't find a Google folder in App Data/Roaming, just move on to the next step.
 Restart your computer. This is extremely important… so don't skip it.
 Import your bookmarks from the bookmark backup you made at the beginning of this tip.
 Add your favorite extensions – but be careful – don't install too many extensions, that can be bad for your browsers health.
Chrome should be as good as new – since it is new.