When is the last time you checked your Macriums? I was checking mine the other day and they had little red bumps all over them. I went to the doctor and she palpated them and told me I had a little macrium reflect. She told me to take two Advil every 4 hours and not to eat broccoli for 14 days. I did as she directed and now my Macriums are as spiffy as a baby's.
Nah! You don't have any Macriums and neither do I. Let's get back to business…
How many times are you going to have computer problems and go through the same old routine? You know what we mean. You have major problems with your computer, you format, reinstall Windows and begin to panic because you don't have all your software, you lost your settings, your photos of Sasha Bensen are gone, you don't have the registration keys for the software you spent a small fortune on. So you spend the next 17 weeks writing to software companies begging for your registration keys; you write your friends and ask them to send you pictures of Sasha Bensen – especially the one where she's wearing that white hat with feathers; you wallow around in gloomy despair because everything you've been saving for years went down the proverbial tubes.
Finally, 27 weeks and 3 days later, your computer is usable again, Sasha Bensen graces your desktop – but not the picture of her in the white hat – you back up the 188 pictures of Sasha Bensens on 14 different flash drives and CD-ROM and – well – everything is more or less back to normal – but it isn't quite the same. But it's good enough. So you forget all about your terrible 27 weeks (and 3 days) and forget the importance of real, mirror-image backups. You go merrily computing along without a worry in the world. Again.
Then, a few years (or months) down the road another computer disaster strikes, and behold! You're right back where you were – another 27 weeks (and 3 days) of blood, sweat, and tears, it won't make you so very happy. When are you going to learn? The only good backup is a FULL mirror-image backup – a clone of your hard drive(s).
With an image backup you don't have to spend 27 weeks (and 3 days) rebuilding your computer – you might spend an hour. Once that hour is over – you're back up and running and everything is perfectly restored – down to that last photo of Sasha Bensen wearing an even cooler mauve hat with rattlesnake trim. Darn she looks good!
Oh Sasha! I have to get back to business…
What if we told you there is a program that is absolutely free – free as in zero dollars, free from spyware, add-ons, toolbars, bundles, partners, popups, unruly check boxes – totally free from annoyances of any kind; a program that works as well as $100 worth of Norton's Ghost and is even easier to use?
We're here to tell you that we've stumbled upon one of the greatest finds in all human history – even bigger than finding a cucumber that could recite the Gettysburg Address! We've found the backup program that even the most computer illiterate among you can figure out – just by looking at a simple tutorial. And those who are more computer literate can figure it out just by opening it up, sneezing and allowing the wizard to whiz you along. See?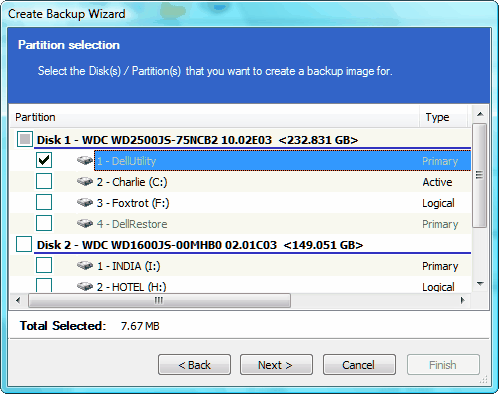 Reflect is a powerful mirror-image program as good as or better than most commercial mirror-image backup programs. It's truly amazing that this program is free:
The Thane of Macrium says:
"The fastest disk imaging software is now available as a free edition.
Absolutely free! No strings! The only free XP, Vista and Windows 7 compatible disk imaging software with BartPE and Linux based recovery options.
Create a disk image whilst running Windows using Microsoft Volume Shadow copy Service (VSS).
Image to Network, USB, FireWire drives and DVD.
Built in scheduler.
32 bit and native 64 bit versions.
Industry leading compression levels and speed.
Linux based Rescue CD with Network access and full GUI. Only 6.5MB in size!
Built in CD/DVD packet writing engine. Supports packet writing to DVD DL media with Windows Vista.
HTML log files…."
If you're looking for a real backup program – one that mirrors your hard drive(s) and creates an exact clone – one that includes an .iso file for making a GUI-based restore disk so you can boot your computer from it and use your backups to completely restore you computer to its previous state – exactly – in less than an hour – this is it!
You'd benefit from a trip to the Macrium Reflect Web site – and reviewing the short tutorial. It's a snap to use – anyone can learn to use it. Now none of you will ever need to write us or anyone else again for your software registration keys. And you will never have to beg anyone for pictures of Sasha Bensen. Get more information about and/or download our freeware pick Macrium Reflect here.
The Details
Macrium Reflect
Windows XP, Vista, Windows 7
32bit and 64 bit (both versions are contained in one installer)
31.4 MB Windows Installer
What is it? A free mirror-image backup program
Do you have a freeware program you love? Tell us about it!