Easily Backup Your Gmail With UpSafe Free Gmail Backup
First, we want to point out that Google lets you backup your Google Account (including Gmail) free. It's a bit convoluted and somewhat time-consuming, but it can be done. We show you how to do that here.
But finally, there is an easier way to backup your Gmail account. A freeware program called UpSafe Free Gmail Backup makes it a snap to backup your Gmail account. UpSafe Free Gmail Backup allows you to back up a maximum of 5 GB of data.
Why would you need to backup your Gmail account?
You might want to keep a backup of your Gmail account on your PC in case you lose access to your account, you don't' have an internet connection and you need to find an important email. or just because you would sleep better at night knowing you have a copy of your Gmail account on your PC.
The program is easy to install – no tricks, gimmicks or bundled software. But the download link is rather hard to to find – it's at the very bottom of the page. We'll also give you the direct download link a bit later.
UpSafe will back up all your email to one file – or you can choose options from the backup options dialog such as Sent Date, From contains, To contains, Subject contains and Folders.
Once the copy of your Gmail account ss downloaded you can browse the backup by clicking on "View mail backup".
UpSafe can restore single items or your entire Gmail account — but remember, the free plan is limited to 5 GB.
You can also restore your data to a different Gmail account. This is an especially nice feature because it makes it easy to move all your mail to a new/different Gmail account.
UpSafe Fee Gmail Backups are incremental. That means only new data is added to your current back up.
If you choose to register your UpSafe Gmail Backup Program — registration is free — UpSafe will keep a history of your backups and allow you to schedule automatic backups. You can also choose to have UpSafe automatically backup your Gmail account on demand and/or choose to have the backup run whether you're logged in or not. Registering the program also gives you access to more features. Of course, you'll have to give Upsafe your email address when you register.
If you choose the archiving option, UpSafe will download all your Gmail, delete all the email in the account and store a copy of all your email on your computer. You can save it on a USB flash drive or external hard drive. This option would only be viable if you needed to free some space on your Google account.  Since the free version of UpSafe Gmail Backup is limited to 5 GB and you get 15 GB of space with your free Google account – well, you do the math, eh?
UpSafe Free Email Backup does not back up your contacts, but you can export contacts easy enough from your Gmail account to a CSV or vcard format. Learn how to backup your Gmail contacts here.
As far as I can tell, while it sounds a bit wiley, I don't believe UpSafe Free Gmail Backup accesses your personal information any more than an email program does. Remember email programs like Thunderbird, Outlook, etc. save your Gmail login credentials as well.
UpSafe Gmail Backup does give you the option to automatically log out of Gmail when you close the program for additional security.
UpSafe Free Gmail Backup's installer contains no malware and no bundled software.
If you have a lot of mail in your Gmail account, it can take quite a while to back it up, so be patient. 
You can read more about UpSafe Free Gmail Backup here. The download button is down near the bottom of the page. 
Here's a direct link to the download.
More screenshots and a video to help you learn more about UpSafe Gmail Backup Free.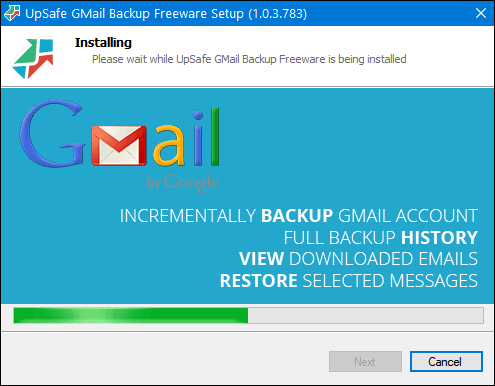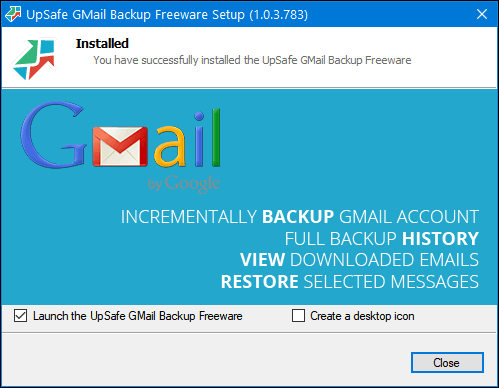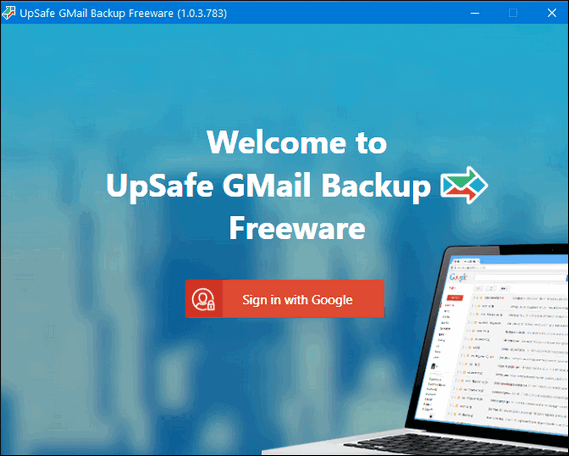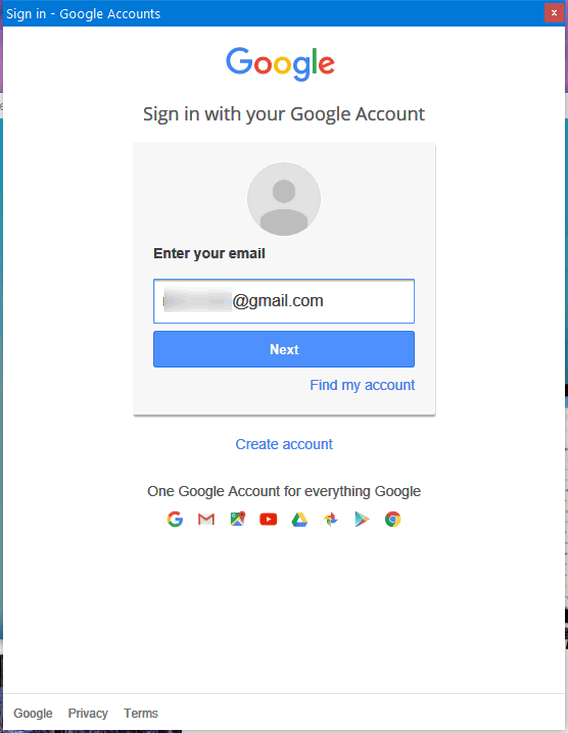 Above: Yep! It looks a bit suspicious until you consider an email client like Thunderbird, Outlook, etc. has the same permissions. Watch the video at the end of this post to learn more.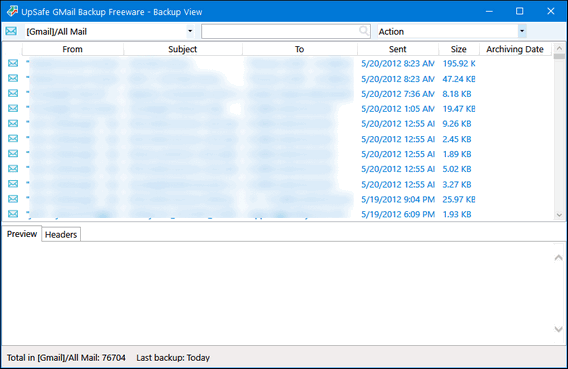 And finally, a video from UpSafe Gmail Backup for your viewing pleasure.