Edge Dev
Talk about catchy names, what do you think of a Chromium-based Edge browser called Edge Dev. Microsoft pays huge salaries to its software engineers, and the best name they can conjure up is Edge Dev? They need to contact the pharmaceutical companies who have unlimited creativity and can think of names like Talz and Ozempic (Oh! Oh! Oh! Ozempic!). I'm sure they'd come up with something catchier than "Edge Dev".
I would call it Nessie, or Nautilus or Fog Horn – It's the ancient mariner in me – but never would I call it Edge Dev. And rumor has it, they're going to keep on calling it Edge Dev. And even worse, they're still thinking about continuing to update Edge. So, soon maybe Windows 10 will ship with Edge and Edge Dev installed.
I've been testing Edge Dev since April – in fact, I was daring enough to make it my default browser on my main laptop – and so far I'm very impressed. I was never impressed with Microsoft Edge, as it seemed all MS wanted to do was make something bizarrely different than Chrome. Since Chrome is now used by 67% of people, you'd think that Microsoft would have made a more Chrome-like browser. Not Microsoft. At least not until April when they came out with an early test (beta) version of Edge Dev and in their own way, tipped their caps to the Google Chrome team.
In the three months that have passed since I first installed Edge Dev, it has become more and more stable. And now I feel comfortable in recommending it those of you hearty souls who like to try new things. Edge Dev is very stable. It has not crashed on my laptop since the first few weeks it was installed.
It's very much like Google's Chrome browser, in fact, it's so much like Chrome you can even install Chrome extensions – and the ones I've installed run very well in Edge Dev.
Edge Dev was only available to Windows 10 users until a few weeks ago. Now it's available to Windows 10,  Windows 8x, Windows 7, and macOS users too.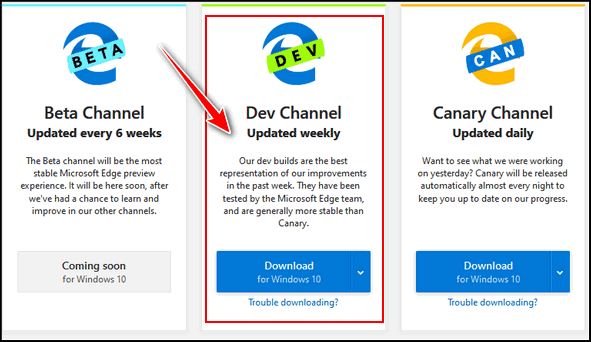 You can download Edge Dev for Windows 10 from this page. We suggest you download the Dev Channel version (the one in the middle) otherwise you'll be spending more time waiting for it to update than using it.

On the same page, under the Windows 10 download, you'll find the download for Windows 8.1, Windows 8, Windows 7 and macOS. 

You can change the default Search engine in Edge Dev's address bar by clicking the settings icon in the top-right corner (three horizontal dots).  The scrolling down until you see "Address bar". Although it's not highlighted or underlined, if you click on "Manage search suggestions and search engine used in the address bar" you'll be able to change search engines. There's actually a very nice selection, including Duck Duck Go. Surprisingly, Google is the default.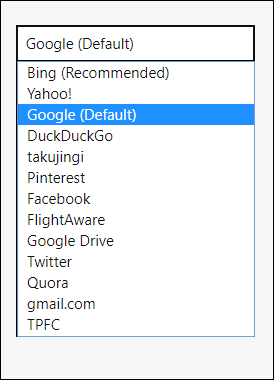 And if you want to use Chrome extensions from the Chrome web store, you have to open Settings and then click on Extensions…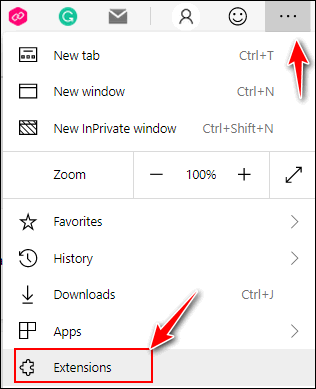 And flip on the switch next to "Allow extensions from other stores".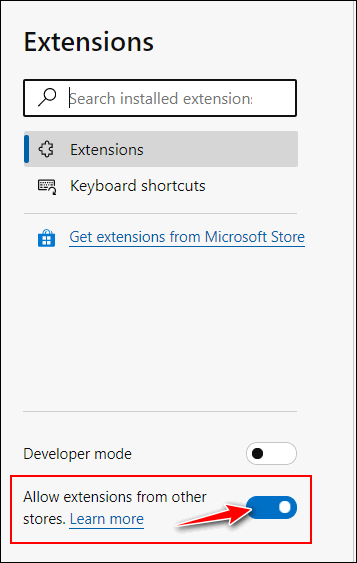 Once you turn that switch on, you'll be able to install extensions from the Chrome web store as easily as you install extensions in Chrome.
You'll find that Edge Dev has a very familiar look. It's the best browser Microsoft has made since — well it's the best browser Microsoft has ever made – that's my opinion. Your opinion may differ.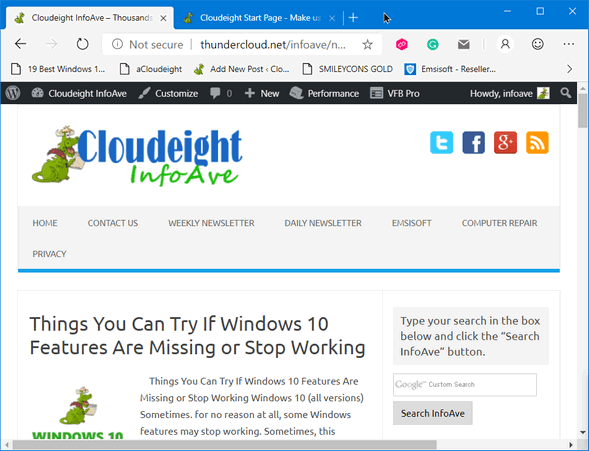 But if you want to try it, it's very stable and you won't be risking a disaster by trying it. And you may just like it enough to keep it.