Email Extortion Phishing Scams Are Back — You Have Been Very Naughty!
You are a very naughty person and I know all about you!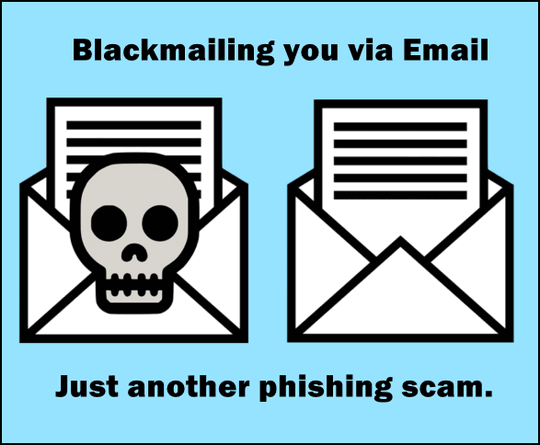 Although extortion emails have been around for a few years, after a short period of dormancy, they're back and apparently in full vigor.
Blackmail, extortion, or sextortion?
Whether you call them extortion phishing emails, or blackmail phishing emails, or "sextortion" phishing emails – they all have one purpose – to scare you into parting with your hard-earned money.
We want you to know what email blackmail, extortion, and/or sextortion phishing scams are, what the emails contain, and how to deal with them should you be the recipient of one of them.
Recently, we have again started receiving emails from readers who have been targets of extortion emails  And we want to remind you all that extortion emails are just scams designed to scare you (sound familiar?) into paying the criminal.
Here's one we received that appeared to have come from one of our @thundercloud.net email accounts. This sleight-of-hand of sending email from what appears to be your own address is meant to show you that the criminal has control of your computer. But don't worry — anyone with a little computer skill can forge a "From" address.
We occasionally receive phishing emails like this. We have removed some nasty language but all of these kinds of phishing emails are worded similarly:
Hi! As you may have noticed, I sent you an email from your account.

This means that I have full access to your device and accounts.  I've been watching you for a few months now. The fact is that you were infected with malware through an adult site that you visited.

If you are not familiar with this, I will explain.

Trojan Virus gives me full access and control device.

This means that I can see everything on your screen, turn on the camera and microphone, but you do not know about it. I also have access to all your contacts and all your correspondence.

Why your antivirus did not detect malware? Answer: My malware uses the driver, I update its signatures every 4 hours so that your antivirus is silent.

I made a video showing how you satisfy yourself in the left half of the screen, and in the right half you see the video that you watched. With one click of the mouse, I can send this video to all your emails and contacts.

If you want to prevent this, transfer the amount of $2000 to my bitcoin address (if you do not know how to do this, write to Google: "Buy Bitcoin"). My bitcoin address (BTC Wallet) is: 124yCNJHAwda8Kgxv9DswpS9k16XXXEstSqcJ

After receiving the payment, I will delete the video and you will never hear me again. I give you 48 hours to pay. I have a notice reading this letter, and the timer will work when you see this letter. Filing a complaint somewhere does not make sense because this email cannot be tracked like my bitcoin address. I do not make any mistakes.

If I find that you have shared this message with someone else, the video will be immediately distributed. If you want to see proof, reply with I9dA1hX in the subject this mail.

Regards, your undercover follower.
Many of the ones we receive are far more risqué than this one – so much so we won't publish them. And some of these extortion threats appear to have part of a real password included.  It can scare you and cause you to panic. The criminals know this and that's just what they want. To scare you so you panic and part with your hard-earned money.
But not to worry – there are tens of millions of these being sent every day. And these miscreants don't have access to your passwords, your email, your computer, or anything else. They operate under the principle if you throw enough garbage against a wall, some of it is going to stick.  
Don't be fooled. Don't fall for these email scams. Whether you call it blackmail, extortion, or "sextortion", it's all about scaring you into paying the scammer.
---
If you're concerned about someone using your Webcam to "observe' you (a very remote – no pun intended – possibility),  see our article here.