Enhanced Search in Windows 10 Version 1809 (October 2018 Update)
Note: This feature will not appear in released versions of Windows 10 version 1809 until 2019.  When I posted this I was using a "fast lane" update on a test machine.  We'll leave this posted and re-post it in January 2019 when this feature will be included in the released version of Windows 10 Version 1809. Sorry for the confusion. TC
Windows 10 Version 1809 (Windows 10 October 2018 Update) brings very few cosmetic changes, but a lot of new features – most of them are very useful. Like Version 1809's clipboard manager  for instance.
In previous versions of Windows, the search feature has been lacking – leading the the development of freeware (and trialware) Windows search utilities. Finally, Windows 10 Version 1809, you'll find an enhanced search feature that will improve Windows searches and help you file things faster. And, it's easy to set up – all you have to do is turn it on.
If you're using Windows 10 Version 1809 (to see what version of Windows 10 you're using type WINVER in taskbar search and press Enter). Here's how to turn on enhanced search.
1,) Open Settings (right-click on the start button and click "Settings" – or press Windows Key + i ).
2.) In Settings click on Cortana.
3.) In Cortana click on Searching Windows
4.) In Searching Windows, under "Find my files" tick the box next to "Enhanced (Recommended)"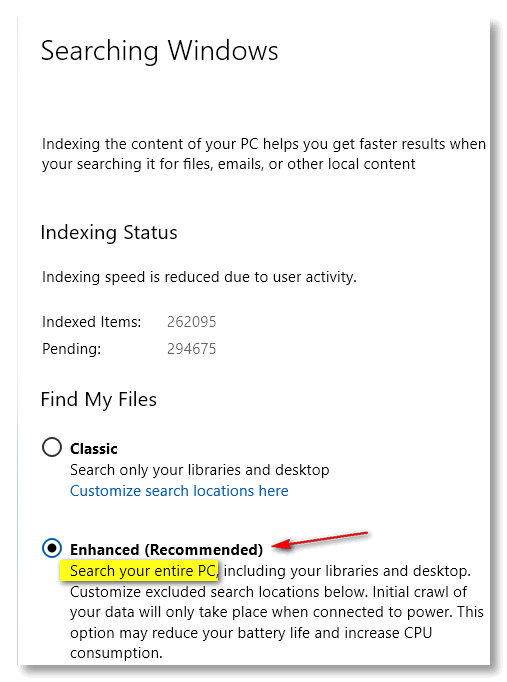 After you do this, Windows will search your entire PC instead of selected folders. Keep in mind after you change this setting it will take Windows a few minutes to re-index your files for faster searching.
There are more options such as excluding folders, but we'll save that for later. What we all want is faster and better search results when searching our Windows 10 computers… and turning on Enhanced searching is one way you can make that happen.