Everything You Ever Wanted to Know About Windows Tiles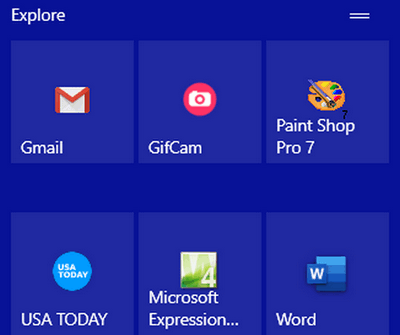 Windows 10 Tiles. You either love them or hate them. No matter which side of the fence you're on, Windows Tiles are here to stay. So today, we're going to tell you everything you ever wanted to know about tiles and more.
When you right-click a tile, a menu appears. But hold on! It's not so easy.  When you right-click a tile you get different menus – desktop programs have different menus than Windows apps. And depending on your computer's configuration you might have to click "More" to see all or some of these options. Most tiles will have some combination of these choices:
Unpin from Start: Clicking on this removes the tile from the Start menu.
Resize: You can resize most tiles. Choose from Small, Medium, or Large. Some tiles have another choice, and that choice is "Wide". If you choose the "Wide" option, the tile will span two columns. If you have a Weather, News, or a Photos tile, Wide is a great option since it makes details easier to see.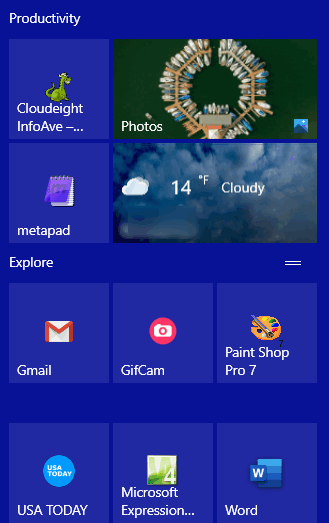 Turn live tile off: Speaking of "Live tiles" such as the Weather, News, and Photos tiles, this option prevents real-time information from streaming to the tile. If you've already turned it off, you'll see the option "Turn live tile on".
Pin to taskbar: This option, as it says, pins the program or app to your taskbar. If it's already pinned to the taskbar, you'll see the option "Unpin from taskbar". The "Pin to taskbar" option may be hidden If it is, you'll need to click "More" to see it.

Uninstall: This uninstalls the app or program. Some Windows apps created by Microsoft can't be uninstalled. Microsoft is getting the hint though – it has begun allowing users to uninstall more Windows 10 apps created by Microsoft such as Mail, Calendar, and many others.
Run as an administrator: This allows you run the application as an administrator.
Open file location: Opens File Explorer in the directory in which the application is installed.  If you ever need to know where a program or app is installed, this option is for you.
Additional Options Available in Some Apps from the Microsoft Store
App settings: This leads to a screen that lets you change the app's settings, such as whether to allow it to run in the background or to get access to your microphone.
Rate and review: This option is available only for apps downloaded from the Microsoft Store. It brings you to a page that lets you rate the app on a one-to-five-star basis and write a review. The rating and review appear in the app's description in the Microsoft Store.
Share: This lets you share a link to the app using email, Twitter, and more.
Depending on your setup, you may need to click "More" to see these options.

Organize Your Tiles
You can even drag the tiles to rearrange them any way you want them. And you can organize them into groups. You can even name the groups.  Click the 2-horizontal lines icon and you'll be able to rename your group to whatever you like. If you don't see the 2-horizontal lines icon, hover over the menu to the right of the group name and it will appear.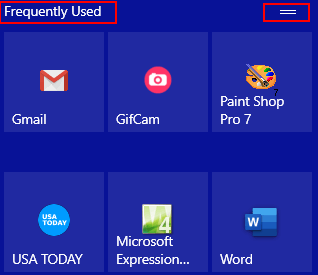 Not a Fan of Tiles?
And if you don't like Windows Tiles, you can get rid of them entirely and still have a working start menu. See this page to learn how to remove all tiles and still show all your programs and apps on your Windows 10 Start menu.