Help or Get Help From a Friend With Windows 10 Quick Assist
With most of us staying home because of the COVID-19 pandemic, we thought we'd remind you of a feature of Windows 10 called Quick Assist. Quick Assist lets you help a friend with their computer (or get help from a friend) without installing any third-party software.
While Windows 10 Quick Assist does not have a lot of fancy features it works well and it's a quick way to help a friend or get help from a friend without installing any software. All you need is Windows 10, Quick Assist, and a Microsoft account (an email address ending in @outlook.com, @hotmail.com, @msn.com, @live.com, @live@ca)
Whether you want to give or get help, the first thing you'll need to do is open Quick Assist. It's buried in the start menu under Windows Accessories. The fastest way to open Quick Assist is to type QUICK in taskbar search and press Enter.
When Quick Assist opens you'll be able to choose "Get assistance" or "Give Assistance".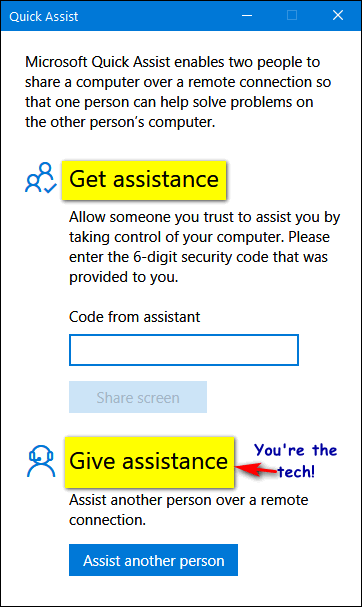 In this demo, we're going to show you how to assist someone.  First, you'll need to sign in with a Microsoft account.
Once you've signed in, you'll see a security code. You can call your friend with this security code or send the security code by email.
The person you're helping will need to open Quick Assist and enter the six-digit security code.
Once the person you're helping enters security code they'll have to allow you to take control of their computer. The person you're helping will see a small window asking if they want to allow you to control their computer. If they want your help, they'll need to click "Allow".
Once the person you're helping clicks "Allow" you'll be able to see their desktop on your screen and you'll be able to control their computer.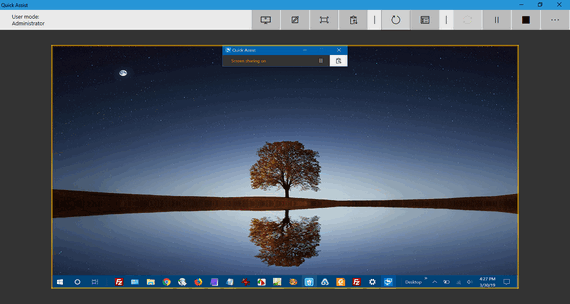 Above you can see the Quick Assist window with the remote computer in full view. You can then control the remote computer as you would you own and do whatever you need to do to help a friend in need.
So, now if a friend calls you and asks for help with his or her computer, you can tell them about Quick Assist. You'll be able to help them just like you were sitting at their computer.
Quick Assist – another useful but hidden feature of Windows 10.