How to create a Recycle Bin on a USB flash drive
If you have USB flash drives, you'll notice that there is no Recycle Bin on them. That's because Windows only creates Recycle Bins on fixed drives (i.e. hard drives) and on some external hard drives – but never on USB flash drives.
If you store pictures, email messages, documents, or music files on USB flash drives (and most of us do) you might like the added protection the Recycle Bin provides and that is giving you a second chance to get the files you've deleted back with a minimum of fuss.
If you'd like to add the protection of the Recycle Bin to your USB flash drives, you'll be happy to know that it's easy to do. All you need is about 5 minutes and a program called iBin – and we're betting Apple is not too happy about that name!
Download iBin from this page (689kb) and unzip it to a USB flash drive that is plugged into a USB port on your computer. Once you've unzipped it to the USB drive, click the executable called "iBin.exe" and you'll see the following dialog appear:
Click "OK" to continue with the setup. Once you've completed the installation, please be sure to read the program's documentation. The developer's English is not very good, but it's understandable. Thankfully, the program is better than the programmer's English.
Once you've installed iBin and you've read the program's documentation, you'll notice that there's an iBin icon in your system tray. When you right-click on it, you'll see various options available for working with iBin and the files on your USB flash drive (see image below):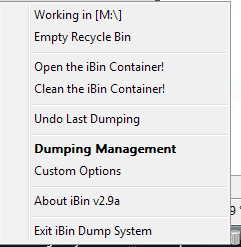 The "Working in [M:\] " refers to the drive letter assigned to the USB flash drive on my computer, yours will, most likely be different.
Happy USB Flash Drive Recycling. Who said we're not green?