How to Repair Microsoft Office Programs
If you have Microsoft Office installed and one or more of your Office programs are not working correctly, you can sometimes easily fix MS Office by using its built-in Repair feature.
Here's how to use it.  Open Control Panel > Programs and Features > Uninstall a Program. The fastest way to open the Control Panel in Windows 10 or Windows 11 is by typing CONTROL in the Taskbar search.  
Make sure none of your Office programs are running.
Then find Microsoft Office in the list of programs. Right-click it. Instead of choosing Uninstall, you'll have another option "Change". Click on Change:

When you click on Change, you'll see your repair options. Note: Yours may look very different than mine since you're using a different version of Office.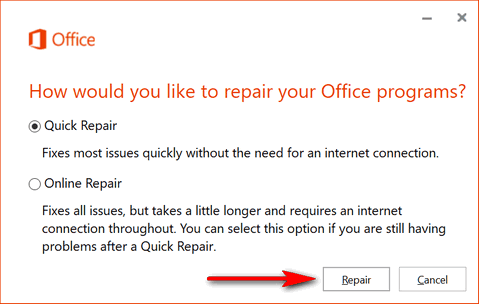 Click on "Repair".
This should fix any minor problems with your MS Office programs. If Quick Repair doesn't work, try the Online Repair. The Online Repair option can take a long time to complete. Only run the Online Repair if Quick Repair doesn't fix your problems. Always run Quick Repair first.