How to Repair Microsoft Office
If any of the programs in the Microsoft Office suite are crashing or not working right, here's  a tip that might help you.
Almost all versions of Microsoft Office have a repair feature… but it's not easy to find unless you know it's there and you know where to look.  Now you're going to know it's there, and you're going to know where to look, because we're going to show you.
First, go to Control Panel > Programs and Features > Uninstall a Program.  If you're using Windows 10 version 1703 (Creators Update), Control Panel isn't easy to find. You can open Control Panel by using Windows Key + R to open a run box. Type Control in the run box and press Enter. Control Panel will open.
Find Microsoft Office in the list of programs. Right click it. Instead of choosing Uninstall, you'll have another option "Change". Click on Change:

When you click on Change, you'll see your repair options. Note: Yours may look very different than this if  you're using a different or older version of Microsoft Office.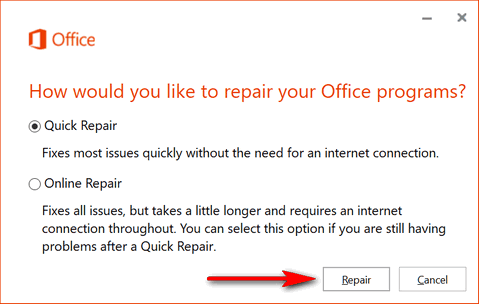 Chose one of the repair options, then click on "Repair".
If you're using a different version of Microsoft Office your repair options may be different than mine. But you will have at least one repair option. And if any of your Microsoft Office programs are not working as they should, you will certainly want to give the repair option a try.