How to Set or Reset Your Default Apps in Windows 10
A Back-to-Basics Windows 10 Tip
It seems that the latest updates for Windows 10 are switching some user's default browsers from Chrome (or Firefox or another browser) to Microsoft Edge. And we have been receiving emails from Windows 10 users who are not happy about this because all their bookmarks, extensions, passwords, etc., are saved in Chrome (or other favorite browsers). And now when they click on a link in an email or on a web page, it opens with Microsoft Edge. And their bookmarks, extensions, passwords, etc. are not there – because they are all stored in Chrome (or any other browser that was the default).
Well, you could, if you wish, keep on using Edge and import your Chrome (or Firefox or other browsers') data into Chrome. But I think most of you who have your default browser switched by a Microsoft update without warning or advanced notice, just want things back the way they were.
So, today's tip is how to set and reset your default apps in Windows 10 so you're always using the programs you want to use. And if they get changed accidentally or by an update, you'll know how to get your preferred default app(s) back.
Since Microsoft Windows updates seem to be changing some users' default browsers, we're going to use resetting the default web browser as an example.
How to Set or Reset Your Default Web Browser
1.) Open Settings (Windows key + I or right-click the start button and click "Settings")
2.) In Settings click on Apps
3.) In Apps, click Default apps in the menu on the left.
4.) Under "Web browser" click on the browser that is displayed (in this case Microsoft Edge)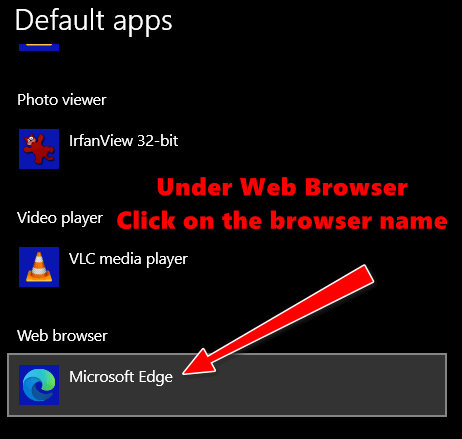 5.) When you click on the browser name displayed under "Web browser" a list of browsers that are installed on your device will appear.  Click on the browser you want to use.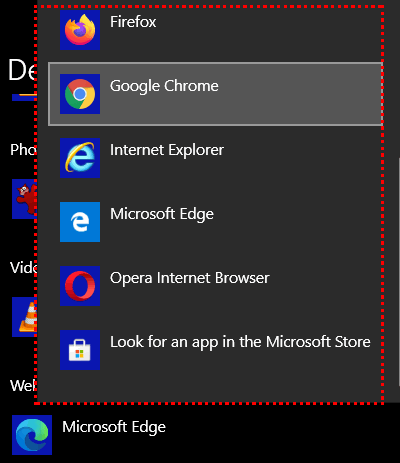 6.) But, if you try to switch from Microsoft Edge to Chrome or any other browser, Microsoft blocks you with a message extolling the virtues of using Microsoft Edge. You need to click on "Switch anyway" or you won't be able to change your web browser.  Once you click "Switch anyway" your default browser will be switch to the one you selected. And will remain your default browser until you (or another Microsoft update) changes it.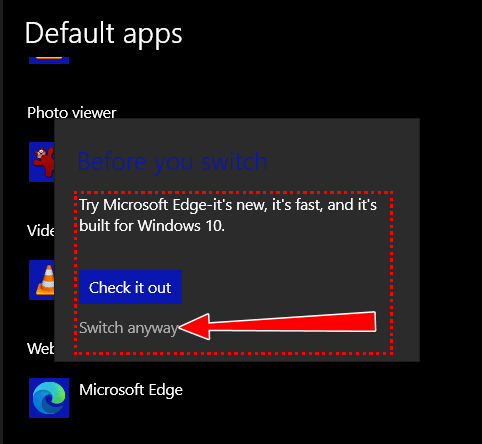 How to Set or Reset Other Default Apps
And as long as we're discussing how to set or reset your default browser, keep in mind you can set or reset your default:
Email program

Maps program

Media player

Photo viewer
The same way as you change your default web browser.