How to Use the Problem Steps Recorder (PSR) in Windows 10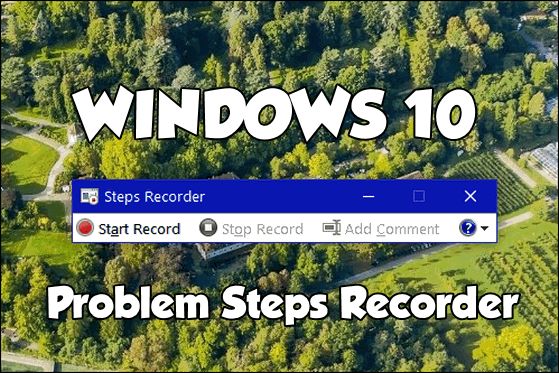 We were recently reminded about this useful, but nearly forgotten tool, that was first introduced in With Windows 7 – way back in 2009. 
What is the Problem Steps Recorder (PSR)?
If you are having a problem with a program or your computer, you can use PSR to recreate and record the steps you took, and the errors/problems that you encountered. The Problem Steps Recorder automatically saves screenshots of each step you take, compiles them into a step-by-step slide show with notations and then, saves your file as a zip file. You can send that zip file to a computer-savvy friend or tech support person and have them help you solve your problem. Or you can use the PSR to teach a friend how to use a program or how to perform a Windows task.
How to use Windows 10 PSR (Problem Steps Recorder)
Type PSR.EXE in taskbar search and press Enter when you see Problem Steps Recorder appear in the search results.

Now, it's simple! Just click Start Record, recreate your problem, or show the steps you are taking, etc. The PSR will automatically record and annotate as you move from step to step.
Then, when you are done click Stop Record. You can even add your own comments to the PSR file. By default, when you click Save, you PSR file is saved as a zip file to your desktop so you can find it easily.
Tip. Be sure that you can name it something identifiable! Now, just send it to a friend or tech support person.
What to Expect
Since we don't want to bore you with a long dissertation and tons of screenshots, we're just going to show you a few peeks so that you what to expect.
When the PSR recorder is turned on, a screenshot is taken as we begin this experiment.
In step two we left-click on the Start button. As you can see it's noted in the PSR file along with the date and time.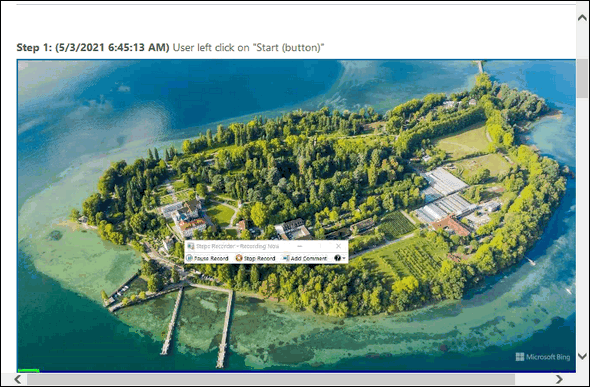 The next slide shows additional details such as what you were doing in each step – this is "Step 2". The Problem Steps Recorder will continue recording all the steps you take and automatically add notations which include what you were doing, the date, the time, and your version of Windows 10.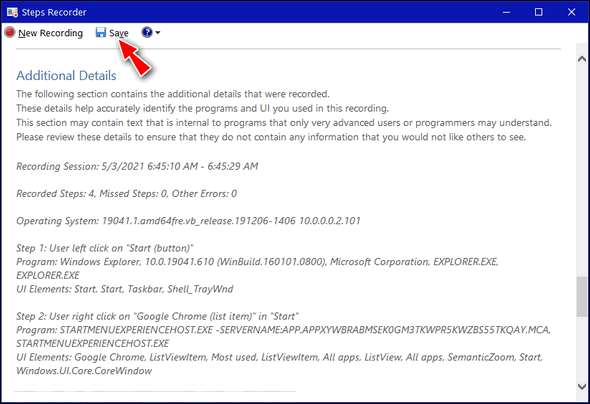 As you can see above – "Recording Session: 5/2/2021 6:45:10 AM – 6:45:29 AM
Problem Steps: 4, Missed Steps: 0, Other Errors: 0
So, if you are having a problem with Windows or a problem with an app or program, you can record all this information and send it as a zipped file and provide detailed information to geeky friends or support personnel so that they can identify your problems and help you fix them. You can also use the Problem Steps Recorder to teach your not-so-computer-savvy friends how to use a program or do a Windows 10 task.