InfoAve Premium Bonus Questions & Answers: Part 11
Each week we receive more questions than we can answer in the newsletter due to space restrictions. We try to answer every question we receive. Unfortunately, we just don't have room to put all the questions and answers in our weekly Premium newsletter. 
So now, each week, we will put some of the questions and answers we had to leave out of or Cloudeight InfoAve Premium newsletter and post them here and share them with our Cloudeight InfoAve Premium subscribers, our InfoAve Daily subscribers and our website visitors also.
Below are just a few of the questions and answers that we didn't have room in this week's (December 6, 2019 – Issue #843) InfoAve Premium newsletter.
Thanks so much to all of you who sent us your questions last week. Please keep them coming!
---
Cheri wants to know if some programs will continue to work with Windows 7 after January 14, 2020
I have 2 computers, one upgraded from Windows 7 to Windows 10, which went without any problems and a small laptop that did not meet the requirements needed for an upgrade. I am wondering if you have heard if Chrome, Firefox, or others are considering still working with computers still using Windows 7 after the end of updates in January 2020.
Also, have you heard if Emsisoft and Reg Organizer are considering extending their service to those computers using Windows 7 after the end of updates for Windows 7 in January 2020? I am asking this because many programs and software companies did extend their services for Windows XP after it was no longer being updated because of the start of Windows 7.
Maybe as this January date moves closer a decision will be announced on these questions. Looking forward to your knowledge on this matter. Since we are close to the holiday season I wish Cloudeight, you, and your families a joyful holiday season and a prosperous new year.
Our answer
Hi Cheri. Unlike previous Windows versions, Microsoft is offering Windows 7 Pro and Windows 7 Enterprise business customers a support package (quite expensive) so they can keep receiving updates and keep using Windows 7 safely. How long this support lasts depends on Microsoft. For now, they're offering an additional year of support, but it's only available to businesses (verified businesses). So for right now, it's hard to see how Chrome or Firefox or any browser will end support for Windows 7 if many business customers are still using it.
And for now, Emsisoft and Reg Organizer are good for the foreseeable future.
Keep in mind, this is based on the information we have available at this time. Things can change, but I would think you would have at least a year left.
That being said, using an unsupported operating system gets increasingly risky as time passes. As miscreants find security holes in Windows 7 that are no longer being patched by Microsoft, they will exploit these security holes and no antivirus or anti-malware program will be able to guarantee your computer's security 100%. And nothing in this answer should be construed as our advising you to continue using Windows 7 past January 14, 2020. We certainly do not advise anyone to use an unsupported operating system.
---
Patricia wants advice on buying a new computer
I want to upgrade to 10, however, my computer is old and I am in a quandary as to what brand of computer to buy. I do a lot of photoshopping and I like or am used to two drives for copying and listening to music.
Are you able to mention a few decent ones? I do need more than two USB ports too.
Our answer
We have just the answer that will help you. See our guide to buying a new computer here. We go through each thing you should consider when buying a new computer and even include a link to a Windows 10 laptop with a 1 TB hard drive and 8GB of RAM for $378 (as of this date). It has 3 USB ports. Remember you can buy a USB Hub and add 4 or more USB ports to your computer. Here's a 4-port USB hub for $8.00.
If you need more help or more suggestions, please let us know!
---
Lee wants to know about Windows updates
Hi. It's me again! Read something recently about a Windows update that Microsoft shouldn't have sent, but I can't find the article.  My wife and I are both running Windows 10 V1903, but have got a Feature update for 1909. My wife had already downloaded the update and seems to have had problems recently. Should I ignore this, and should my wife uninstall her update. Thanks for your advice recently. Lee
Our answer
Hi Lee. According to some sites, Microsoft shouldn't send any updates -ever! The update you're referring to was fixed back in October. I don't know of any current updates that users should avoid although, I'm sure you'll find some anti-Microsoft sites, who are ready and willing to preach to the choir. These kinds of sites are very popular as you might imagine. But, always remember, popular does not always equal good or correct.
Windows 1909 is not a feature update if you're using Windows 10 version 1903 – it's more like a service pack. Windows version 1909 is what version 1903 should have been. It contains all the bug fixes and security updates for version 1903 and a few very minor new features that most users won't even notice.  If your wife updated a Windows 10 version 1903 computer to Windows 10 version 1909, I would be very surprised it caused the problems she's experiencing.  It's a very minor update for Windows 10 version 1903 users – it's not even a version update for them.  See our article here about version 1909.
I hope this addresses your concerns, Lee.
---
Jerry has a problem with Windows Live Mail
I have a problem with Windows Live Mail. I have 4 emails that won't delete It says there is an error when I try. Can you help me? Jerry
Our answer
Hi Jerry. Windows Live has not been supported by Microsoft for a couple of years, and it is no longer available. When a program becomes this outdated, we find that many see a lot of program corruption that is not fixable. You may want to consider Thunderbird as it is quite similar. It is free – you can get it here – or if you want assistance with setup and file transfer we do offer our Thunderbird setup service.
---
Ford asks about TotalAV
Hi, what do you know about TotalAV and them partnering with Windows? I am curious but apprehensive about their claims. Thank you for being here for us. Ford.
Our answer
Hi Ford. TotalAV borders on being a scam. And they are not partnering with Windows or Microsoft. They display a "Microsoft Certified Partner" but so do many other scam software companies. A Microsoft Certified Partner means very little. The Microsoft Certification program's goal isn't to provide developers with the benefit of showing they're "certified"; Its goal is to move and influence partners/developers towards Microsoft's focus areas while turning a profit.
TotalAV is from the same scamware company that made millions from a scam program called Scan Guard. Read about that here.
The Better Business Bureau has dozens of complaints about TotalAV. Read more here.
With so many good choices out there, including Emsisoft – the antivirus & antimalware we use on our computers and which has great support along with its great protection – there is no reason to waste your money on a program that is far too scammy.
I hope this helps you decide to steer clear of TotalAV.
—–
Ford wrote back: "Thank you so much for your quick reply. You gave me the information I needed to know. Thanks again, Ford"
---
Margaret says Control Panel disappeared from her Windows 10 Start menu
I have a question. Are you still offering the Winter Checkup for computers? The reason is somehow I have lost the column to the right of my start menu that shows Control Panel, etc. Perhaps a cleaning would bring it back. Thank you. Margaret
Our answer
Hi Margaret. Just to make sure you know this – on Windows 10 there is no column on the right of the start menu that shows Control Panel. By default, there's no link to Control Panel on Windows 10 at all. You can open a second menu on Windows 10 by right-clicking the start button or using the Windows key + x shortcut. This secondary menu has a lot of useful items on it like Settings, File Explorer, Power Options, Task Manager and a lot more – but no Control Panel. Microsoft is phasing out the Control Panel & replacing it with the Settings app.
If you want to access Control Panel, type CONTROL in the Taskbar search and press Enter when you see it appear at the top. If you want to put a shortcut to Control Panel on your taskbar, open Control Panel as described, and while it's open, right-click on its icon in the taskbar and choose "Pin to taskbar". If you'd a Control Panel shortcut on your desktop, it's easy. Just right-click the Start button, click on Settings then click on Personalization. In Personalization, click on "Themes" then in "Themes" under "Related settings", click on "Desktop icon settings" (see screenshot below).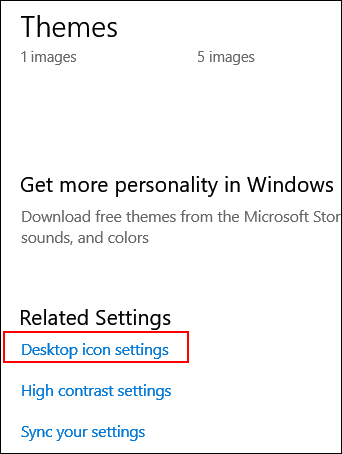 In Desktop icons settings, tick the boxes next to any of the available desktop icons. You'll see Control Panel is one of 5 you can instantly add to your desktop.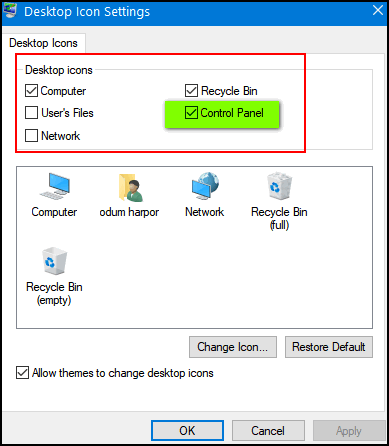 If you still want the Winter Checkup (which does not cover repairs) you can order a Cloudeight Direct Winter Checkup here.
I hope this helps you, Margaret.
——
Margaret wrote back: "Hi TC: Thank you for your help as always. I did sign up for the Winter Checkup this morning."
---
Don asks about CCleaner
An IT friend of mine suggested this FREE site to clean junk on my Windows 10 computer. https://www.ccleaner.com/ I like it! If you use the "options" menu, you can selectively keep useful cookies while the rifraf cookies are deleted, provided you use the "Custom Cleaner" "Easy Clean" though, just wipes out everything so banking info, etc is lost. What do you think? Thanks always for your fantastic newsletters! Don.
Our answer
Hi Don. Thanks for your very nice comments.
We have never been fans of CCleaner and we especially don't like it now that it's owned by Avast. They have been accused of collecting data from users, using CCleaner to promote useless Avast products, and using it to promote Avast Antivirus (free/paid versions).
Read this article and this one
.
Additionally, CCleaner's "registry cleaner" option has been known to cause serious problems for Windows users.
Signing into sites is not much of a problem to use a good password manager like LastPass or RoboForm (both of which work with almost any browser) and which allow you to instantly log into banking sites and other sites requiring log-ins automatically – no typing usernames or passwords. So, you don't need to depend on cookies to save your logins to banking sites. However, I'm not aware of any banking sites that do not time out after a few minutes of inactivity. I am now sure how cookies save you any time with banking sites.
We have never liked CCleaner and we know like it even less since it was acquired by Avast. We've seen enough tricks by Avast to know we don't want anything to do with them.
As always, we know it's your computer and you can use anything on it that you like – what you use and what you like is your personal decision. But since you asked, we don't recommend CCleaner for several reasons.
---
John M. weighs upgrading his Windows 7 computer to Windows 10 or buying a new PC
Hi. I have a desktop all in one computer using windows 7 and is nearly 9 years old and works quite well. Do you think the hardware would be too outdated to run windows 10? I was thinking of using your windows 10 transformation service or am I better to invest in a new computer at this stage. John M.
Our answer
Hi John. I wish I could guarantee you that we could or could not upgrade your computer. I'm using – I'm typing this email on an 8-year-old Dell laptop that came with Windows 7 and that I have upgraded to Windows 10. It runs better than my 4-year-old ASUS laptop.
The difference between trying and buying is the difference between $35 and $400. If the upgrade fails, your computer will be returned to its current state – we have never had anyone lose anything yet (but no guarantees as past performance does not predict future results).
You may be happily surprised if you gambled $35 on our Windows 10 transformation service. And if the upgrade to Windows 10 failed, you can be sure we did everything possible to get it installed for you. And you would then know for sure you needed a new computer. But if it were successful, you'd have the latest version of Windows 10 and you would not have to buy a new computer – at least not for time being.
So those are things for you to think about:
Our Windows 10 Transformation service is available here.
I hope this helps you make a decision.
---
Sandy has questions about upgrading from Windows 7 to Windows 10
I did some looking and I see that it would be ok to update this (Windows 7) computer to windows 10. What do I need to do? Will I need to save all my pictures onto a flash drive before we update? Thank you so much for your help. I will get busy and save all my pictures to now and thank you again.
Our answer
Hi Sandy. You can use a Cloudeight Direct Computer Care repair key to have us help you upgrade your computer to Windows 10. I strongly suggest you either update Avast or uninstall it before you upgrade to Windows 10. See our article here.
We have never had anyone lose personal files upgrading to Windows 7 to Windows 10, but if your pictures are important to you, backing them up on a USB flash drive would be a good idea, just in case.
Additionally, not all Windows 10 computers can be upgraded to Windows 10… there's no way that anyone, not even Microsoft can guarantee that. We have had a lot of success helping people upgrade to Windows 10 (95%) but we cannot guarantee it.
We will help you get the upgrade started and we'll stay with you until it looks to us that the upgrade is progressing normally. At this point the upgrade is almost automatic – you may have to click "Next" and "Restart now". But for the most part, once we leave, the upgrade is automatic. It can take anywhere from 2 hours to 5 hours or more to complete the upgrade. After the upgrade is complete, email us and we'll return and make your Windows 10 computer look and work much like Windows 7.
To see what's included in what we call our Windows 10 Transformation service see this page.
If you prefer to upgrade to Windows 10 without our help, let me know and I'll send you instructions.
---
You made it! Thanks for reading the extra questions and answers from Cloudeight InfoAve.