InfoAve Premium Bonus Questions & Answers: Part 13
Each week we receive more questions than we can answer in the newsletter due to space restrictions. We try to answer every question we receive. Unfortunately, we just don't have room to put all the questions and answers in our weekly Premium newsletter. 
So now, each week, we will put some of the questions and answers we had to leave out of or Cloudeight InfoAve Premium newsletter and post them here and share them with our Cloudeight InfoAve Premium subscribers, our InfoAve Daily subscribers and our website visitors also.
Below are just a few of the questions and answers that we didn't have room in this week's (January 10, 2020 – Issue #848) InfoAve Premium newsletter.
Thanks so much to all of you who sent us your questions last week. Please keep them coming!
---
Vari wants to know how to save important emails in Gmail
HI, I am not sure if this is a suitable question for you both but I thought I would try! I would like to save some very important emails in Gmail and wonder what is the best way to do this. I would like them to be all in one folder and easily accessible. I have never done something like this before so not sure how easy it is or if it is possible. Sorry if this is a very basic question but I have not needed help with this before now so I hope you can help. Many thanks for all your wonderful newsletters and tips. Vari.
Our answer
Hi Vari. Thanks so much for your kind comments!
You can save any label (folder) in Gmail by using Google Takeout. Read our article here.
That article describes how to back up your entire Google account – but you can back up a specified Gmail label (folder) too. All of your Gmail emails are stored in the folder "All mail".
There's also a program that you may be interested in called UpSafe – it was our freeware pick a few months ago. Read about that here.
I hope this helps you!
——–
Vari wrote back: "Thank you TC. Just what I wanted! I was sure you would have the answer! …Best wishes for 2020. The same to Darcy too!"
---
Dick is worried about his downloads folder being deleted with Windows Disk Cleanup
This may have appeared in one of your newsletters, but, if so, I missed it…
I hadn't done a Windows Cleanup in several months (even thou I am now on version 1909). I did a cleanup – the settings for which I had assumed were the same as always – but the process happened to delete all the download files that I had accumulated over time. I Googled the experience and – to my horror – found the following warning:
Disk Cleanup Deletes Downloads Folder in Windows 10 October 2018 Update
Many people routinely use Disk Cleanup to free up space by deleting older and unnecessary files. Over the years, users have gotten accustomed to just starting Disk Cleanup, checking all the default options, and then clicking the OK button to start the cleanup process.
After updating to the October 2018 update, users are now performing the same process and not realizing they are also selecting the new "Downloads" option as well. This causes all of the files that have been stored over the years to be deleted from the Downloads folder and users are not too happy about this.
Of course, I'll be more careful in the future regarding which boxes are checked. But I thought you might want to pass along this info as a 'heads up' to Cloudeight readers to save them any anguish.
Our answer
Hi Dick. This was not our article and the October 2018 update is from November 2018 which the article discusses is over a year old.
The Downloads folder was not preselected in Version 1809 (October 2018 Update) nor is it preselected in Windows 10 Version 1903 (May 2019 update) nor in the current version of Windows (version 1909 – November 2019 update).
The only thing that is checked -and has been checked in every version of Windows 7, Windows 8x and Windows 10 is "Downloaded program files". This is not the Downloads folder. Downloaded program files are programs, usually ActiveX, that are installed on your computer to enhance the functionality of Internet Explorer. Once these have been installed in IE, they're not needed. Downloaded program files are is quite different than the downloads folder which is the default directory where programs and program installers you download from the Internet are stored.
I'm not even sure why it would be bad to clean up the downloads folder unless you are running portable apps from there or have program installers that are old and cannot be downloaded any longer. And if you do have installers that are no longer available for download or apps which were free but no longer being stored in your downloads folder, then you should back them up on a USB flash drive or external drive.
The information in the article you read is not only incorrect, but it's also over a year outdated.
I hope this answers your question, Dick.
—–
Dick wrote back: "Thanks for taking the time and trouble to provide that comprehensive explanation, TC. I was the one that caused the problem; I checked off all the boxes (to be deleted), including the Downloads folder which I don't recall having been listed before among the choices (in addition to the Downloaded Program Files box). Fortunately, I recalled earlier today that I had copied the Download files to a thumb drive about a year ago so lost only a few recent files. Dick"
---
Arthur wants to upgrade his second Windows 7 PC to Windows 10
I have a second computer that is running on Windows 7. I would like to upgrade this computer to Windows 10 without your assistance. I would appreciate your help though. How to obtain a free copy of Windows 10. Thank you for you help. Arthur S.
Our answer
Hi Arthur. Go to https://www.microsoft.com/en-us/software-download/windows10 and click on the blue button that says "Download tool now". When it's downloaded, double-click on it and run it. Agree to the license and after a minute or two you'll see an option that says "Upgrade this PC now". Click it. The downloading of Windows 10 will begin.
There will be several other steps after it's downloaded, then you'll see the "Installing Windows 10" screen. When that is down, you'll be asked to restart your computer. It may take 1 to 3 hours or more after the restart before your computer is upgraded to Windows 10. The total time from beginning to end averages 2 to 5 hours.
I hope this helps you.
---
Norman wants to unlock a locked PDF file
I have a locked PDF file and I no longer know the password. Is there a safe way to get it open?
Our answer
Hi Norman. I don't have a locked PDF file to test with this, but Soda PDF has been around a while.
Go to his page:
https://www.sodapdf.com/unlock-pdf/
And follow the simple instructions. Let me know how well it works for you.
—–
Norman wrote back: "It worked great really easy to use and gave me a copy of the file unlocked. Thanks so much."
---
Ken wants to remove the carets from emails
You suggested a program that cleaned the carets > from emails that I used on my Windows 7 computer. I recently bought an HP All-in-one 27″ computer with Windows 10 and I can't remember the name of the program. Whenever you get the chance, could you please send me a link to that very helpful program. Thanks
Our answer
Hi Ken. It's called Email Stripper. According to Snapfiles, it works in all versions of Windows – including Windows 10 – even though the program has not been updated since 2002. You can read more about it and/or download it here.
To be honest, you don't need a program to do this, just paste the email with the carets into Notepad, click "File" "Replace" enter a caret ( >) leave the replace with field blank and click "Replace all" – all the carets will be gone.
---
Robert F. wants to go back to an earlier date on his computer
Hi TC & EB. Can you tell me where to find the article/instructions you have sent out regarding returning our PCs to an earlier date (like yesterday)? I made a mistake and deleted files I didn't want to delete and would like to restore my PC to an earlier time if possible. Thank you, Robert F.
Our answer
Hi Robert. I believe you're thinking of System Restore… if so, see this page. Windows 10 Upgrade, Windows Disk Cleanup, PDF files, Gmail,
You can also use System Reset and Fresh Start for more serious problems. If you're not sure whether to use System Restore, System Reset or Fresh Start see our article here. 
Let me know if this helps you.
——
Robert wrote back: "Thank you TC. System Restore is indeed what I need but there are no restore points prior to my "mistake". All is not lost though…Dropbox saved the important stuff. Thanks again, Robert F."
---
S.B. wants to know why Windows 10's Print-to-PDF feature is not called "Save-to-PDF"
You've mentioned Print to PDF a few times but I don't you've ever covered why it's "print to" and not "save as". This confuses people into thinking they cannot save their documents as a PDF. So that's my question: Why can't I "save as" a PDF? Why does it have to be "Print to" PDF? Not exactly an urgent, burning question, but I would love to know. Thanks!
Our answer
Hi SB. If I knew why Microsoft called things what they did, I would be living in Tahiti sipping fruity-flavored rum drinks served in coconuts with a tiny red umbrella sticking in them.
Print to PDF is an option in Windows 10 Print dialog and it results in saving a file/document in PDF format. Time to stop worrying about semantics and start saving documents, etc. as PDF files by using Print to PDF.
You know… "a rose by any other name…"
---
Sandy continually has an online photo editor popping up in her browser
All of a sudden Pixlr Editor Express shows up. I googled it. It's an online photo editor. How safe is it, and do you have any idea why it popped up on my computer? Thanks again as always.
Our answer
Hi Sandy. Pixlr Editor Express seems to be an innocuous online photo editor. I just looked at it, but I didn't test it. And I don't know why it's popping up on your computer. If it continues and clearing your browser history does not correct the issue, try resetting your browser. Resetting your browser removes (or disables) all your extensions, clears the browser history and resets it to its default settings.
The fastest way is to reset your browser. Please see our article here to learn how to reset your browser. This article covers Chrome, Firefox, Internet Explorer and Microsoft Edge.
We hope this helps you, Sandy.
---
Gail wants to find out where spam is coming from
have been receiving emails that appear to be from a dear friend but that I know are not. I have informed her about it and have suggested that she change her anti-malware program to Emsisoft because I think someone has gained access to her contact list & sending out fraudulent emails. My questions are: once I determine the real email account from which these emails come, will replying to it actually be received to that sender? Is there a way to block them? The sender's real account is always different each time I receive their email disguised as coming from my friend. It's not so much a big deal as it is annoying. Thanks for any help with this.
Our answer
Hi Gail. It's possible that your friend's (or anyone's) email address was harvested from the Web and then used as a "From" address by a spammer.
If the spammer is an amateur and does not know what he or she is doing, you can find the IP address of the sender and where he/she is located, but that's not going to do you a lot of good. Spammers don't send from real email addresses (they send from forged or random email addresses) and they use thousands of email addresses so it's impossible to block them. It's highly unlikely someone has gained access to her contact list, but very likely that she or someone she sends to has put everyone's email address in the CC line (instead of the BCC) line and her address and the others in the cc line have been harvested. We have often seen people put dozens and dozens of peoples' email addresses in the CC line and thus expose all those addresses to spammers. All that does is expose email addresses to anyone with access to that email.
The best way to control spam is not to block senders, it doesn't work. The best we have ever found it to use Gmail to filter your mail. See this page to learn how to get a free Gmail account to block spam.
We get hundreds of emails each week and rarely do we ever see a spam email in our inbox – or a good email in our spam folder. We've been controlling spam this way for many years and we love it because it works.
We hope this helps you.
——
Gail wrote back: "Hi TC. Thanks for being so sweet & taking the time to reply. I suspect, based on your information, that the culprit is someone to whom she emails because I don't think my dear friend even knows what the Cc or Bcc is, much less how to properly use it! If I remember correctly, the latest one's "real" identity ended something like this _ _ _ _ _ @sc.edu, which makes me think it might be originating from a school or college, but I guess I'll never know. Anyway, thanks again. I sincerely appreciate it."
---
Linda has problems with System Restore on Windows 10
Hi all. I'm hoping you can help with my problem. My system restore to a previous date does not complete. The error message I receive "Restore did not complete, a file could not be fount, nothing has been changed, sometimes your virus protection can be the problem, disconnect and try again. Error code 0x80070005. I've tried googling this error but haven't found anything that helps. I've run some scans that were recommended and also a virus, malware, and spyware but have found nothing. I'm hoping you can help me with this. Windows 10, 1903, 64 bit Hewlett Packard desktop. Thanks in advance Linda.
Our answer
Hi Linda. I'm sorry to tell you this, but the error you're getting is most likely because the file you are using to restore your computer is corrupt. If you have another restore point you can try using it. But there's no way to "uncorrupt" a corrupt or damaged System Restore file.
As Windows 10's recovery options become more sophisticated, System Restore seems to me to be less reliable. Windows 10 Reset and Fresh Start are both excellent ways to recover from major problems. Although these options require a bit more work on your part, they're much more likely to fix major computer problems. Both Reset and Fresh Start save all your personal files, but you'll need to reinstall any programs that did not come with Windows. This is easier than it sounds because Windows leaves a list of programs that were removed after the Reset or Fresh Start has completed on your desktop.
---
Sandi wants to know how to put a shortcut for Internet Explorer on her Windows 10 desktop
How do I put a shortcut to IE on my desktop? I appreciate your help, cause I have been searching for a solution and everyplace says to type in the search box: Internet Explorer, click on it and open it. .I know it is already in Windows 10, but I believe one of the last Windows updates messed it up. I would appreciate your help in walking this novice through this. Thanks for your time. Sandi.
Our answer
Hi Sandi. Let's make a shortcut for Internet Explorer on your desktop…
Follow the instructions below, step-by-step.
Right-click on your desktop.
Click "New" then "Shortcut"
A box will appear (see below).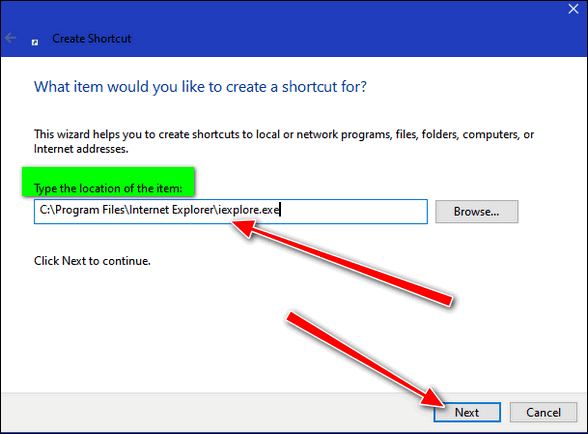 In the box type C:\Program Files\Internet Explorer\iexplore.exe 
Then click "Next".
Another, almost identical box will appear asking you what you want to name your shortcut (see below).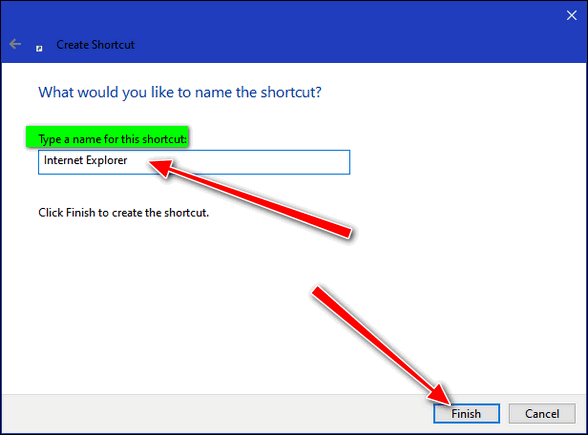 Under "Type a name for this shortcut" type…
Internet Explorer
Then click "Finish".
And that's it. Look at your desktop and you'll see the Internet Explorer icon…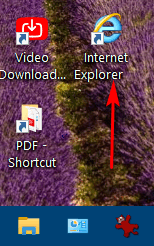 That's all there is to it.
I hope this helps you, Sandi.
---
You made it! Thanks for reading the extra questions and answers from Cloudeight InfoAve. 
Did you know you can get daily tips and tricks sent to your inbox free?
Subscribe to Cloudeight InfoAve Daily Computer Tips by Email