InfoAve Premium Bonus Questions & Answers: Part 2
Each week we receive more questions than we can answer in the newsletter due to space restrictions. We try to answer every question that we get but we don't have room to put all the questions and answers in our InfoAve Premium newsletter. We thought we'd try something new. Each week we will put some of the questions and answers we had to leave out of InfoAve Premium and post them here each week. That way we can share them with our InfoAve Daily subscribers and our website visitors too.
Below are just a few of the questions and answers that we didn't have room in this week's (September 27, 2019 – Issue #833) InfoAve Premium newsletter.
And a big thank you to all of you who sent in your questions to us. Keep them coming!
---
Rhonda updated to Windows 10 Version 1903 and lost her sound
About a month ago I said yes to Windows 10 version 1903 update. When the update was finished my sound card would not work. I tried all the suggested fixes and finally resorted to Microsoft tech help. They went through all the same fixes and way more but no sound. Yesterday I went to a factory reset (back to Windows 7) and all went well. After about 300 updates I have my sound back! The MS Tech said the Realtec did not write a Windows 10 driver for my sound card.
My question is at what point in the updates will I encounter the update that doesn't support my sound card? I value your knowledge and have been with you for more years than I can count. Thanks for your honest and professional approach to the computer world.
Our answer
Hi Rhonda. Thanks so much for your nice comments.
You can hide updates in Windows 7. Once you hide the update it will not reinstall. This would work only if you know the KB # of the update that caused your sound card to stop working. If you know the KB# I can send you the instructions for hiding the update in Windows 7.
However, at this point, with less than 4 months to go before the end-of-support for Windows 7, you're probably better off just turning Windows updates off.
You can do that this way:
* Type Windows Update in Start menu search
* Click on Windows Update when it appears at the top.
* In Windows Update – from the menu on the left – click "Change settings"
* Under "Choose how Windows can install updates" > "Important updates" click the down arrow to expand the list, and choose "Never check for updates (not recommended)". See screenshot below: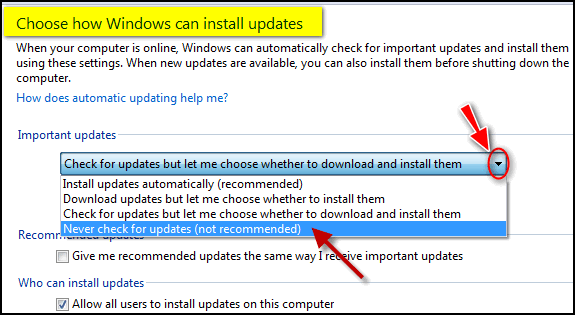 Normally, we would never recommend turning off updates, but since there are less than 4 months of updates left before Microsoft's support for Windows 7 ends and you'll no longer receive updates anyway, turning off updates now will keep you from losing your sound – if it's an update related issue.
While it may be cheaper to replace your sound card so you can upgrade to Windows 10, if you have to have someone install it for you, it may cost you over $100. I think that money would be better applied to a new computer with Windows 10 installed. We have seen nice Windows 10 laptops for $350 or less. See our article here about buying a new computer.
A Guide to Buying a New Computer On a Budget
If you have any more questions, please let us know.
—–
Rhonda wrote back: "Thank you for your prompt reply! I had figured it was time for a new computer so thanks for the link! Rhonda."
---
Marilyn says one of her friends has been attacked by scammers
Hi TC & Darcy. One of my friends has unfortunately been taken in by scammers, who claimed to be from our Telstra phone provider & he told that due to a phone problem ( which we both had due to the fault in NBN,)
So she believed him & made changes allowing him to download something called team ??? which I think was a remote access program. She said that there are two icons on the desktop. Also, the computer was flashing lines, colors & numbers all over the place. it was only when he mentioned that she should tell her bank that it was not a scam, that she realized that this wasn't what he claimed it to be. She hung up the phone & phoned me. I phoned her ISP, & asked what steps I could take, & I was told to unplug the computer from any power & to not turn it on until a technician had cleaned it.
Can you suggest what steps in what order I can do to try to clean it, please? I have suggested that you could do a better job than I, & she's thinking about it, but I thought I'd also like to try but without the modems on. At least that part. With no access to the internet whilst doing it, so the scammers can't get back in by any link on the machine. Marilyn
Our answer
Hi Marilyn. Are you sure they put something on her computer? Was it "Teamviewer"? TeamViewer is a legitimate remote access software program. It's used a lot by scammers to remotely connect to a computer. You can remove TeamViewer completely using Control Panel / Programs /Uninstall a program. It's not malware or any kind of PUP – so it will remove TeamViewer – once that is done, they (the scammers) won't be able to connect to her computer.
Did they connect to her computer and physically interact with her, or did she hang up before she could do anything? The noises and lines and flashing lights and so forth, are nothing but a very expertly crafted web page ad designed to scare people into calling a number or clicking a download link. All that flashing and noise does nothing harmful to the computer. It can be cleaned up by shutting down the computer, reopening the computer and clearing the browser history. But this comes with a word of caution. When you restart your computer and open the browser, it may ask if you want to re-open the pages that were open with the computer was shutdown. Obviously, you don't want to do that or she'll be right back to the scam add. So never say yes to reopening the pages that were open. As soon as the browser opens clear the history.
If the scammers connected to the computer and you don't know what they installed (other than TeamViewer) then that's another set of problems and it would take some experience and knowledge to find and remove other things they may have installed.
If you don't know what was installed you can try running System Restore to a date before the scam attack. Press Windows Key + R and type RSTRUI.EXE in the run box and press Enter. When System Restore opens look for a date before the attack happened and choose it. Then run the restore operation.
The other option, if you're pretty sure her computer has been compromised by malware or other software installed by scammers, is to do a Windows 10 reset (If she's using Windows 10). If she does a reset and chooses to keep her files, then all programs will be removed, Windows will be removed and a fresh copy of Windows will be installed. All her files will be put right back where they were before the reset and she'll need to reinstall all programs she wants to use. This would ensure that nothing untoward remains on her computer. If she wants to be sure that nothing remains of the scammers' incursion, then a Windows 10 Reset would be the way to go. See this page for complete instructions on doing a Windows 10 Reset and keeping all personal files & folders.
This may all overkill if nothing other than TeamViewer was installed on her computer – but without looking at her computer there's no way of telling exactly what affect the scam attackers did We take of things like this all the time – we can look at her computer, determine what, if anything has been installed, remove it, clean up her browsers and computer. With our Cloudeight Direct Computer Care service, we can look at her computer and do what needs to be done. Learn more about our Cloudeight Direct Computer Care service here.
I hope this helps you help your friend.
—–
Marilyn wrote back: "Sorry I didn't get back to you, but I had more visitors…You were right as usual, Irene's computer had not been hacked but had loaded pups onto it. I turned off the modems & turned on the computer & it seemed fine, but I cleared the cache first thing & then scanned with Emsisoft & it found four pups, so it got rid of them. A thorough scan afterward showed nothing untoward, but the "team viewer" icon, which I think is part of the remote access as there was also another icon I think part of remote access there. I uninstalled them & so far so good. I told Irene that she needs to think about whether they are going to replace the computer when Windows 7 runs out in January. If it is replaced, then it would be a good idea to purchase keys for Cloudeight computer care. She agreed that it would take a lot of stress from her if she knew that she had a key to have any problems sorted. She knows that I have had sessions in the past & wouldn't trust a store to do anything.
She asked me to say THANK YOU for your advice & that she appreciated it. "
---
Scott says he has to keep turning on his Wi-Fi every day
I am not sure why this has happened but my laptop used to always keep wifi turned on but now seems like every day I have to turn it back on. Is this from the last windows 10 update causing this? What do you think?
Our answer
Hi Scott. The last update caused problems with Wi-Fi for a small percentage of Windows 10 users, but I never read anything about the kind of problem you have. Did you run the Wireless Network Troubleshooter? Did you try power cycling your router & modem?
We just published an article on troubleshooting Windows 10 Wi-Fi problems. You can read it here. It covers power-cycling, running the Network troubleshooter, and resetting your Wi-Fi network. You can read it here.
Let us know if this helps you.
---
Cathy says her computer screen comes on when no one is using it.
I have a desktop computer and the screen has sometimes been showing the home page for the internet on the screen when no one is around the computer. Sometimes when I walk past the computer it looks like someone was using the internet and no one was around the computer. Can you tell why it's been doing that? It's been doing that for a while. Thanks, Cathy.
Our answer
Hi Cathy. It's not that someone is accessing your computer. If you don't set your power options to "Sleep" after a number of minutes, but you have your screen dimmed after x number of minutes, normal internal "goings-on" within Windows (checking for updates) or with other programs such as your antivirus program checking for new definitions or updates can cause your screen to come on and then dim again over a period of time.
If this bothers you, shut your computer down when not using it or put it to sleep using Power Options. You can access Power Options by right-clicking on the Start button and choosing Power Options. You can also put your computer to sleep by right-clicking the start button, hovering over "Shut down or sign out" and clicking "Sleep" on the menu that appears.
---
Robert wants to know if anyone can connect to the Internet through his wireless printer
Hello EB & TC. When I click on the WiFi symbol located on the taskbar of my desktop PC I see my network listed (as secure) as well as some of my neighbor's (I now live in a "senior" retirement village) connections which are also labeled secure.
I also see my printer on the list because it is connected via the wireless modem and it too says secure. I have Emsisoft Anti-Malware and use the Windows Firewall as you suggest and am running Windows 10 which I keep up to date.
Is it possible (I know the probability is really, really low) that someone with ill intent could sit out in the parking lot and connect to my PC through my printer? If it is possible is there anything I can do to protect against it? I know my concerns may sound trivial but I have learned it is better to be safe so not to be sorry. Thank you for all you do.
Our answer
Hi Robert. Good question. When you click on the wireless network icon, it sure looks like you can connect to the internet via your printer.
But a printer is not a router and would have no idea how to route traffic to other devices, let alone to the internet. So even if someone knew your wireless key, they still couldn't connect to the internet via your computer.No one can connect via your printer. The best way to test this is to go ahead and try to connect via your printer. You'll see you have to enter a security key. And even if you type your wireless key, you will still not be connected to the internet.
You're right though – better to be safe than sorry and now you know that no one can connect to the Internet via your wireless printer.