InfoAve Premium Bonus Questions & Answers: Part 3
Each week we receive more questions than we can answer in the newsletter due to space restrictions. We try to answer every question that we get but we don't have room to put all the questions and answers in our InfoAve Premium newsletter. We thought we'd try something new. Each week we will put some of the questions and answers we had to leave out of InfoAve Premium and post them here each week. That way we can share them with our InfoAve Daily subscribers and our website visitors too.
Below are just a few of the questions and answers that we didn't have room in this week's (October 4, 2019 – Issue #834) InfoAve Premium newsletter.
And a big thank you to all of you who sent in your questions to us. Keep them coming!
---
Holly has a question about saving her email
Hello Cloudeight. I have a question about email. I use windows 8.1 and Comcast.net. Is it impossible to SAVE a folder I have in my email to say Word or a jump drive for safekeeping? Meaning if I got a new computer don't I lose all that is Saved there? Neither I or my husband can figure this out. My husband said since there is NO Send button I can't do it ☹ I have 71 files in the folder in question. I hope I explained what I want to do.
Our answer
Hi Holly. On some email programs, you won't see the send button until you type in an email address in the "To:" field.
Also, make sure you have your mail setup in your email program as IMAP. If it's set up as IMAP, all mail will be synchronized between Comcast.net and your email program. If you reinstall an email program on another computer and set up your Email as IMAP, all your email will be downloaded to the new/different computer.
If you have your mail set up as POP3, it means all your mail is being deleted from the server. If you have it set up as POP3, you can create a new account, set it up as IMAP and then copy all your mail from your POP3 email account to your IMAP account.
Yet another option, depending on the email program you're using, you may be able to export any/all your email to a folder on your hard drive, on an external drive or a USB flash drive. Keep in mind you won't be able to move/copy the folder, but in most cases, you can export all the files inside the folder to another location for safe-keeping.
Without knowing what email program you're using, this is the best answer I can give you.
I hope this helps you, Holly.
---
Sam says Chrome is showing popups and ads
I use Chrome and every time I open it, I get me so many ads or pop-ups and I have to close all of them that I can do other things. Please let me know how can I stop them, it's very annoying, otherwise I not use Chrome anymore. Thank for your help.
Our answer
Hi Sam. Chrome is an excellent browser – and it's being used by over 65% of people. Showing ads and popups is not how a clean version of Chrome behaves.
So, all we can tell you is that it sounds like you installed questionable extensions or malware. This can happen without your knowledge, especially if you download freeware that comes bundled with malware, PUPs, and useless browser extensions. The best way to clean this up – if it's just a Chrome issue – is to reset Chrome. You can find instructions on resetting Chrome here.
If your computer is infected with malware then it will affect other browsers as well. We can clean up your computer for you and make sure that you're computer is clean and that none of your browsers are compromised. If you need our help, please see our Cloudeight Direct Care Service Home Page.
If you need more help, please let us know.
---
Nick wants to know if he should use Emsisoft Browser Security
I just got a notification from Emsisoft asking if I want to install Emsisoft Browser Security. I said yes and it directed me to the Microsoft Store. I downloaded it but am having second thoughts as to whether I should launch it. What do you recommend?? Thanks for all you guys do. You are amazing.
Our answer
Hi Nick. Thanks for your nice comments! Yes, I think it is a great feature recently added by Emsisoft and we use it personally and make sure that it is set it up on all the computers we service.
---
Carie says she can't change the taskbar and Start menu colors on Windows 10
As everybody tells you I read your newsletter every Friday and depend on it. Now, you had a response on this last Friday in regards to changing color on Taskbars. I am still having a problem doing that on Windows 10. It does not have the things as you state that I can find in personalization there is only one Default Item for Dark or light to change. I cannot change my taskbar color still. My transparency is off and the one setting is set to light but when I scroll down the block that is greyed out for Start, Taskbar, and Action Center will not let me check it. I hope I'm making sense to you. I have tried everything to get things to work and I cannot get anything to get that greyed box to highlight so I can change the Taskbar color. Can you help me? I really would appreciate it. Thank you. Carie R.
Our answer
Hi Carie. You have to have your Windows mode set to dark, not light, and your App mode set to Light, not Dark. If your default Windows mode is set to "Light" then all the other settings will be grayed out – just as you described.
So, right-click on an empty area of your desktop, click "Personalize". In Personalization click Colors and make sure that the settings are as follows.
Default Windows Mode "DARK"
Default App Mode "Light"
Anything other than that will result in all other settings being grayed out. If your settings are correct you'll be able to check the boxes next to "Start, taskbar, and action center" and "Title bars and window borders", And whatever color you chose will immediately be shown on the surfaces selected.
Let us know if you need more help, Carie.
---
Barb wants to know how to clear the list of searches in Chrome
I am a compulsive user of Google Search and use it many times every day, always from my NOTH page. My question is, how can I delete the mile-long list of searches? I've read your instructions about resetting, but I don't want to do anything that would also remove cookies and passwords. I used to clear history in Chrome which separated the items so I didn't have to worry about cookies etc. but I'm now using Edge because Chrome won't let me into Pogo Games. I would prefer not to have to keep changing browsers. I know I'm fussy, it comes with being a living antique. Grateful thanks for any advice. Best wishes, Barb.
Our answer
Hi Barb. The fault with Pogo is not the browser, its Pogo's reliance on Adobe Flash. No major browser will support Flash after next December. So, Pogo's going to have to make some changes to a lot of its content.
Now on to your Chrome questions. First,  delete your Chrome history.
Open Chrome, and while Chrome is open, press CTRL+SHIFT+DELETE on your keyboard. Chrome's "Clear browsing data" dialog will open.  You can uncheck "Cookies" if you don't want to delete them. However, I suggest you do it.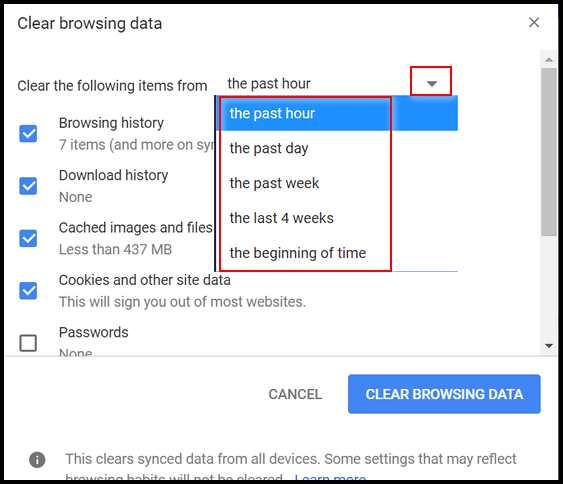 Using the down-arrow, you can select how far back you want to go to delete browsing data from Chrome, even back to the beginning of time. Not actually the beginning of time, but back to the first day you used Chrome. You can also check or uncheck what you want to clear under "Clear the following items…" Then click "CLEAR BROWSING DATA".
Remember, clearing cookies will log you out of sites that you're logged into. The next time you visit those sites, you'll have to enter your login credentials again.
Next, you'll have to clear your Chrome/Google history online. See this page to learn how to do that.
Now, close Chrome and reopen it. Those long lists of visited URLs should be gone.
Google Chrome will still try to guess (predict) what you're going to type in Chrome. If you don't want Chrome to do this, you'll need to turn off Autocomplete suggestions. You can do that this way:
1. Open Chrome
2. Click on the 3-vertical-dot icon at the top-right
3. Click on Settings
4. Scroll down and click on Advanced
5. Under "Advanced" click on the tiny arrow next to "Sync and Google services"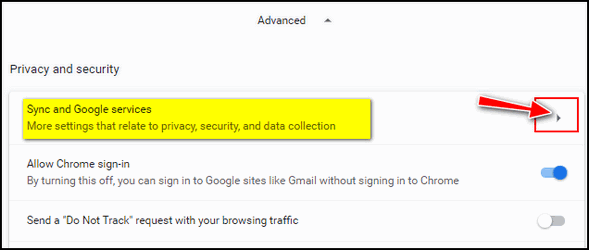 The following window will open. Turn the switch next to "Autocomplete searches and URLs" off (see below).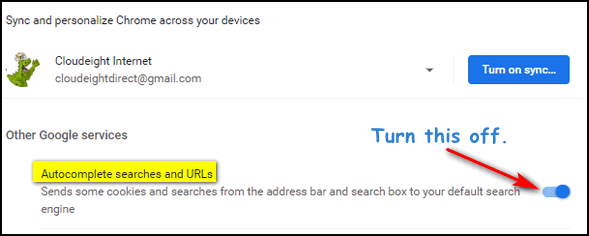 Close and reopen Chrome and it will no longer try to predict what you're going to type or search for.
I hope this helps you, Barb.
---
Audrey wants to know how to send an attachment with Thunderbird
Hi Darcy T.C. I've tried but can't seem to find out how, when using Thunderbird you add an attachment to send on an email. I'm sure you can help explain it to me. Thanks,  Audrey.
Our answer
Hi Audrey.  To attach a file, just click on the down arrow at the top, far-right. This will open the drop-down menu. From that menu, click on File(s) and browse to the file/files you want to send. See the screenshot below.
To insert an image in an email, just click Insert, new image, or click the icon in the ribbon menu and choose insert, image. Then browse to where you have the image and choose it. Below is a screenshot (I clicked Insert, image to put this here.)
Or you can open the folder where the image is, and drag it into the mail you are writing. The choice when you drag it may be "move" but the original image will remain in its folder.
I hope this helps you, Audrey.

---
Bob wants to know how to upgrade from Windows 8 to Windows 10 — free
TC, I want to take you up on your offer to give me info on how to upgrade from windows 8 to 10 for free. When you have time. Thanks, Bob.
Our answer
Hi Bob. Just go to https://www.microsoft.com/en-us/software-download/windows10 and click the blue "Download Tool Now" button. Download Windows 10 installer. When it has downloaded double-click to run it. When it's done setting up, you'll have 2 choices:
2. Create Installation media to use on a different computer (paraphrase).
Choose "Upgrade this PC now" and the upgrade will begin. All you have to is click "OK" or "Next" a few times and the upgrade will start. It may take an hour or it may take several hours, it depends on your computer and your internet speed. Best not to get impatient as it can look like it's "stuck" at times.
Once you start the upgrade it's automatic.