My Data Request Makes It Easy to Request Your Personal Data From More Than 100 Companies
How do you know how much personal data the sites you interact with have aquired about you? Well, you don't unless you request it. If you want want to to request to see the data companies have collected about you – it can be time-consuming and sometimes difficult.
There'a free web site /service that can make much simpler and easier for you to get your personal data from over 100 companies, including companies such as: Pinterest, Gmail, Spotify, LinkedIn, Snapchat, Uber, Lyft, Facebook, AirBnb, YouTube, Twitter, Instagram and dozens of others.
The is called My Data Request and it's a one stop shop for gathering up all your personal data from different companies without hopping around to dozens of websites and jumping through hoops trying to find the right page(s) so you can request your personal data.
My Data Request makes it about as simple as it can get to request your data – just click on a company logo. You'll see a pop-up with with a direct link to the page from which you can download your personal data. Then all  you have to do is log-in to that particular site request your information and download your data.
There's always a catch, right?  In some cases there won't be any direct download page for data -not because of My Data Request, but because the company that has your personal data wants to make it more difficult for you to acquire it. In these cases, details and information will appear in a pop-up dialogue that tells you exactly what kind of maneuvering a company wants you to go through to get your personal data. Most  include a template you can use when an email, phone call, or written request is required (a sample template is at the bottom with the screenshots).
Depending on the site, you may have to indicate your general location. For example: "I'm in the EU", or "I'm in California" or "I'm Elsewhere". (An aside… I always thought California was a country!)
If you're interested in seeing what personal data a company or companies have about you, My Data Request will help you by making it simpler and easier for you to do.
And…reading over My Data Request's privacy policy we didn't find anything to dissuade us from using or recommending this service. But again we remind you, we're just two country bumpkins from the Midwest of the USA — and we're certainly not lawyers. If you want the real scoop, spend a few hundred and hire a lawyer. Or better yet, make a donation and trust that after two decades we're not going to ever intentionally steer you in the wrong direction.
Screenshots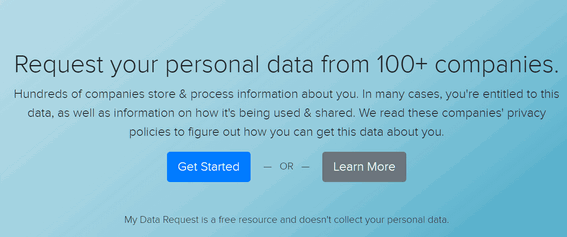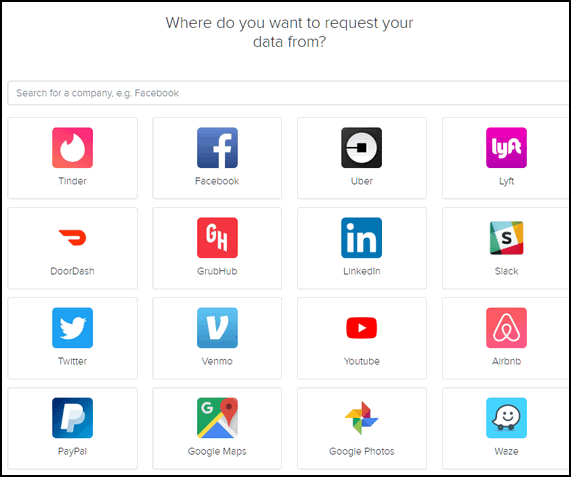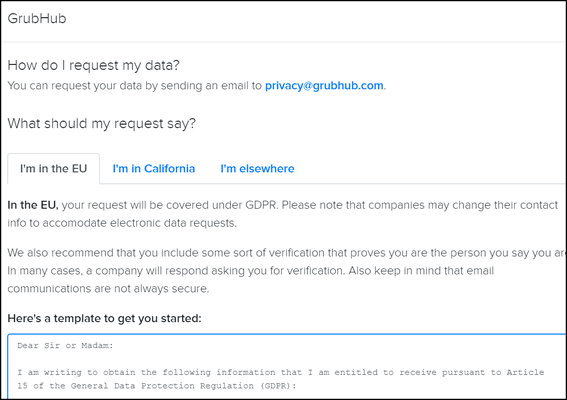 Sample Template
Dear Sir or Madam:
I am writing to obtain the following information that I am entitled to receive pursuant to Article 15 of the General Data Protection Regulation (GDPR):
Please confirm as to whether or not my personal data is being processed, and, where that is the case, please provide access to the personal data, and the following information:
the purposes of the processing;
the categories of personal data concerned;
the recipients or categories of recipient to whom the personal data have been or will be disclosed;
where possible, the envisaged period for which the personal data will be stored, or, if not possible, the criteria used to determine that period;
where the personal data are not collected from me, any available information as to their source;
the existence of automated decision-making, including profiling, and at least in those cases, meaningful information about the logic involved, as well as the significance and the envisaged consequences of such processing for me.
If you need any more information from me, please let me know as soon as possible. Please note that I have the right to receive this information in a standardized format within 30 days of your receipt of this request.
If you do not normally deal with these requests, please pass along this letter to your Data Protection Officer. I can be contacted by email, phone, and mail. My preferred method of contact is email.
Regards,
[ MY SIGNATURE ]
[ MY NAME ]
[ MY ADDRESS ]
[ MY PHONE NUMBER ]
[ MY EMAIL ADDRESS ]