New Chrome Extension Checks for Hacked Passwords
Google has a new, free Password Checkup extension for Chrome that automatically checks your passwords to make sure they have not been hacked. The extension checks your passwords in real-time – as you use them – against a huge Google database of  approximately four billion known hacked/stolen passwords.
Google's new Password Checkup extension is secure and passwords are checked locally and everything is encrypted.  Since you're already using Chrome to enter your username/password,  the Password Checkup extension performs a local check, to see if your password appears in the hacked/stolen password database. All password checking is all done locally on your computer, and your password isn't sent anywhere – not even to Google's servers. And the entire process is encrypted. (If you want to learn more about Password Checkup works, see this "Wired" article.)
If your password is found in the database of hacked/stolen passwords you will be alerted and given the opportunity to change/reset your password. If you're password is not found on the database, you'll see this: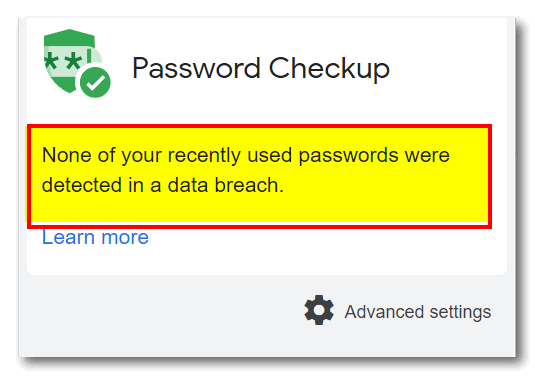 Here's what Google has to say about its new, free, Password Checkup extension for Chrome:
Password Checkup helps you resecure accounts that were affected by data breaches. Wherever you sign-in, if you enter a username and password that is no longer safe due to appearing in a data breach known to Google, you'll receive an alert. Please reset your password. If you use the same username and password for any other accounts, please reset your password there as well.

Password Checkup was built with privacy in mind. It never reports any identifying information about your accounts, passwords, or device. We do report anonymous information about the number of lookups that surface an unsafe credential, whether an alert leads to a password change, and the domain involved for improving site coverage. You can learn more about how Password Checkup works at https://support.google.com/accounts?p=password-checkup.

By installing this item, you agree to the Google Terms of Service and Privacy Policy at www.google.com/policies/.
If you're using Google Chrome and you're interested in installing the new Google Password Checkup for Chrome extension, you can get more information and/or install the extension from this Google page.
The jury is still out on this extension – there are a lot of positive and a lot of negative reviews. It certainly won't hurt anything for you to install it and try it and judge its usefulness yourself. If you don't find it useful, just remove the extension. We're not giving this extension our full-blown recommendation – we're giving it a "take a look and see" rating.