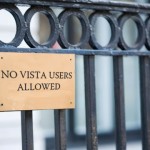 One of the minor "features" Microsoft included in the Internet Explorer 10 Platform Preview released earlier this week was reduced operating system support; it will only install on Windows 7, leaving Windows XP and Windows Vista users out in the cold. Microsoft confirmed to Computerworld that this was no accident, with a spokesperson saying "Windows Vista customers have a great browsing experience with IE9, but in building IE10 we are focused on continuing to drive the kind of innovation that only happens when you take advantage of the ongoing improvements in modern operating systems and modern hardware."
That's a claim that's hard to make any sense of.
When the company announced that Internet Explorer 9 wouldn't support Windows XP, the decision made sense. Though it meant cutting off a large number of Windows users, Internet Explorer 9 was written to depend heavily on Direct2D and DirectWrite for all its hardware accelerated high-performance graphics, and on Windows' Mandatory Integrity Control (among other things) for security. Direct2D and DirectWrite were both introduced on Windows 7 and back ported to Windows Vista; MIC was introduced with Windows Vista. In neither case were the features available on Windows XP, nor even readily ported to that operating system.