PhotoDemon: A Demon You'll Love
When it comes to photo editors, I do believe we've tried most of them at one time or another, yet EB and I always stick with our old, out-dated , but trusty,PaintShop Pro 7 . In our opinion, PSP7 was the last great version of PaintShop Pro while it was still owned by Jasc. Unfortunately (and you may disagree), Corel bought Jasc and PaintShop Pro has never been the same since.
We love PaintShop Pro 7 for a lot of reasons… it can use Photoshop filters, Layering is easy to do with it, text is really easy, effects and modifications and a lot other feature have endeared us to this old and outdated program. We're still amazed that it works on Windows 10 – and keeps on working with each new Windows 10 version.
We're always too set in our ways to learn a new photo editor, but PhotoDemon may well be considered a candidate for replacing for our trusty old, out-of-date PaintShop Pro should the day ever come when it stops working in Windows 10.
Actually, I think maybe once I get used to PhotoDemon's features, it may well be the best free photo editor we've found… but one day of testing is not enough to make such a bold statement. But one day of testing IS all we need to know that PhotoDemon is something we can recommend, with confidence, to all of you who are looking around for a free, full-featured, (relatively) easy-to-use photo and image editor.
PhotoDemon has  a lot of features like layers, filters, built-in effects, and filters. The only thing we found lacking a bit was its text editing capabilities – but honestly, it may not be the program's fault, it may just be that we need to learn the program much better. It certainly has a myriad of features that we have not had time (yet) to explore.
PhotoDemon, while called a demon, is no monster. Nope. It's a super-lightweight, 12 MB download, that you don't even have to install. PhotoDemon is a portable application. If you decide to download it, we suggest you unzip it and then create a start menu shortcut by right-clicking on PhotoDemon.exe – located in the folder to which you extracted the zip file – and choose "Pin to start". That way you'll have a convenient way of opening PhotoDemon when you want to use it.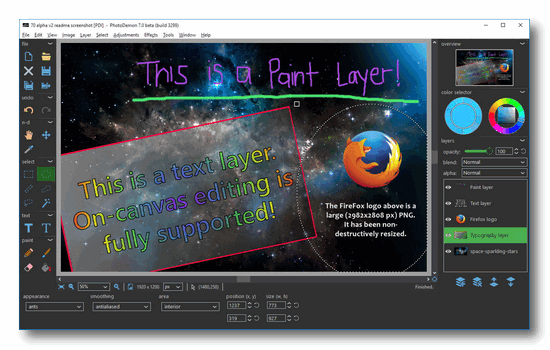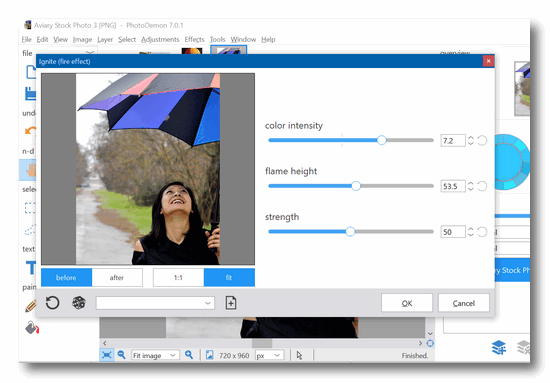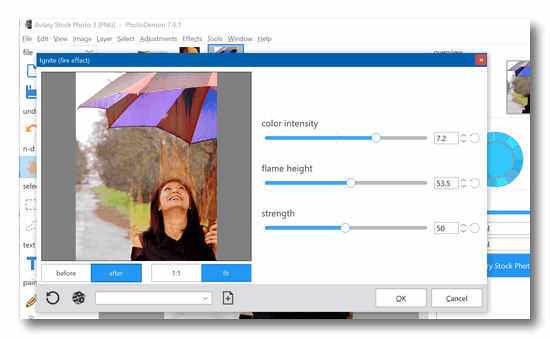 The author is quite proud of PhotoDemon and rightly so. And because he knows much more about it than we do at this point, we will let him tell you more about PhotoDemon…
A Word from PhotoDemon's creator Tanner Helland
"PhotoDemon 7.0.1

PhotoDemon is a portable photo editor focused on performance and usability.

It provides a comprehensive photo editor in a 12 MB download. It runs on any Windows machine (XP through Win 10) and it *does not* require installation. Feel free to run it from a USB stick or portable drive.

PhotoDemon is completely open-source and available under a permissive BSD license. Contributors have translated the program into more than twenty languages.

New contributions from coders, designers, translators, and enthusiasts are always welcome.

* For information on the latest stable release, visit http://photodemon.org
* To download the program's source code, visit https://github.com/tannerhelland/PhotoDemon
* To download a nightly build of the latest source code, visit http://photodemon.org/downloads/nightly/PhotoDemon_nightly.zip

What makes PhotoDemon unique?

(It's) Lightweight and completely portable
No installer is provided or required. Aside from a temporary folder – which you can specify from the Tools > Options menu – it leaves no trace on your hard drive. Many users run PhotoDemon from a USB stick or portable drive.

Integrated macro recording and batch processing

Complex editing actions can be recorded as macros (similar to Office software). A built-in batch processor lets you apply your macros to entire folders of images.

Usability is paramount

Many open-source photo editors are usability nightmares. PhotoDemon tries not to be. Small touches like save/load presets on all tools, unlimited Undo/Redo, "Fade last action", keyboard accelerators, effect previews, mouse wheel and X-button support, and descriptive menu icons make it fast and easy to use.

Pro-grade features and tools:

* Extensive file format support, including all major RAW formats
* Color-managed workflow, including full support for embedded ICC profiles
* Non-destructive editing for select features, including resizing, rotation, and common adjustments
* 2D transformations: advanced rescale operators (Sinc, Catmull-Rom, etc), content-aware scaling (seam carving), crop, straighten, shear, zoom
* Adjustment tools: levels, curves, HDR, white balance, split-toning, green screen, Wratten filters, and many more
* Filters and effects: perspective correction, edge detection, noise removal, content-aware blur, unsharp masking, lens diffraction, vignetting, and many more
* Some ~200 tools are provided in the current build.

Portability

PhotoDemon does not require installation, administrator rights, or Internet access. Its tiny footprint allows it to run directly from USB devices.

Power

The current build provides more than 200 professional-grade tools, including digital darkroom essentials like shadow/highlight recovery, multi-channel curves, content-aware resizing, and HDR.

Usability

An elegant interface built by designers – not engineers – gets out of the way and lets you work. Usability testing drives our design decisions.

Other cool stuff

PhotoDemon comes with a built-in macro recorder and batch processor. Its UI is fully themable, with built-in light, dark, and monochrome themes. All tools support real-time previews, custom presets, keyboard nav, and unlimited Undo/Redo.

All Windows versions (XP through Windows 10) are fully supported…"
With all the features you'll need to get started using a professional quality image/photo editor, and weighing in at only 12 MB, we think PhotoDemon deserves a chance to be your photo editor.
Just remember, it has a wealth of features and it's going to take some time to learn. But it is user-friendly, intuitive, and the author seems genuinely interested in the PhotoDemon project, so we can see more great things coming to PhotoDemon in the future.
But you don't have to wait, PhotoDemon is ready for prime time right now. Why not give it a try. The program is clean and free from unwanted 3rd-party software and the author does not play games with download buttons. You can read more about and/or download PhotoDemon here.