Private Browsing: It's not private but it's good for some things
While private browsing is anything but private, there are some good reasons to use it, but none them are related to hiding your activities, as you aren't going to hide anything by using private browsing. Every site you visit is logged by your ISP and most of the time by the site you're visiting. Your IP address is being logged; private browsing does not hide your IP address. Yet many people think they're skulking around the Internet anonymously when they are using private browsing, but alas anonymity requires a lot more than using a browser's private browsing mode. If it's not really private, then what good is it?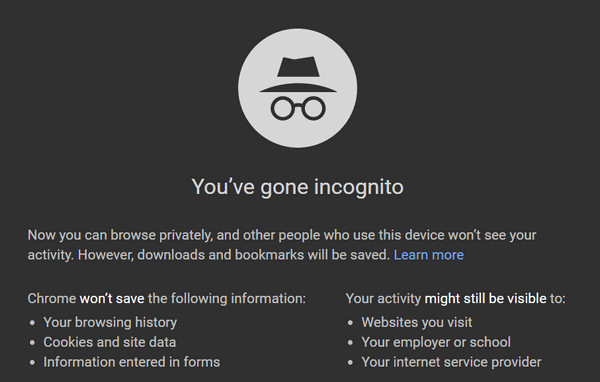 1. Use Private Browsing when you don't want cookies or temp files from sites you've visited stored on your computer. Using private browsing doesn't store cookies or the site urls you visit on the local computer. If you're a lady looking for a new husband, you don't have to worry about your husband looking through your temp files and finding photos of your new prospective husband or cookies from www.soyourelookingforanewhusband.com – or EB's favorite www.sugardaddy4ubaby.com . I only know EB frequents that site because I snuck up on her while she was perusing a gaggle of shirtless, fat, rich, old men.
2. Logging into multiple accounts from the same computer: If you're logged into, let's say one of your Gmail accounts, when you try to log into another it will make you sign out of the account you're logged into (there's a way around this but that's for another issue). If you want to open another Gmail account, etc. just open private browsing and log into the other account. If you want to log into 5 Gmail accounts, for example, at one time just open 4 private browsing windows.
3. Search without cookies that identify you: You can search Amazon or PayPal etc. from a private browsing Window without seeing it come up on searches you perform when you're logged into a site. Since cookies are not carried over from a private browsing session, sites cannot use them to identify you when you search using private mode, then log into the site to purchase. This also provides you with a means whereby you can check the contents of a site as a new user and compare prices to make sure aren't getting better prices than members. Hey, it happens all the time..
4. Checking email or browsing from someone else's (or a public) computer. When need to check your email, check an account or browse on someone else's computer may want to use private browsing for that because browsing history, email provider and accounts are not saved to the computer. Private browsing never saves web history, cookies or web data.
So private browsing is useful for some things, but not for hiding your identity from your ISP, FBI, NSA, EB or the sites you visit, I tells ya.
Oh and we almost forgot – here are some keyboard shortcuts for launching a private browsing session:
Firefox, Edge and Internet Explorer: Ctrl-Shift-P launches a new private browsing window.
Chrome and Opera: Ctrl-Shift-N is the shortcut to open a new private browsing window.
And there you go – (almost) everything you ever wanted to know about private browsing but were afraid to ask