Saturday Bonus Questions and Answers – 073022
It's the last Saturday in July and sadly summer is waning up here in the northern hemisphere. But the good news is that it's time for another issue of Saturday Bonus Questions & Answers.
Sometimes the best tips and tricks are hidden in the questions and answers we publish. And rarely do we post questions and answers on this website. Today, we're featuring some of the questions and answers from past issues of our InfoAve Weekly newsletters. 
These questions & answers were selected at random from past InfoAve Weekly newsletters.
---
Saturday Bonus Questions and Answers – 073022
Paul wants to know why his start menu looks different than ours
I love your newsletters and read them both as soon as I get them. But I have a problem. Whenever you have a tip about the start menu, you show screenshots of a Windows 10 start menu with programs on it. When I open my Windows 10 start menu all I see are tiles. What am I don't wrong?
Our answer
Hi Paul. Thanks! I'm guessing you're not using a tablet. If you are then you won't get the Desktop/Laptop Start menu we show in our article. If you're using a desktop/laptop, make sure you don't have Tablet mode turned on. Do this:
Right-click the Start button.
Click "Settings"
Click "System"
In the "System" settings window, click "Tablet mode" in the menu on the left.
Make sure that the Tablet mode is not turned on. Your settings should look like the settings shown in the screenshot below.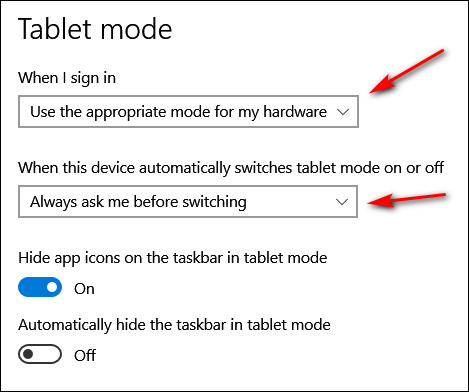 Once you've checked on Tablet mode, let's check to make sure you don't have your Start menu set up as full-screen. If you do, you'll see no apps/programs – all you'll see are tiles sprawling across your desktop. Let's check this.
1. Right-click the taskbar.
2. Click "Taskbar settings".
3. When the "Taskbar settings" window opens click "Start" (in the menu on the left.
4. In the Start menu settings window make sure "Show more tiles on Start" is off – and more importantly, make sure "Use Start full screen" is turned off.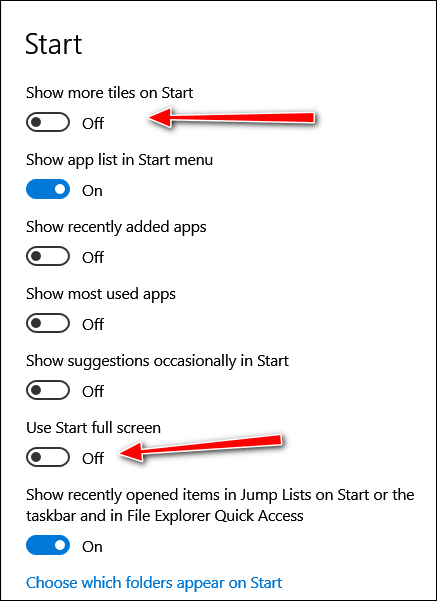 We hope this helps you, Paul.
——
Paul wrote back: "Thanks so much! You nailed it. I had my start menu set full screen. I have no idea how that happened, but thanks to you, it's set up right now. Keep up the great work. Paul."
---
Phyllis wants to know what we think of Nord VPN
I can't tell you how much I appreciate your willingness to dig in and get it done. I will be a staunch supporter of both of you as you continue to help so many of us. I will also be more careful and not get into trouble, if possible! Phyllis
Our answer
Hi Phyllis. Thanks so much for your kind words!
Nord VPN makes so many false claims in their TV commercials, I wouldn't know where to begin. I'll make it simple. A VPN does not protect you from spam, malware, identity theft, hackers, or anything else. A VPN is like a proxy that routes your Internet traffic through a VPN server. With a VPN provider, you can choose to appear to be from Eastern Europe, Japan, China, the USA, Europe, South America, or some other place in Canada than you are.
But it's not true that a VPN prevents you from having your identity stolen, protects you from malware, or keeps hackers away – it merely hides your IP address. Most people have their identities stolen by falling for fake emails and counterfeit websites. Most people get malware by downloading bundled software where the program they want is bundled with stuff they don't. VPNs cannot protect you from being tricked.
Please read this Cloudeight article for more information about VPNs.
VPNs have their place, but if you're expecting a VPN to keep you safe from hackers, identity thieves, and/or internet criminals and charlatans – save your money, Kelly. Don't believe much of what you hear about VPNs.
---
Yvonne wants to know why she has so many Chrome processes running
I noticed that I have an excess of (11) Chrome.exe 32 processes open in Task Manager. Chrome is my default browser. Do I need all of these? They are using more than a bit of memory. I took a screenshot but I don't see a way to include it in this form. I haven't a clue as to what I can "stop" or "end" without screwing up things. My favorite motto is: "Thou shalt not screw up my computer." Thanks!
Our answer
Hi Yvonne. Back in the old days, and still, with some older browsers, the browser opened all pages/tabs in the same process. While this sure looked good in Task Manager, if/when the browser crashed, all the pages/tabs that were open, and any installed extensions, all crashed together.
Chrome opens each tab/page in a separate process – and it also opens active extensions in separate processes. While this makes it look like you have many Chrome browsers open in Task Manager, it's only Chrome showing each tab/page and active extension as a separate process.
If you close a Chrome process, you'll end up closing a tab/page or extension.
I hope this helps explain why you have so many Chrome processes showing in Task Manager.
---

Please consider making a small donation and help us to keep on helping you!
---
Sandy G. wants to know about Blue Screens
Recently, my laptop has done something it never used to do. I am not sure if I can attribute this to the newer version of Windows 10 or not. However, once in a while, not often, right in the middle of doing something, usually while I'm in the web browser, my screen goes to a blue screen with white writing that says my computer has encountered an error and needs to reboot. Then my computer reboots itself. It takes a bit of time to reboot, but it reboots and comes up just fine. I am using a Dell laptop. Any thoughts on what is prompting this to happen?
Our answer
Hi Sandy. A blue screen indicates that you have hardware issues – most like driver issues. Make sure you don't have any automatic driver updater programs installed.  It's common to see a blue screen once in a while, but it's not common to see them frequently. If you're seeing more than once a month, then you are having driver/hardware issues.
If you get Blue Screens more than once in a while, we suggest you take a look at this Microsoft page which can help you troubleshoot your blue screen issue.
If you need more help or have more questions, please let us know.
---
Bonnie said her text suddenly got very small in Gmail
Yesterday, my emails in Gmail went to a very small type. Those I send use the settings I set but my Inbox and received emails are in very small type. Is there a way to get my larger type back?
Our answer
Hi Bonnie. Text on most websites (including Gmail) is very easy to make bigger or smaller on the fly.
You can use your CTRL key plus your mouse wheel to increase or decrease the size of the font on Gmail (and most other websites). You can also use your CTRL key and the + (plus) or – (minus) key to change font sizes.
See our article here to learn more.
Please let me know if this helps you, Bonnie,
—–
Bonnie wrote back: "Worked perfectly! Thank you so much! Bonnie."
---
Cathy wants to know what device to use when doing online shopping
I was wondering if you could have a topic on tablets like the iPad or Samsung or other tablets. I use mine more than my desktop. But I use my desktop when I want to order things because I don't trust my tablet for ordering from websites. To let everyone know when it's ok and not ok to use the tablets. Thanks, Cathy.
Our answer
Hi Cathy. The device you use to connect to the Internet does not make you safer or less safe. Despite wild claims by security software developers and VPN services, the best way to stay safe online is to take time to think before you click. Almost all – over 95% of identity theft and online theft – is the result of people clicking links in counterfeit emails that lead to counterfeit sites that look just like the store or bank or service you expected to see. Enter your info into these counterfeit sites, and your data will be stolen.
No matter what security software you use, or if you use a VPN or not, you'll still be subject to receiving a phishing email. These counterfeit emails appear to be from a real store, financial service, or credit card company. But as we've warned many times… no credit card company, financial service – or even a legitimate retail establishment is going to send an email to you asking you to "verify your account", "change your password", "check to make sure you've not been hacked", or other such calls to action designed to scare you into clicking a link or links in an email.
Legitimate companies, who need you to check something will not entice you to click a link – they'll say something like "Please log into your account".
It does not matter if you're using a tablet, smartphone, laptop, desktop, or all-in-one to access the Internet. It does not matter if you're using Chromebook. It doesn't matter if you're using Windows, Linux, Apple, iOS, or Android. The device and operating system you use to access the Internet is only as safe as the care and thought you use when you are on the Internet.
This is not to say that you don't need good antivirus/antimalware (especially on Windows devices)… you do. You need it to make sure that your computer is not compromised by software designed to display ads or compromise the info you keep on your devices. For Android and Apple devices- make sure you don't download software from sources you're not sure of. Download your apps from Google or Apple sources… and limit how many you install.
But as far as identity theft or losing money online  — it does not matter what device you use. To a great extent, it depends on you. Never rush through a purchase. Always use common sense, beware of trickery, and don't click links in emails from banks, credit card companies, financial institutions, or stores that ask you to verify your information, check your account, or anything. And most of all, always think before you click.
If you have any more questions, let us know, Cathy.
---
Audrey wants to know how to send an attachment with Thunderbird
Hi Darcy T.C. I've tried but can't seem to find out how, when using Thunderbird you add an attachment to send on an email. I'm sure you can help explain it to me. Thanks,  Audrey.
Our answer
Hi Audrey.  To attach a file, just click on the down arrow at the top, far-right. This will open the drop-down menu. From that menu, click on File(s) and browse to the file/files you want to send. See the screenshot below.
To insert an image in an email, just click Insert, new image, or click the icon in the ribbon menu and choose insert, image. Then browse to where you have the image and choose it. Below is a screenshot (I clicked Insert, image to put this here.)
Or you can open the folder where the image is, and drag it into the mail you are writing. The choice when you drag it may be "move" but the original image will remain in its folder.
I hope this helps you, Audrey.
---
Patty says her computer went incognito
I woke up this morning and found my laptop telling me I had gone incognito. I cannot remember what this means or if it is something I need. What does it do? Is it a good thing to have? If not, how do I go back to whatever mode I had?
Our answer
Hi Patty. Computers don't go Incognito, but browsers do. Google Chrome has an incognito mode – Firefox and Edge have "Private modes". It just means your browser is not saving cookies or browsing history when you're in Incognito mode (Chrome). Just close Chrome and reopen it – and it should reopen in normal mode. 
If you're interested, you can learn more about private browsing here.
---
Jane asks about the Windows 10 weather app
Is it okay to pin the Win 10 weather app to the taskbar? Thanks, Jane.
Our answer
Hi Jane. Windows 10's Weather app is great. I have the Weather app pinned to my Start menu as well as my taskbar. If you use it every day like I do, pinning it to your taskbar is a smart thing to do. Check out our article here about the weather app.

Those using Windows 11 will be happy to know that the Windows weather app is included with Windows 11 too.
---
Jean needs to find her wireless network password
I am moving, packing, etc. For years I have had my WIFI network password in one place. It was on the writing desk. Everything in the writing desk was packed in two small boxes or so I thought. I now cannot find the envelope that contains the password. I am moving on Jan 4 and need the password to connect WIFI in the next place. Downloaded Nirsoft. Windows Defender tried to stop it, but I got over that hump. Extracted the files. Down at the bottom of Wireless Key view, 0 Keys are entered. But I do have a key and I do have a password.
When I attempt to install WIFI in the new place, I could use a new name and password but would rather not.
I also tried the instructions you gave us using the command prompt. It said "The wireless autoconfiguration setting is not running. " I tried it twice.
Is there any other way to recover my password or should I just create a new one when the time comes?
Our answer
Hi Jean. Good question. Many people got new smartphones, tablets, and streaming devices for Christmas and they may also need to find their wireless passwords to set up their new internet-connected devices. So we posted this tip this morning to remind folks there's a really easy way to recover wireless passwords without using any 3rd-party software.
At the bottom of that article, there is a link to another way to recover wireless passwords without using any third-party software.
We hope this helps you, Jean.
---

Don't have a Cloudeight SeniorPass? It's a great deal. Learn more here.
Our Cloudeight SeniorPass is a great deal. You get unlimited support for one full year from the date you first use your SeniorPass. We can help keep your computer running well, fix all kinds of computer problems, clean up malware, and a whole lot more. Our SeniorPass is like having insurance for your computer. And it's only $99 for an entire year.
Get your SeniorPass today for just $99.  It's just like having insurance for your computer – only better!
To learn more about our SeniorPass, please see this page.
---
Dotty has a mysterious user account on her login screen
I first turn it on. in the lower-left corner are the two user accounts. There's my account and then there's an account called "Administrator". I can't remove this account because it does not show up in "Accounts" in settings. How do I get rid of it?
Our answer
Hi Dotty. That's called a "Super Administrator" account. You can remove that account only one way:
Type COMMAND in taskbar search. When Command Prompt shows up in the search results, click on "Run as administrator".
At the prompt, in the command box, type this (exactly as shown).
Net user administrator /active:no
and press Enter.
That's it. The super administrator account will be gone, and you won't see it on your login screen.
——–
Dotty wrote back: "It worked. You are awesome. Keep up the great work. Happy New Year to you & Darcy. Thank you!
---
Ellen has problems with Edge
During the past 2-3 months, after Edge updates, when I want to access different websites, Edge takes a very long time to reach the sites and eventually, an on-screen message quickly flashes " This isn't working right…Try clearing cookies (which I do very frequently) …Error…too many redirects". Then, the desired website finally appears on the screen. This happens every day, many times every day.
I have tried researching the message, can find nothing like it and no remedy either. I hope you can recommend a solution. Thank you, Ellen.
Our answer
Hi Ellen. This sounds to me like you have a bad extension installed or something corrupted Edge. The "Too many redirects" error sounds like a bad extension. I would recommend you reset Edge.
1. Click on the 3 dots at the top-right corner of Edge
2. When "Settings" opens click on "Reset settings" (in the menu on the left).
3. On the page that opens, click on the arrow to the right of "Restore settings to their default values"
4. You'll see the following…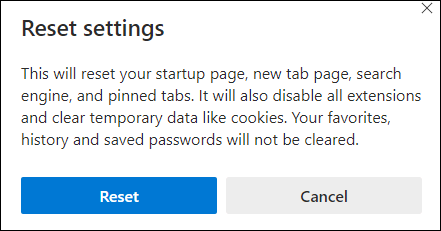 Click on "Reset".
We recommend that after doing this you restart your computer and then try Edge again.
We hope this helps you, Ellen.
---
Every week we help dozens of people with their computers without charge or any expectation of payment. And we have helped many folks who have fallen for tech support scams or other scams designed to steal their money.
And we now depend more on readers like you to help keep us going. Your donation helps us to help more people with their computers and helps us keep everyone safer online.
Please help support our small business and help us to keep on helping you.