Saturday Bonus Questions and Answers – 081923
Hello there friends! Here we are… another week's gone by and it's Saturday again. Time flies when you are having fun. It's time for another edition of our Saturday Bonus Questions & Answers.
Today, as we do every Saturday, we're featuring some of the questions and answers from past issues of our InfoAve Weekly newsletters. 
These questions & answers were selected at random from past InfoAve Weekly newsletters.
---
Please consider giving us a helping hand!
If our computer support & help or our tips and tricks have helped you or made your computer life easier or more productive, please help us with a small donation  Your gifts allow us to continue to help you.  Take a moment and help us if you can.


Donate today and help us to keep helping you!
---
Saturday Bonus Questions and Answers – 081923
---
Tony's Start menu is missing…
Hi TC & Darcy. Well, everything has been working fine until today, I no longer have access to my Start Menu, in other words when I click on the Start button, nothing shows up, blank, nothing. This just started today. I don't know what to do to get to my apps menu to select the ones I use all the time. I need help, please.
Also, I received your newsletter today regarding Windows S Mode. I tried following your steps but never did find whether I have the S version, not that I want it. If you can help, I would be eternally grateful. In fact, I currently have your Windows S newsletter in my Inbox now and can't get it to know if I'm running Windows S. Thanks, Tony.
Our answer
Hi Tony. Try powering off your computer – completely. Wait for at least 5 minutes before you turn it back on… I'm pretty sure that will restore the start menu. If it doesn't you can try following the instructions on this page…
https://www.thundercloud.net/infoave/new/using-sfc-and-dism-to-repair-windows/
As for S-Mode, this article explains how to find out if your computer is running in S-Mode.
We can save you some time though – since you downloaded and installed Thunderbird email – you're not running S-Mode. If you were running S-Mode, you could only use apps from the Windows store.
---
---
Gayle does not want to use PayPal
Hi Again. I want to purchase your SeniorPass but I do not want to use PayPal. I just want to use my credit card But when I try to buy a SeniorPass it only gives me the option to use PayPal. Is that my only option?
Our answer
Hi Gale. You don't have to use PayPal, you can use any credit or debit card. PayPal in that case is just our credit card processor.
When you click the Buy Now button at https://thundercloud.net/direct/2018/senior/ you'll go to a page with the item name "SeniorPass" and the price – and a big blue "Continue" button. When you click "Continue" you'll see this…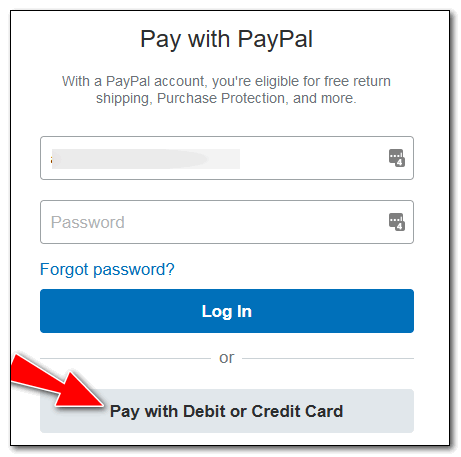 All you have to do is click "Pay with Debit or Credit Card" and you'll be able to skip using PayPal and use your credit or debit card. When you do this, PayPal acts only as a credit card processor for us.
We look forward to helping you soon.
---
Sonja wants to know our opinion of Norton with LifeLock
Just wondering if you have an opinion on using Lifelock with their antivirus connection with Norton. Thanks!
Our answer
Hi Sonia. First of all, LifeLock has been sued several times for false advertising. No software in this world can prevent identity theft. Norton is overkill – it puts tentacles everywhere, it comes with a VPN that you can't turn off (you can only remove it with a special program), it's expensive, and with all that being said it does not protect your computer any better than many other security programs.
Lifelock does not protect your identity or make you anonymous. Lifelock can't stop you from being tricked into giving a scammer your personal info. And their "Million-dollar guarantee" that they will back you up if you're using Lifelock and your identity is stolen has been the gist of many false advertising lawsuits filed against them. It's easier to promise "million-dollar protection" than to pay out the million dollars when the protection fails.
NortonLifeLock advertises "as low as $9.99" a month, but costs you $11.99 a month after the first year – and all the while you'll be prompted to upgrade to a "better" version of NortonLifeLock which has plans that cost up to $349.99 a year.
On several independent antivirus testing sites, NortonLifeLock's antivirus protection rating was about the same as Microsoft Defender which comes with Windows 10 and Windows 11 and doesn't cost anything.
Norton LifeLock can slow down your PC. And it's expensive and offers no better protection from viruses and other malicious software than Microsoft Defender and many other antivirus programs.
Here are a couple of the lawsuits lost by LifeLock.
Lawsuit: LifeLock Misrepresents Identity Theft Protection Services
FTC to begin issuing refund checks stemming from $31 million LifeLock settlement
We continue to recommend Emsisoft. It costs less than $30 a year and offers the best protection from the malware threats that you're most likely to encounter on the Web.
We hope this helps you make a wise decision, Sonja.
---
Linda wants to know how to export contacts from her iPhone to her Windows PC
Do you know of a safe service to transfer iPhone SE 2020 contacts to a PC or print them out? I know you can do it through iTunes, but I think it's complicated.
I say it over and over, but you all are a lifesaver for us I don't know what we would do without you! Actually, that reminds me to go and donate again to you!
Our answer
Hi Linda. This is Darcy…and I have an iPhone, so I can teach you how!
First, log in to your iCloud account on your computer by going to https://icloud.com. 
As soon as you log in, you will see a lot of big icons for pictures, contacts, etc. So, click on Contacts.
Now, look in the lower-left corner of your screen, and you will see a "gear" icon. Click that and choose Export vCard.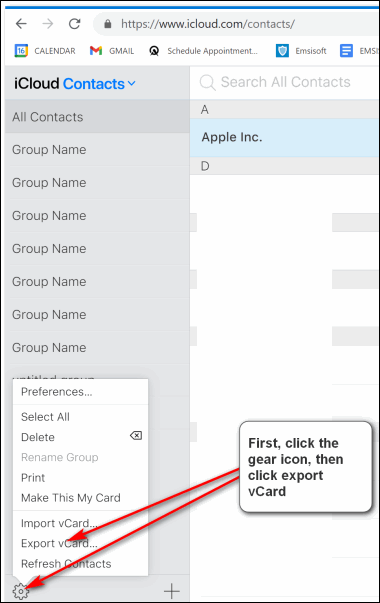 You can download your photos from here too.
We hope this helps you, Linda.
---

Don't have a Cloudeight SeniorPass? It's a great deal. Learn more here.
Our Cloudeight SeniorPass is a great deal. You get unlimited support for one full year from the date you first use your SeniorPass. We can help keep your computer running well, fix all kinds of computer problems, clean up malware, and a whole lot more. Our SeniorPass is like having insurance for your computer. And it's only $99 for an entire year.
Get your SeniorPass today for just $99.  It's just like having insurance for your computer – only better!
To learn more about our SeniorPass, please see this page.
---
Rhonda's keyboard does not have a Caps Lock indicator
My keyboard does not have a caps lock indicator. Some time ago I had an app that sat in the system tray and indicated the status of the caps and Num lock. It has disappeared and I can't remember what it was called. Do you know a safe app for visual caps lock indicators?
I do like your newsletter and your useful information. Thanks, Rhonda
Our answer
Hi Rhonda. I spent some time looking around for something that would do what you need it to do. I found one and tested it on my laptop -even though I have a Caps lock indicator. The program worked well and you don't even have to install it – just click to run it. It will alert you when the Caps lock key is on as well as NumLock and Scroll Lock keys are on. You can also configure it just to show when Caps Lock is on and nothing else if that's how you want to configure it.
The program is called Caps Lock Indicator and you can read more about it and/or download it here.
We hope this works for you.
---
Betty is ready to start streaming
I'm getting ready to start streaming and get away from my awful TV provider who keeps raising my bill every single month. I have bought a Roku and need a better router. There are so many options that I don't know which way to turn. What would be a good choice without breaking the bank?
Our answer
Hi Betty. Good question. The type of router depends on how far the router is from the Roku device and other devices you're using. All brand-name routers are good and most show how many square feet they cover right on the box. If you need to cover devices in several rooms in a large house you may want to look at a mesh router system.
Here's a Netgear router with a range of 1500 square feet for around $70.
Here's a 3-piece TP-Link mesh router system that covers over 5000 square feet for around $140.
Just about any router you buy will be rated for up to 1 Gbps – faster than most ISPs currently offer.
We hope this helps you make a good choice, Betty.
---
Sharon found an AI-powered Writing Companion called Wordtune
I recently came upon Wordtune, AI-powered Writing Companion, and I'm wondering what your thoughts are about it. It appears to be something that would be helpful to me but is it safe as an extension for Chrome? Thanks
Our answer
Hi Sharon. It looks excellent. I read the reviews of users and installed it myself – I need all the help with writing I can get since we don't have money to hire real editors. So any help I can get is welcome.
After doing some searching and reading the reviews, I think it's something you can install without worry. Whether it works as well, as they say, only time will tell.
Anyone interested in installing Wordtune for Chrome or Edge see this page.
If you're interested in Wordtune for Word or online editing, see this page. Wordtune has a limited free version – the full version costs around $10 a month (billed annually).
This is an excellent find, Sharon. Thanks!
---
Jean has crazy colors on her screen
I have messed up the colors on my PC. This page has a black background with white text. The title "Your Questions, Comments, or Suggestions are Welcome" is in Coral. The taskbar is white. The Start menu with all the tiles has a white background. The apps are Aqua. How do I get out of this mess?  I've tried to figure it out but have not gotten very far. I just want to go back to the original. Please help!
Our answer
Hi Jean. Try this…
1. Press and hold down the Windows Key and tap the U key to open Settings > Ease of Access.
2. In Settings > Ease of Access click on Color Filters (on the left side)
3. In Color Filters if the switch is turned on, turn it off.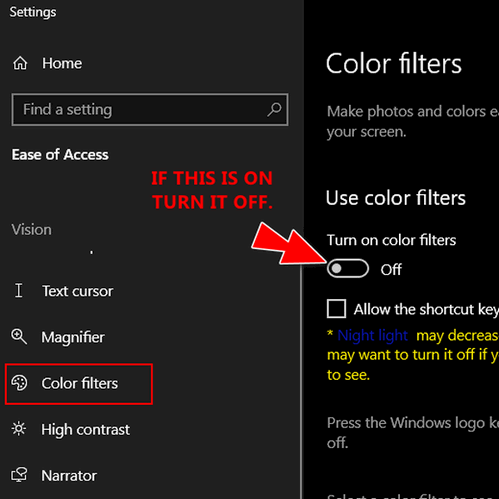 4. Next click on "High contrast" in the menu on the left and make sure the switch is turned off.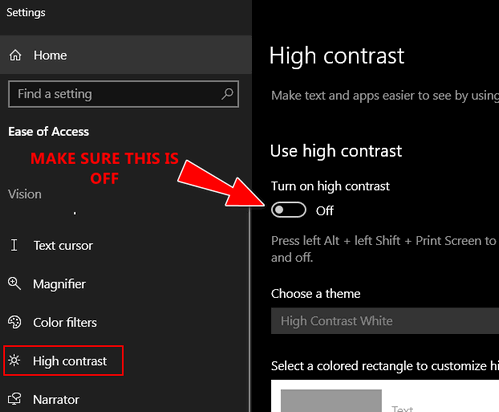 That should fix your crazy colors.
---
Linda wants to know how to set a browser home page
Hey, you two. I'm having trouble setting my home page to your stat page. I need your instructions. Please help.
Our Answer
Hi Linda. Here's our updated step-by-step tutorial on setting a browser home page.
We hope this helps you, Linda.
——
Linda wrote back: "Thank you so much! What would I do without you? Linda."
---

Please make a small donation and help us help you!
Would you be interested in helping us to keep on helping you by making an automatic monthly gift? Visit this page. Please help us keep helping you… and help us to keep you safe on the Internet,
---
---
Ralph's Downloads folder disappeared
My Downloads folder no longer opens. It says it must have been deleted or moved. I don't know how to get this folder and its contents back. I deleted a lot of restore points recently but I'm not sure if that had anything to do with this. I would appreciate your expert help on this.
Our answer
Hi Ralph. There are several ways to restore your downloads folder… here are two.
1. Open File Explorer (Windows key + E) and navigate to C:\Users\Your username. Right-click on that folder and select "Properties" > "Restore Previous Versions". Select one available version and click "Restore".
2. Open File Explorer (Windows key + E) and navigate to the C:\Users\Default folder. In the C:\User\Default folder, right-click on "Downloads" in the right side panel and select "Copy". Then, in File Explorer, navigate to C:\Users\Your Username\ right-click and select "Paste".
To find your Windows username, type CMD in the taskbar search and press Enter. When the command window opens, type WHOAMI and press Enter.
If you need more help, just let us know.
————————
Ralph wrote back: "Thank you very much got my Downloads folder back."
---
Ruth wants to get rid of her email account because of spam
I want to get rid of my current email address as I keep getting sexual and casino spam in my email. The junk mail is in my Thunderbird email account. How do I change this and still keep my Thunderbird email? Thank you.
Our answer
Hi Ruth. One thing you show know about email is there will always be spam. We use Gmail and rarely ever see spam. The spam folder fills up quickly but we don't have to read it – we check our spam folder every few days just to make sure there is no good email that found its way there by mistake.
The first thing you need to do is set up a new email address. We suggest that you use Gmail since it has better spam filters than Hotmail. You can set up a new Gmail account at https://www.gmail.com/.
Once you set up the account, you'll need to notify all your contacts that you will be changing your email address and give them your new email address. You probably should wait a month or so before canceling your current email address.
As far as Thunderbird goes, all you need to do is add your new email account to Thunderbird and remove the old one. You can still check your old Hotmail account online by logging in at https://outlook.live.com/owa/. I suggest you do that until you're sure everyone you want to get an email from (your contacts) knows your new email address.
We hope this helps you, Ruth.
---


Donate today and help us keep on helping you!
Please help us to keep on helping you!
When you support us with a small gift, you help us continue our mission to keep you informed, separate the truth from the hyperbole, and help you stay safer online. Plus, our computer tips make your computer easier to use.
Did you know that we provide support to thousands of people? Every week we help dozens of people via email at no charge. The questions and answers you see in our newsletters are from the email answers and help we provide to everyone free of charge.
Thanks to your gifts, we do a lot more than provide this free newsletter. We help you recognize online threats, fight for your online privacy, provide you with the knowledge you need to navigate the Web safely, provide you with suggestions for safe, free software and websites, and help you get more out of your PC.
Please Help us keep up the good fight with a small gift.
Interested in making an automatic monthly gift? Visit this page.
Please help us keep helping you… and help you stay safe on the Web.