Saturday Bonus Questions and Answers – 082722
Here we are – the last Saturday of August and summer is quickly slipping away. But no worries. Saturday means it's time for another issue of Saturday Bonus Questions & Answers.
Sometimes the best tips and tricks are hidden in the questions and answers we publish. And rarely do we post questions and answers on this website. Today, we're featuring some of the questions and answers from past issues of our InfoAve Weekly newsletters. 
These questions & answers were selected at random from past InfoAve Weekly newsletters.
---
Saturday Bonus Questions and Answers – 082722
Mona has four email addresses and needs help sorting them out
Here I am again… I have 4 email addresses (Google), keeping business and personal accounts. Because I spend time moving from one Google account to another and trying to help my husband who doesn't like computers. Is there any way that one log in will open the four accounts and keep them open until I physically close them? It would be so much easier than having to log in every time I have something to do on a different account.
Our answer
Hi Mona. The easiest option is to use a mail program like OE Classic, as all four accounts can be set up in the program, and all four will stay separate. Here is the info page if you are interested.
Another option is to set up each in a different browser, i.e.., Edge, Chrome, Firefox. But still requires a lot of clicking.
You can also open each account in the browser's Incognito mode, also called In-Private mode/Private mode depending on the browser.
The third option is to have one Gmail account check the other three and create a label to keep them separate. You should also set up the main Gmail account to send from any of the four when replying. This is an option in Settings for Gmail.
We hope this helps you, Mona.
---
Candace can't find our article about or recommended YouTube downloader
Hi there. I must have accidentally deleted the link you gave me for saving YouTube videos. Could you please send it to me again? In addition, would this link work with Facebook videos as well? Thanks much.
Our answer
Hi Candace. Here's the article you're looking for. According to the developer of the program, it works with YouTube, Facebook, Vimeo, DailyMotion, Tumblr, Flickr, TikTok, and more. 
We hope this helps you, Candace.
---
Earla wants to know what's using up her bandwidth
I am using Networx to monitor my internet connections. Today I was receiving warnings that 200 MB/per min were being uploaded and shortly the DL registered 2.62 GB used – it had been around 1.5 GB when I started.
I just shut off my Turbo Hub to stop it. Is it possible to find out what (program?) specifically was suddenly using so much data?
I went to Windows Update to see if it registered anything new but saw no indication of something being interrupted if it was. Couldn't see anything within Networx topics that helped.
I sure would appreciate your thoughts on this because it does happen from time to time and I am on a limited data usage plan. I usually figure it is a windows update. Thanks in advance for any ideas.
Our answer
Hi Earla. I had to look up "Networx" to find out what it is. I found that it measures your bandwidth consumption.
Windows 10 does that automatically, so there's no need to use a 3rd-party program. Windows Update uses bandwidth when it checks for updates and sometimes it downloads updates I've never used Networx so I'm not sure why it's not showing you exactly what is using your bandwidth/data.
However, if you read our article here, you'll see that Windows 10 keeps track of your data usage and shows you exactly what's using the most bandwidth (and the least bandwidth). If you follow the instructions in that article, you'll be able to see what is using that much bandwidth.
I hope this helps you, Earla. If not, just let us know.
---
Please consider making a small donation and help us to keep on helping you!
---
Joyce can't find our instructions for deleting her Yahoo account
Help, I was trying to delete my Yahoo account with your instructions and I somehow deleted them. Could you tell me where to find them again? Thanks for your help.
Our answer
Hi Joyce. Instructions for deleting your Yahoo account are on this page.
Here's a tip. In the future, if you can't something we featured as a tip, you can go to https://thundercloud.net/infoave/new/  and type what you're looking for into the search form on that page. That's how I found the article you were looking for!
---
Rod has questions about LastPass and using public computers
Hi Guys – I sent you a small donation today. I downloaded LastPass (finally) but I am not using the program yet. When I begin using the program, will I be able to access websites from a computer other than my own? We are currently "wintering" in Arizona and it is sometimes easier to access the web from our resort's computer room rather than from my own laptop. However, I am thinking that when I use an "outside" computer I will have no way of knowing what passwords LastPass used. Thanks for all you do! Rod
Our Answer
Hi Rod. Thanks so much for your donation, your kind words, and your support. I'm afraid the answers you're seeking about LastPass are not simple, but the general rule of thumb is to never use a public computer to access any site(s) where personal data is exchanged (financial, banking, online shopping, Social Security, Webmail) is the best rule to follow. So, I would strongly advise you to NEVER use a public computer to access any sites you log in to – especially financial & banking, webmail, or other sites where personal information is exchanged without using a VPN.
VPN Browser Extensions
While we don't recommend VPNs generally, if you're using a computer with public WiFi, you should use a VPN. Several decent VPN extensions for Chrome, Edge, and Firefox can get installed and used only when connected via public WiFi. Here is some information about CyberGhost's browser extension for Chrome (and Edge). See this page if you're a Firefox fan.
About LastPass
LastPass remembers passwords for every site you log into, regardless of the computer or device you log into the site(s) from. When you use LastPass on your personal computer, your password is decrypted on that computer. You unlock your password "vault" using a master password – that means you only have to remember one password. I've been using LastPass for a long time.
You're going to be much better off using your laptop when accessing your webmail, bank, financial institutions, or doing any online shopping. Accessing these kinds of sites from a public computer is just asking for problems.
If you need to use LastPass on another computer you can do so by signing in at https://www.lastpass.com/  and logging on with your master password. While Autologin would not be available, you could access your passwords from there and paste them into the appropriate login.  Again, we don't recommend you do this on a public computer if you're going to be accessing sites where sensitive or personal information is exchanged unless you're using a VPN.
Thanks again for your donation, your kind words, and your support.
---
Joe wants to move a shortcut from his Favorites folder to his Windows 10 desktop
How do I move a favorite to Windows 10 desktop to open quickly?
Our answer
Hi Joe. Here's an easy way to create a shortcut on your Windows 10 desktop to any "Favorite" (bookmark) in your Favorites folder
1. Press and hold down the Windows Key and tap the "R" key.
2. Type Favorites in the Run box and press Enter
Your Favorites folder will open and you'll see all your favorites. Find the one you want on your desktop, right-click it and click "Send to –> Desktop–Create Shortcut.
See screenshots below: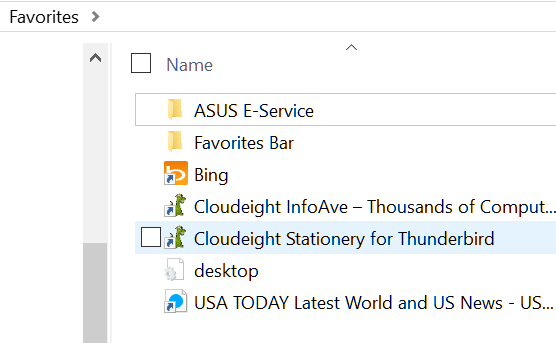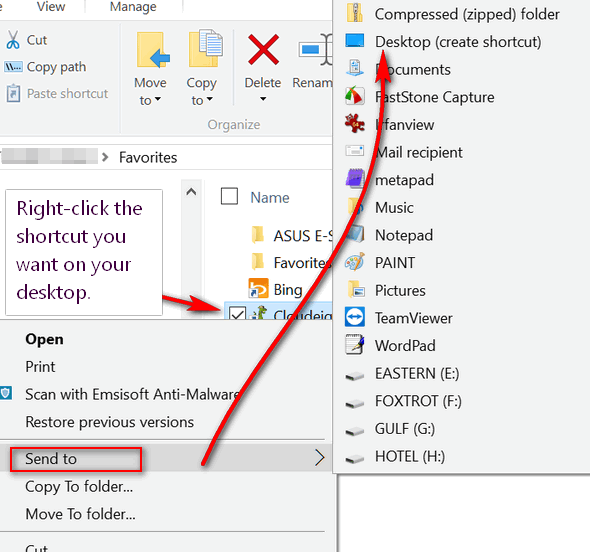 ---
Penny wants to download plain color desktop backgrounds
Can you suggest a website where I can download plain backgrounds for my Windows 10 desktop? I would prefer soft colors and no images. Thanks, Penny.
Our answer
Hi Penny. You don't need to download plain backgrounds. Since you're using Windows 10, you can make your desktop background any color you want. Here's how:
1. Right-click on an empty space on your desktop.
2. Click Personalize
3. Click on Background in the menu on the left.
4..Under Background, click the down arrow to reveal the choices… "Pictures", "Solid Color", or "Slideshow".
5. Click "Solid color"
6. When you select "Solid color" you can select one of the colors showing. Or you can choose any color you want by clicking on the + sign next to "Custom color".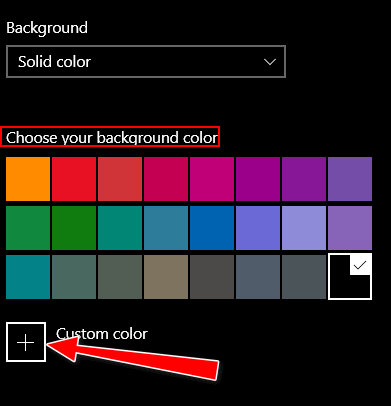 7. After you click Custom color you'll see. Use the slider and the circle to choose any color you want.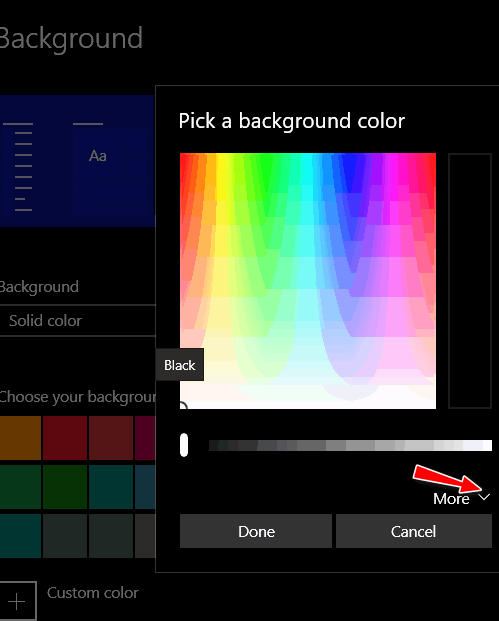 8. And if that's not enough color choices for you, click on the down arrow next to "More" and you'll see this…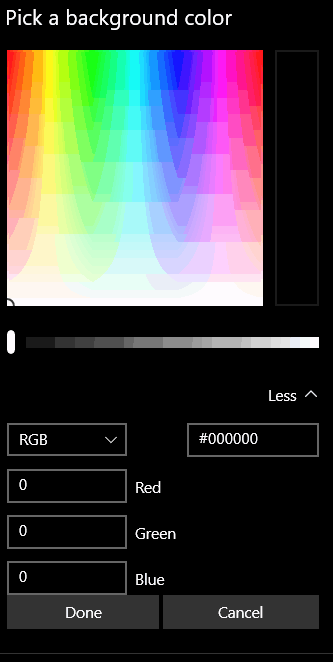 .
This dialog allows you to choose a background color in several other ways.
In short, you can choose any solid color you can imagine using this tip. 
---
Donald wants to block spam
I am getting a lot of spam emails that I want to block. My ISP allows me to enter either an email address OR a domain in order to block that spam in the future. In many of the spam email addresses, the email address is preceded by some words that are in quotes. If I enter the words in quotes will that block all spam emails that begin with those words?
Our answer
Hi Donald. I'm afraid you're fighting a losing battle trying to block spam by email address or domain. Spammers forge email headers and rarely send spam from the same domain or email address.
Since you have a Gmail account, you can control spam the way we control spam which is about 98% effective. We get hundreds of emails each week and rarely ever see a spam email come into our inboxes.
Here's how we do it and you can do it this way too. I can tell you from experience, that if you do it this way, you'll get very little spam coming to your inbox. And you'll rarely find a "good" email in your spam folder.
I hope this helps you, Donald.
---
August runs a speed test on both of his computers but…
I ran the test on both of my computers and the desktop was as follows: Ping 9 download 112 upload was 9.9 On the laptop I get only 57 download upload was 9.8. What could cause the difference between the two? The laptop is much slower than the desktop. Do I need to have you look into this?

Our answer
Hi August. There are many factors at play here. If your desktop is plugged into the router or modem with an Ethernet cable, it's always going to be faster than a wireless connection.
If both computers are using wireless connections, the one closest to the router will be faster. And even if both computers are using Wi-Fi and both are the same distance from the router, you still can have variations. Each computer may have different wireless cards. Also, the age of the computer and the configuration can affect the internet connection speed.
It is certainly not unusual, and it does not indicate any kind of problem.
---
Candace gets an Emsisoft warning
Hi TC. Help! I entered a link to download a Facebook video, and I got a warning from Emsisoft telling me that the program has been changed. It has an option to update the rule (which was highlighted) or to remove the rule. I'm wondering what to do.
Our answer
Hi Candace. Any time you update a program you've used before, Emsisoft will give you a warning that the program has changed (update the rule Emsisoft uses to recognize the program as safe), Since you know it has changed because you just reinstalled it, it's okay to go ahead and let Emsisoft update the rule.
I have several programs on my computer that I frequently update – Emsisoft warns me the program has changed and asks if I want to update the rule. As long as I know the program and know it has changed, I know it's okay to let Emsisoft update the rule.
---

Don't have a Cloudeight SeniorPass? It's a great deal. Learn more here.
Our Cloudeight SeniorPass is a great deal. You get unlimited support for one full year from the date you first use your SeniorPass. We can help keep your computer running well, fix all kinds of computer problems, clean up malware, and a whole lot more. Our SeniorPass is like having insurance for your computer. And it's only $99 for an entire year.
Get your SeniorPass today for just $99.  It's just like having insurance for your computer – only better!
To learn more about our SeniorPass, please see this page.
---
Stanley has questions about finding and downloading software
You have been so helpful in the past that I hope you can help me with this question, which I also think would be of interest to many of your subscribers.
I was looking for a website that is even half as good as you are in giving advice and reviews about programs before I download them. My saga begins when I was looking for a program that could compress a WMV file and/or convert it to an avi file.
When I searched for a program to do this, I got many hits. However, after a couple of hours, I got more and more frustrated with the information these sites gave me, so I gave up.
The first big problem what was that when I looked at the reviews, they were given by a company that made software to do this, so of course, they gave their products rave reviews compared to other products. I could not find any independent websites to give an honest review such as you do.
The second problem was websites that advertise free downloads. If I had my way, I would block them for misleading information. They could indeed be downloaded and then installed on the computer. It was only after spending a lot of time downloading the file that I wanted to convert that I received the error message that the file was too big, but if I still wanted to continue, I could purchase the full program.
I apologize for such a long message but, I am sure you will have heard similar complaints from many people who like me would very much appreciate your help. I wish you good health during this difficult time that we are all going through. Regards, Stanley.
Our answer
Hi Stanley. Thanks for your nice comments.
The problem you detail has been a problem that has faced every single person who has ever searched for software. The worst thing you can do is search for a program and just accept the results. You really have to hone your search skills… I'm lucky as I learned this lesson long ago – Darcy used to call me the king of search.
If I wanted to convert an audio file from one format to another, I would look for an online converter. By using the search term (without quotes) "convert WMV to avi online" I came up with this site:
https://cloudconvert.com/wmv-to-avi
One way I know that site is legit is they offer services for which they charge. Plus, I've used this site before. This is the self-description they offer…
CloudConvert is your Swiss army knife for file conversions. We support nearly all audio, video, document, ebook, archive, image, spreadsheet, and presentation formats. Plus, you can use our online tool without downloading any software.
I don't know what the size of your file is, and I don't know what, if any file size limits CloudConvert's free service has. They have a pricing schedule where you can buy 500 minutes of conversion time for $8.00 (U.S.) with unlimited file size (5 gigabytes is the theoretical limit).
We know from experience that downloading most free YouTube converters, file converters, music converters, etc. is an invitation to download software bundled with PUPs or malware. These days more than 50% of freeware seems to be compromised in some way.
And you have to be careful of download sites too. CNET/Download.com, Softonic, Tucows, and many others have been known to take good, clean, free software and bundled it with other software (PUPs/malware/questionable software). There are several you can trust, for instance, www.snapfiles.com is the one we trust most, followed by www.majorgeeks.com. I rarely venture from those sites unless I find a good developer who offers software from his/her site and who does not play whack-a-mole with download buttons.
Finding good, free, software is like walking through a minefield. You really have to be cautious and you have to hone your search skills so you're more likely to come up with good, reliable, and safe search results.
I hope this helps you, Stanley, but if not, let me know.
—————-
Stanley wrote back: "Wow! That was quick. As always you have really helped me. Why can't you offer a paying service that would give advice in a similar way to the information I received now? I would definitely consider using this. In the long run, it would save a lot of time and frustration. I do not doubt that many others feel the same. Keep safe and well. Stanley."
---
Erik has a question about SSDs (Solid State Drives)
Hi Darcy and TC. I want to change my SSD drive to a bigger one. I ask your opinion about the different possibilities … do you think it is a good idea for a CRUCIAL – SSD Internal – P1 – 1To – M.2 Nvme (CT1000P1SSD8) ($125) or the regular SSD? Is the Nvme really much faster than a regular SSD? My motherboard is equipped to use a Nvme SSD. But I will only decide after your opinion
Our answer
Hi Erik. According to people who worry about this kind of stuff — NVMe can deliver sustained read/write speeds of 2000MB per second, much faster than the SATA SSD III, which has read/write speeds of 600MB per second. So yes, NVMe is much faster than a standard SATA SSD.
So, there you have it. If you have a need for speed, then the Crucial NVMe is faster. Whether you'll notice the difference is whole other animal. Once things seem "instant", it's hard for human beings to differentiate between instant and "more instant".
And just in case you're interested A 7200 RPM HDD (standard hard drive) has a read/write speed of 120MB per second.
Hope this helps you, Erik.
---
Every week we help dozens of people with their computers without charge or any expectation of payment. And we have helped many folks who have fallen for tech support scams or other scams designed to steal their money.
And we now depend more on readers like you to help keep us going. Your donation helps us to help more people with their computers and helps us keep everyone safer online.
Please help support our small business and help us to keep on helping you.