Saturday Bonus Questions & Answers – 91821
It's Saturday! And you know what that means. It's time for more Bonus Questions & Answers.
Sometimes the best tips and tricks are hidden in the questions and answers we publish. And rarely do we post questions and answers on this website. Today, we're featuring some of the questions and answers from past issues of our InfoAve Weekly newsletters. 
These answers were selected at random from past InfoAve Weekly newsletters, and, as far as we know, have never been published on this site or in our InfoAve Daily newsletter.
---
Saturday Bonus Questions & Answers – 91821
Nigel gets the infamous blackmail spam
Hi. Thank you for all your help over the years. I have a problem.
I received an email yesterday from a person on my email list when I opened it it was a picture to be opened. I had no reason to think this was a problem. When it was opened it was a long screed in French (I am in France). threatening me that if I did not pay in Bitcoin in 48 hours they would send details of private things on my PC to other people.
I have tried to contact the person who allegedly sent it, unfortunately, they are away.
My initial reaction is to ignore this. Can you tell me if I should do anything else?
Thank you, Nigel.
Our answer
Hi Nigel. We get dozens of these every week. They're just sophisticated spam trying to scare you so the criminals who send them can take their victims' money.
You'll never be able to contact who sent it since a criminal isn't going to expose a real name or email address. He or she is not interested in hearing from you, he or she is only interested in scaring you enough so you'll pay money.
When you see one, don't read it, just delete it. It probably won't be the last one you see, unfortunately.
Thanks for your support over the years – and your nice comments.
——
Nigel wrote back: "Thank you that is what I thought I just wanted to be sure. Thank you again for all your help over the years. Nigel"
---
Rosemarie wants to know how to split her computer screen
Dear Friends. Thank you for your constant companionship and help in your newsletters. Living in the deep south of France where nothing goes and is very much a senior (82) without "computer-speak" I do occasionally need help. I am using Windows 10. How do I split the screen either left-right or above and below?  I have a long translation to do and need to be able to see what I have to do and what I have done. Thank you, so much and best regards.
Our answer
Hi Rosemarie. Thanks so much for your very nice comments and your support.
You can move program Windows to left, right, up, or down by using the Windows key and the arrow keys. You can split the screen into 2, 3, or 4 sections this way.
Windows Key + Left Arrow moves the window to the left side of the screen.
Windows Key+ Right Arrow moves the window to the right side of the screen.
Windows Key + Down Arrow moves the window to the bottom of the screen.
Windows Key + Up Arrow moves the window to the top half of the screen.
By using the Windows Key and Arrow Keys you can "Split" the screen into four quadrants.
Hope this helps you, Rosemarie.
---
Ann got a mysterious support pop up
Hi, Darcy & TC. Just a question about a System Support pop-up saying that Windows was going to shut down this computer if I didn't call them immediately. I got it closed after several tries but want to see if you can come on and make sure nothing was hacked or if this is just one of those phishing emails.
Our answer
It sounds like a typical tech support scam from what you described. A tech support scam is an ad that pops up when you click something in an email or while you're browsing the web. You did the right thing by not calling the tech support number.
However, these kinds of popups can also come from browser extensions and other PUPs, but without checking, we cannot be certain where this support scam popup is coming from. If you continue to see it then you may have installed a browser extension or freeware bundle that is initiating the scam tech support pop-up. You would then need to identify and remove the offending program or extension.
If you continue to have problems with these pop-ups, never call the tech support number or you'll be contacting scammers who will try to get you to give them a credit card number.
If your problems persist, we can check things over with our Cloudeight Direct Computer Care Service. We can make sure that nothing is installed on your computer that is causing these pop-ups and make sure your computer is clean and free from anything that shouldn't be there.
Please let us know if we can be of assistance.
---
Phyllis tells us that all of a sudden, her computer is in black and white
I was trying to change the text color from white to black under the desktop icons and all of a sudden everything on my computer is now black and white. I have no idea what I would have clicked on for this to happen. I looked up how to change it back but every suggestion I found did not get it back so I can have color again…even my photos are black and white. Is this something you can help me with? Thank you.
Our answer
Hi Phyllis. Windows 10 has a feature called Color Filters that when activated can everything to grayscale (black and white).
Try this: Press and hold down your Windows key while pressing the CTRL key and the C key. The Windows + CTRL + C shortcut enables or disables color filters for the screen.
You can also turn off Windows 10 Color Filters this way:
1. Right-click the start button.
2. Click Settings
3. Click Ease of Access
4. Click Color Filters
5. Turn off the switch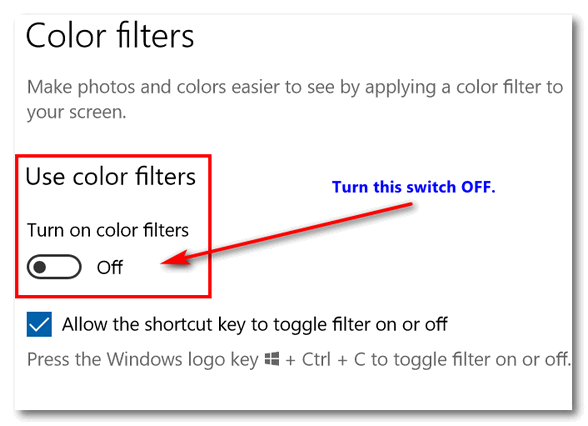 Hope this helps you.
—–
Phyllis wrote back: "Thank you so much, TC…you saved me from another day of frustration! It restored my colors… Phyllis"
---
Julia gets a scam call about a compromised IP address from her telephone number
I just received a call on my home phone from someone named Allison saying my IP address has been compromised. I hung up on her, mainly because the caller ID had my name and phone number on it. How is this possible, and was this a scam?
Our answer
Hi Julia. Yes, it is a scam. Always hang up immediately. No one, other than a scammer, is going to call you and say they can see your IP address and tell you that it is compromised. These scammers have auto dialers making millions of calls. They are usually calling from other countries and have hundreds of operators to pick up the calls if someone answers.
To make matters worse, scammers now have the technology to fake the "calling from" phone number so they can make it appear they're calling from any phone number – even legitimate and well-known companies' phone numbers or even your own phone number.
Always remember that no one is going to call you out of the blue about your computer being infected, your IP address is compromised, or your computer is in dire need of repairs. It's never going to happen.
You did the right thing by hanging up. Good job!
---
Robert F. can't change his start menu and taskbar color in Windows 10 version 1903
Hi Darcy and TC. I read Leslie's concern regarding the "horrid" color change with Version 1903. I followed your directions and went to Personalize then Colors and made sure "Automatically pick an accent color from my background" was not checked. I then scrolled down and chose a color, but I could only check one box below the colors because the "Start, taskbar, and action center" buttons are grayed out and unable to be checked. Is there a way to work around and check it? Thank you again for all that you do. Your Friend, Robert F.
Our answer
Thank you, Robert!
You cannot color the taskbar and start menu unless the following are true:
1. Default Windows mode must be set to "Dark" not "Light".
2. Default app mode must be set to "Light" not "Dark".
3. Transparency effects should be turned "Off".
See the screenshot below: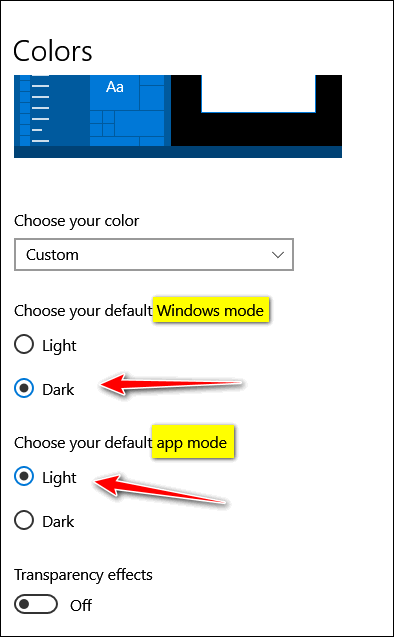 If you don't have it set as shown above (except transparency which I strongly recommend you turn off for best results), you will not have the option to color the taskbar and start menu.
To change your color settings, right-click on your desktop, click "personalize". In Personalization settings click on "Colors".
Let me know if this helps.
—–
Robert wrote back: "Perfect TC…couldn't be better! Thanks again."
---
Jackie wants to know how to find her print queue
I am using Windows 10. How can I find the print queue to delete jobs that I don't want to print? I would appreciate any feedback you have about the print queue. Thanks.
Our answer
Hi Jackie. You should have a print queue icon (it looks like a little printer) in your notification area/system tray (the area next to the time/date in the lower right-hand corner of your screen). If you don't see it there, click the up arrow on the left edge of the notification area/system tray to expand it so you can see all the icons.
If you still don't see it do this:
Right-click the start button & click "Settings". In Settings, click on "Devices", then click "Printers and scanners" in the menu on the left. Find your printer in the list. Now just click on you printer click "Open queue". See the screenshot below:

Hope this helps you!
---
Jerry wants to know the difference between Windows "Sleep" mode and "Shutdown".
HI you all, It's HOT here in Las Vegas, NV. MY question is, what is the difference between "sleep" and just shutting it down? What keeps running in sleep mode? Thanx, Jerry.
Our answer
Hi Jerry. "Sleep" is a low power state where everything is kept in memory but other parts of the PC (like the hard drive) are idle. The PC uses very little power during sleep. In Sleep mode, your computer uses about 12 watts. That's about the same as a night light.
If you shut down your computer, the memory cache and RAM are flushed (erased) and Windows shuts down. When you restart Windows will have to reload, your HDD will spin up (an SSD will power up).
We rarely use sleep and rarely shut down our computers. We simply set the screen to dim after 10 minutes of inactivity. Your monitor or laptop screen is the real power gobbler.
I hope this answers your question, Jerry.
---
Mike's laptop screen went from landscape to portrait mode
I have a touchscreen laptop and somehow, I touched somewhere on the touchscreen and now my screen is in portrait mode instead of landscape. I can't find out how to get it back to landscape. How can I change my screen back from portrait to landscape? HELP!
Our answer
Hi Mike. It's called screen rotation – it's a feature of your video card. I don't know what brand of PC you have, but you usually can change the screen orientation by using the CTRL+ALT+ an arrow key.
CTRL+ALT+Right Arrow would put your screen back to Landscape mode. CTRL+ALT+Up Arrow would put your screen in Portrait mode.
Hope this helps you, Mike.
————
Mike wrote back: "THANKS so much! It worked! I was going crazy trying to use my laptop. You guys are the greatest! Thank you again, Mike."
---
Donna says she's an administrator but is still locked out of a folder
In your (Cloudeight InfoAve Premium) Aug.16 issue Walt asked about Apps. When I tried to go into my data I was blocked even though when I check my account I have Admin. privileges. can't figure out how to access it as I never had a problem accessing anything before. Thanks for all your help.
Our answer
Hi Donna. The WindowsApps folder is locked and being an administrator does not allow you access to that folder. To access it you'll need to take ownership of the folder. As we stated in the newsletter:
"To see the folder at C:\Program Files\WindowsApps you have to unhide hidden folders in File Explorer / View / Options / Change folder and search options. If you try to open that folder you'll be blocked by Windows security settings. You can access it changing its security settings or by taking ownership of the folder."
You can take ownership of a folder by right-clicking on it, clicking "Properties" and changing the owner name in the security tab -and taking several more steps. If you want to do it that way, the long way, read this Laptop Magazine article.
If you want to do it the short way, download this reg file to add "Take ownership" to your right-click menu. You'll be able to right-click on the folder or file that you want to take ownership of and choose "Take ownership".
Once you download the zip file, unzip it, double-click the first file called "Install Take Ownership, click OK when you see the warnings about adding things to the registry.
If you ever want to remove Take Ownership from your right-click menu, we've included a reg file in the zip file called Uninstall Take Ownership.
Remember, being an administrator does not give you access to every file and folder on your computer – as illogical as that seems. Sometimes you have to take ownership of a file or folder to see and/or modify it.
---
Bob forgot his router password
I can't remember my wireless router username and password. What can I do? Please help!.
Our answer
Hi Bob. The first thing to do is to find the default username & password for your router make and model. It will be in its manual. If you don't have a manual, go to this site:
http://www.routerpasswords.com/
… and find your router's default password by brand and model number.
You will have to reset the router back to factory settings. All routers have a reset button on the back or bottom. Normally it's quite small. You may need to use a pen or other object to press the reset button. See your router's manual or visit the manufacturer's website to find out where the reset button is located on your router.
After you find your router's default username/password. Reset the router and enter the default username and password to access it. After you've regained access, you can then go in and change both the username and password to whatever you want.
If you need any more help, let us know.
——–
Bob wrote back: "Thanks so much for this. I was able to get into my router settings and now have a new password. Thanks again! Bob"
---
Patricia wants to know if private browsing is good or bad
Hi. Is in-private browsing good or bad? If it's bad-how do I turn it off?
Our answer
Hi Patricia. Private browsing is good for a lot of things – but keeping your IP address private is not one of them. Private browsing (or Incognito mode on Chrome) is not something you turn on or off – it's something you can choose to use or not.
Read our article "Some Things Private Browsing is Good For – Hint: Privacy is not one of them"
Hope this is what you're you are looking for.
---

Don't have a Cloudeight SeniorPass? It's a great deal. Learn more here.
Our Cloudeight SeniorPass is a great deal. You get unlimited support for one full year from the date you first use your SeniorPass. We can help keep your computer running well, fix all kinds of computer problems, clean up malware, and a whole lot more. Our SeniorPass is like having insurance for your computer. And it's only $99 for an entire year.
Get your SeniorPass today for just $99.  It's just like having insurance for your computer – only better!
To learn more about our SeniorPass, please see this page.
Interested in making an automatic monthly gift? Visit this page. Help us keep helping you… and help you stay safe on the Web.