Sometimes It's All About the Money
We work on a lot of computers every week and I estimate that over half of them have a driver updater installed. Driver updaters don't make your computer work better, they don't make it safer, they don't make it more secure, but they can and do cause major problems with Windows computers and hardware.
Back in the days of Windows 95, 98, ME and even early Windows XP sometimes hardware would stop working correctly due to corrupted or incorrect drivers. And thus, driver updaters were born to help users cope with all these driver updates. But in later versions of XP, and Windows Vista, Windows 7, Windows 8x and Windows 10, driver updaters became unnecessary, but the idea that they were/are had been implanted in the psyche of tech support writers and developers – all looking to make a buck by recommending and selling products like driver updaters.
Every few days we receive offers from companies who want us to promote their products. They offer high commissions trying to get us to recommend whatever they're selling.
Recently we received this from a company who wanted us to promote their Driver Updater. If you've been reading our tips very long, you know how we feel about driver updaters.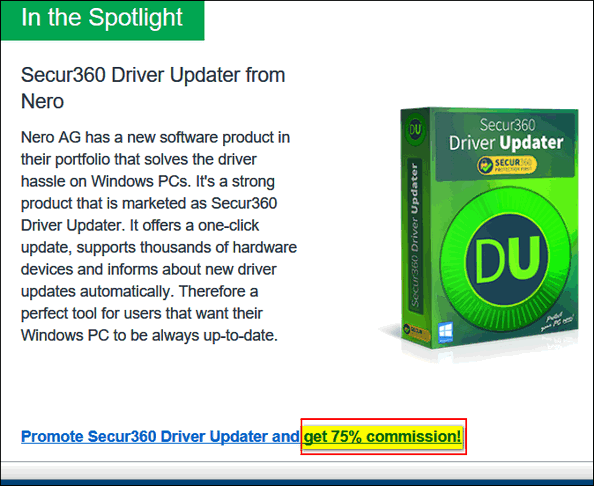 "Secur360 Driver Updater" sells for $29.95 EUR (about $34 U.S.D.). So if we recommended it to our readers, we could make over $24 on each sale with no investment at all. We could probably sell hundreds and make some money.
That's never going to happen.
No matter how much we need the money, we'd never recommend a driver updater or anything else we would not use on our computers and/or didn't believe in.
But now at least you know why there are so many driver updaters available and why so many tech sites recommend them. And now I can see why so many computers we work on have driver updaters installed.
We just wanted you to know how stuff works and why some tech "experts" recommend products and services they'd probably never install on their computers or ever recommend to their friends and family members
Maybe this is why we're always broke. But at least you know we'll never sell you out or do anything to lose your trust. We've spent too many years earning your trust to do anything to lose it.
That's how it is and how it's always been – and we'll never change.