"Everybody's surfing now, come on a safari with me…"
Whatever happened to the Beach Boys? Come on, help me Rhonda. Maybe they're in my room. Or maybe they're looking for EB – Haha! EB the little surfer girl. She's mighty fine in her four-oh-nine. I'm getting ill on the Sloop John B. I get seasick – I need a vacation in Kokomo.
Moving right along…
You all know about Internet Explorer (Microsoft), Firefox (Mozilla) and Chrome (Google). But how many of you know about Safari by Apple? If you have a Mac or an iPad or an iPhone or an iPad touch you probably are using Safari without realizing it. Safari is a pretty slick, full-featured browser that compares favorably with other top browsers – and it has two features – we really like – that none of the others have (by default): "Reading List" and "Reader".
As Apple aptly describes them:
"Whenever you come across something interesting on the web, save it to Reading List. Then when you have more time to read articles, watch videos, or shop, your link-filled Reading List is ready and waiting. You can browse through the entire list or see just your unread pages."
"And Safari Reader lets you see it all in a clean, uncluttered space free from blinking, annoying ads."

I'll be the first to admit I was never big on running Apple software on a PC. QuickTime is awful. iTunes has its problems on PC. But Safari works great – at least as well as Microsoft's Internet Explorer. How many Apple users do you think pine for Internet Explorer? Close your eyes. What do you see? Nothing. No one.
Apple Safari is available free for Windows XP, Windows Vista and Windows 7 (32 and 64bit). It's a great browser – and it may be just the alternative you have been looking for. You don't have to uninstall any of your other browsers. You don't have to make Safari your default browser. You can keep using your current browser as long as you want – and run Safari from time to time to test it – give it a workout. If you decide to make it your default browser, it's easy to do. If not, just fire it up from your Start Menu or shortcut(s) any time you want to use it.
I suppose we should let Apple take a bite out of this article – they want a piece of this pie:
"Browsing doesn't begin to describe it.
Safari isn't just the world's most innovative web browser. It changes the way you interact with the web. With great new features that take advantage of OS X Lion, you'll become completely immersed in everything you see, touch, read, and watch. Oh, and browse…."
"…Next-Generation Standards Support.
Safari continues to lead the way, implementing the latest innovative web standards and enabling next-generation Internet experiences. With support for HTML5 media tags, CSS animation, and CSS effects, web designers can create rich, interactive web applications using natively supported web standards. A standards-compliant browser, Safari renders current and future web applications as they were meant to be seen…"
Well Apple does like to toot their own horn – that's why so many people like Apples. Remember Adam and Eve? Remember Eve took that bite of apple – and now we all need to work and struggle and wear clothes and all that? But that has nothing to do with Apple Safari or Apple computers or Apple Records. I just didn't want you getting bored.
Anyway… Safari is a great browser with some really unique features. And you add to its features with numerous available free Extensions. Be sure you try the "Eve" extension…just kidding.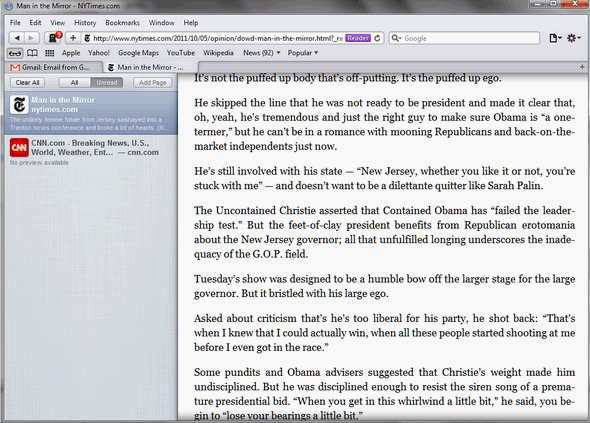 (above) Apple "Reader" in action. All annoying ads and distractions have been removed from this "New York Times" article – so all you get is what you want. The article. And pretty please folks, don't take anything away from that article – it doesn't reflect our liberalism or conservatism – we just clicked on the article to show how Reader works. It may as well have been an article on how to dye artichokes. Honest! We meant nothing political by it!
You can get a lot more information about Apple's Safari Browser — and even download it too! — by visiting the Safari home page at http://apple.com/safari/ . It's 100% free. Safari works on Windows XP, Vista, Windows 7 – 32bit and 64bit.