Take a Look at this Free MS Word and PDF Editor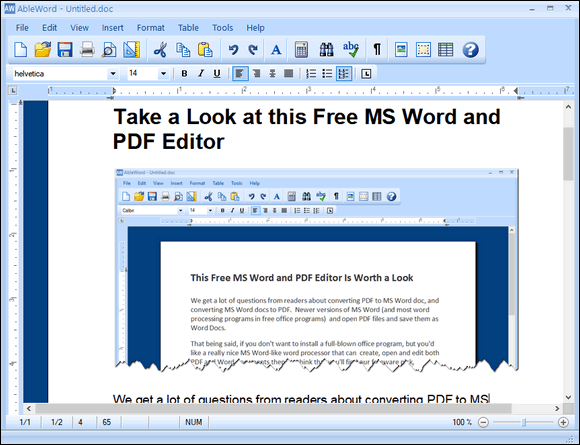 We get a lot of questions from readers about converting PDF to MS Word doc and converting MS Word docs to PDF.  Newer versions of MS Word (and most word processing programs in free office programs) can open PDF files and save them as Word Docs.
That being said, if you don't want to install a full-blown office program, but you'd like a really nice light-weight, MS Word-like word processor that can create, open, and edit both PDF and Word documents, then we think that you'll find AbleWord, worth a look.
The folks at AbleWord describe it this way:
AbleWord is a very capable word processing application that can read and write most popular document formats including PDF's. It is fully featured, supporting image formatting, tables, headers & footers and includes spell checking and print preview functions. Best of all it is totally free even for commercial use.
And in our tests it did admirably well, considering that it's a free program that has not been updated since 2015. But don't let that worry you. It works on Windows 8.1 and all versions of Windows 10 including Windows 10 May 2020 update (version 2004).
You can create, open, and edit the following formats with AbleWord:
Word.doc

Word.docx

PDF

RTF (Rich Text Files)

TXT (Plain Text Files)

HTM (Web page)

HTML (We page)
More information from the AbleWord Web site:
Edit PDF files as simply as Word® documents

There are a few free Word Processing packages available for Windows but none come close to the features offered by AbleWord. It is highly compatible with popular document formats including .DOC & .DOCX but AbleWord can also open and save as a PDF which makes it a very useful tool to have.

AbleWord (is) very simple to install and use, it is commonly used as a PDF Editor and also for converting PDF to Word® but of course it is also a splendid Word processor and supports most of Microsoft Word® features.
We found AbleWord very easy to use. The PDF editing function works well on some PDF files and so-so on more complex files. But we're not saying that it's as good as an expensive, professional PDF editor like Adobe Acrobat Pro. But AbleWord doesn't cost hundreds of dollars either. It's 100% free.
You can read more about and/or download AbleWord here.
Here are some screenshots from our installation and testing of AbleWord.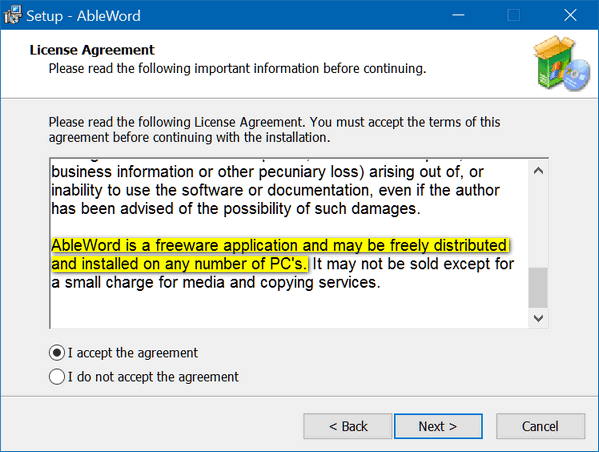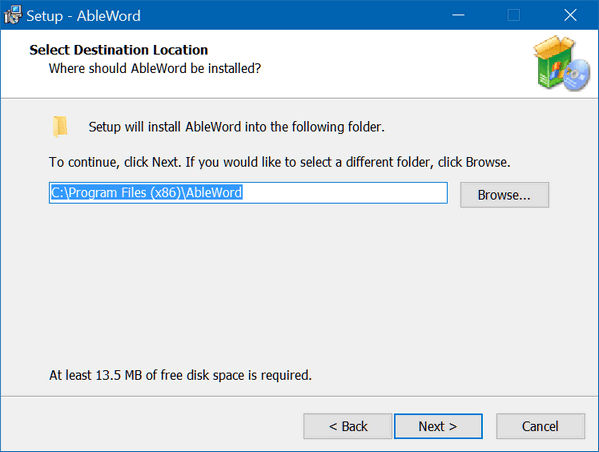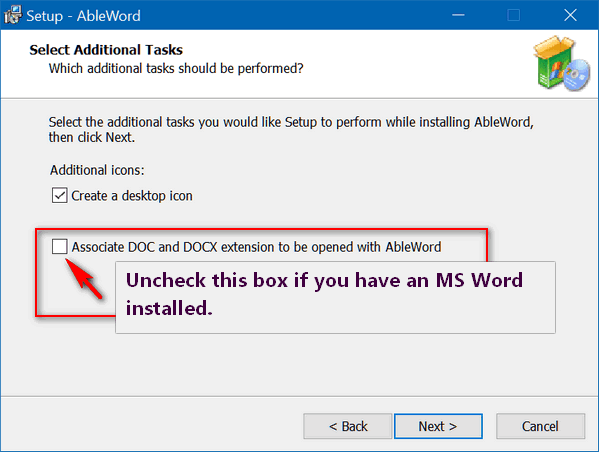 Above: No malware or tricks, but AbleWord does associate itself with MS Word DOC and DOCX, which is great if you don't have MS Office installed or some other Office program that handles DOC and DOCX formats installed. If you have MS Office or another office program installed, you might want to uncheck the box as shown in the screenshot above.
While it hasn't been updated in five years, AbleWord still looks great. It has a nice, almost quaint but functional, easy-to-use interface.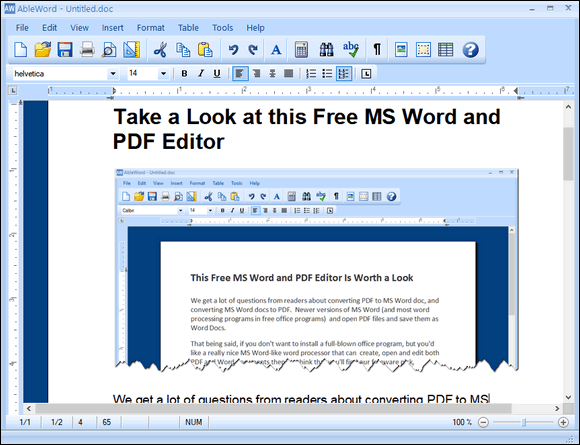 Below: You can save and edit the file types shown below.

If you're looking for a free, functional, easy-to-use Word processor that can edit both Word documents and PDF files, then AbleWord might be just what you're looking for.
Read more about, and/or download it from the AbleWord Web Site.