Tame Windows 10 Updates — sort of
Windows 10 Home is a little sparse on the control you have over Windows Updates; Windows Pro is only better because it lets you delay updates for several months – but you still have to install them.
But you do have options. We're going to cover Windows 10 Home – because most of you have that version – if you are running Windows 10 Pro, the settings are very similar.
OK jury, take a look at exhibit A below. By default Windows 10 will automatically download and install updates if you don't change the settings under "Choose how updates are installed"  under Advanced options"  —> Click Start–>Settings—>Update & security —> Windows Update —>Advanced. If you do all that you'll find yourself starting at Exhibit A.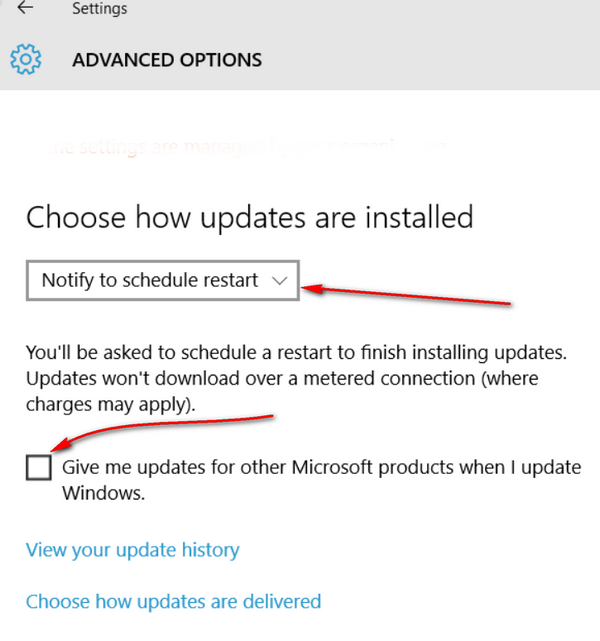 To gain some modicum of control over Windows 10 Windows Update, change "Automatic" to "Notify to schedule restart" and uncheck "Give me updates for other Microsoft Products when I update Windows".  Then you can schedule when the updates will be installed.
Now, my friends, check out Exhibit B below.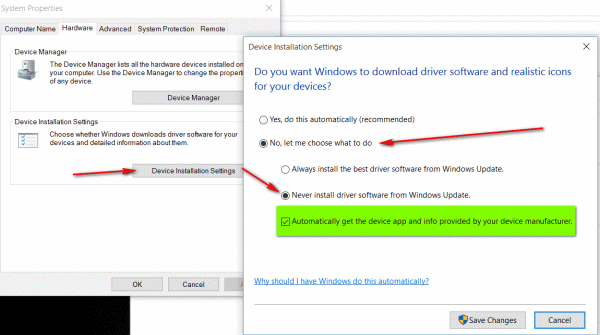 Click on Exhibit B above to see Exhibit C which is a larger version (more readable) of Exhibit B.
As you can see from either Exhibit B or C — depending on how good your eye sight is – You can get stop Windows 10 from automatically updating your drivers. Press Windows Key + E to open File Explorer. Find "This PC" in the list in the left pane and choose "Properties" and click "Advanced System Settings" in the left panel. Now click the Hardware tab in the Advanced System Settings Dialog and click the button labeled "Device installation settings" and under "Do you want Windows to download drive software and realistic icons for your devices?" uncheck "Yes, do this automatically (recommended)" and tick the circle next to " Never install driver software from Windows Update." Make sure the box next to "Automatically get the device app and info provided by your device manufacturer" is ticked.
Now for all the conspiracy theorists who say you can't do a thing about Windows 10 updates, that Microsoft will ram them down your throat and you can't do anything about it, they sure didn't do their homework – but they sure made a lot of people angry at Microsoft.
Finally, the proof, as they say, is in the pudding. You can uninstall any update you want by opening Control Panel—>Programs –> Programs and Features —> Installed Updates (see Exhibit D below):
Now right click on any old update you want and choose "Uninstall"…see Exhibit E below… and choose "Uninstall" from the right-click menu.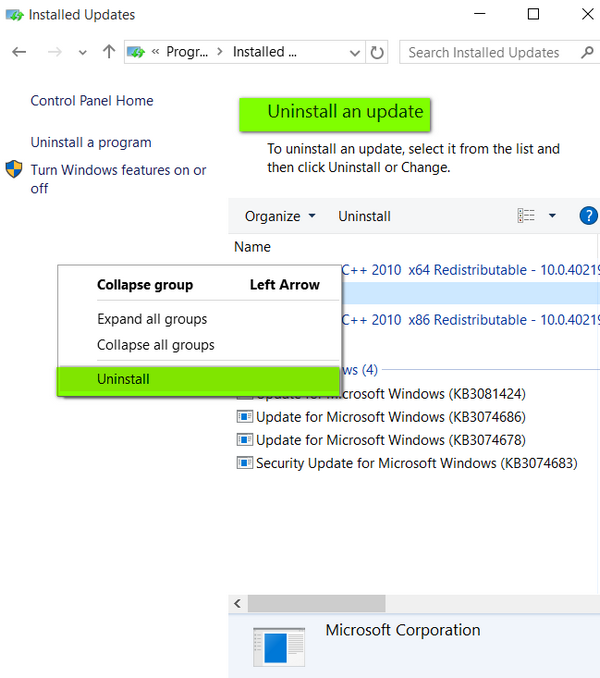 I'm tired of Exhibits. By now you should know you have more control over Windows Updates than those conspiracy-theory bloggers and journalists would have you believe.
Now, keep in mind we are not recommending any of the settings changes shown here. It's up to you. If you don't trust Microsoft and you want to have some degree of control over Windows Updates, this is how you do it.