The Green Light to Install Windows 10 Version 1903 
If you've been holding off installing Windows 10 Version 1903 (May 2019 Update) as we suggested and let other people be the "testers" and "guinea pigs", you can relax and install Windows 10 May 2019 Update or Version 1903 as it's also known whenever you're ready.
Windows 10 Version 1903 was released on May 21, 2019 – almost a month ago – and so far the only problems we have seen reported have been minor. The only major problem is the warning that "This PC can't be upgraded to Windows 10" – for which a workaround was issued back in April. If you do get the poorly-worded warning "Your PC cannot be upgraded to Windows 10" here's the workaround from Microsoft:
"…To work around this problem, remove all external media, such as USB devices, SD cards, and UFS cards, from your computer. Then, restart installation of the Windows 10, version 1903 feature update. The update should now proceed normally.

If you are using installation media (USB flash drive, DVD, or ISO file) to install Windows 10, copy the files on the installation media to your local drive, and then start the installation from the local drive…."
So, it would be prudent to use the Update assistant to update to Version 1903 and remove all external drives, USB drives, SD cards, etc. from your PC before you start the upgrade.
Version 1903 has a lot of really useful new features, some of which we outlined on this page.
Here are 3 ways you can upgrade to Windows 10 Version 1903:
1.) This is our recommended way to update. Go to this page and click on the "Update now" button. This will download the Update Assistant. Once it's downloaded, click on it to run it – it does not install. The Update Assistant will download the Windows 10 Version 1903 installation files. This can take a while, depending on your connection. It can take 10 or 15 minutes if your connection is very fast or it can take a few hours if your connection is slow. In any case, you'll be able to keep using your computer during the time Windows 10 is downloading. If you're upgrading from Windows 7 you may not see the Update Assitant link. If you don't see it, then click the button labeled "Download tool now". Once the download of the Update Assistant or the Download tool is finished, you'll have the option to click "Update now…."
2.) Visit this page, click on the "Download tool now" button to download the Windows 10 ISO file (from which you can make a Windows 10 installation DVD) or the USB media from which you can make a Windows 10 installation USB. You can then use the media to install Windows 10 Version 1903 by putting the DVD in the DVD drive, opening it in File Explorer and clicking on Setup.exe on it. Or if you created a Windows 10 USB flash drive, put the flash drive in a USB slot, open it in File Explorer and click on "Setup.exe". In either case, make sure you choose the upgrade option and not the clean install option.
3.) If you're using Windows 10 Version 1803 (or an earlier version of Windows 10) you can try this:
a. Right-click on the start button
b. Click on "Settings"
c. Click on "Updates & Security"
d. Click on "Check for updates"
If Windows 10 Version 1903 is available via Windows Update then you'll have the option to install it via Windows Update.
Remember, all computers are different and we can't make a blanket statement that none of you will have any problems with the update. However, we have not seen any major problems so far with the May 2019 Update – but there have been some minor issues that are not critical.
And remember: If you're not happy with Windows 10 May 2019 Update (Version 1903), you'll have 10 days to go back to the previous version of Windows 10 without losing any data, programs or settings.
To go back to your previous version of Windows 10, do this within 10 days of installing Windows 10 Version 1903.
1.) Right-click the start button
2.) Click "Settings"
3.) Click "Update & Security"
4.) Click "Recovery" (in the menu on the left)
5.) Click on the "Get started button" under "Go back to the previous version of Windows 10"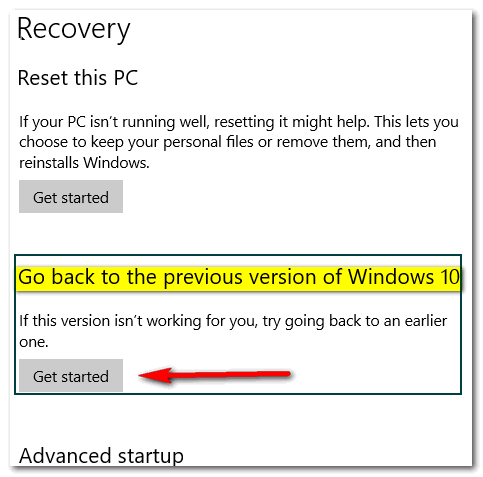 It will take between about an hour for Windows to complete this operation.
Good luck with your update!
USING WINDOWS 7?
You can still upgrade to Windows 10 free, by using the same instructions outlined in this post. We can help you upgrade and then make you upgraded Windows 10 computer look and work much more like Windows 10. For details see our Windows 10 Transformation service page.