The Windows 10 Night Light Feature

Many of you are familiar with freeware programs like f.lux. These kinds of programs change your PC screen at night, so it displays warmer colors. Some brainy scientists somewhere decided that harsh blue light from PC screens can keep you from falling asleep at night, but warmer colors (oranges, yellows, and reds) can help you fall asleep. I am not sure about this, but then, my friends, I'm not a brainy scientist.
Anyway, Windows 10 has a feature that will adjust your screen for warmer colors at night so that, according to those aforementioned scientists, you can fall asleep easier.
The only thing you have to do, if you want the Night Light feature, is to turn it on.  So, let's turn it on now, OK?
Go to Settings > System > Display
In Display, beneath the brightness slider, you'll see "Night light".
First, you will need to turn the on/off switch to "On".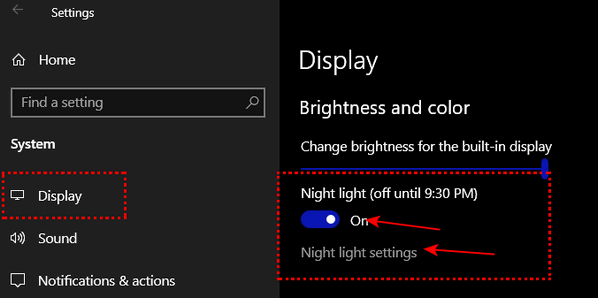 Next, under "Night light settings", you can adjust the strength of the warmer nighttime colors. You can also choose to have the night light settings to turn on at sunset and off at sunrise (based on your location), or you can create your own Night Light on and off schedule.
To schedule the Night Light hours for your own custom schedule, tick the circle next to "Set hours"…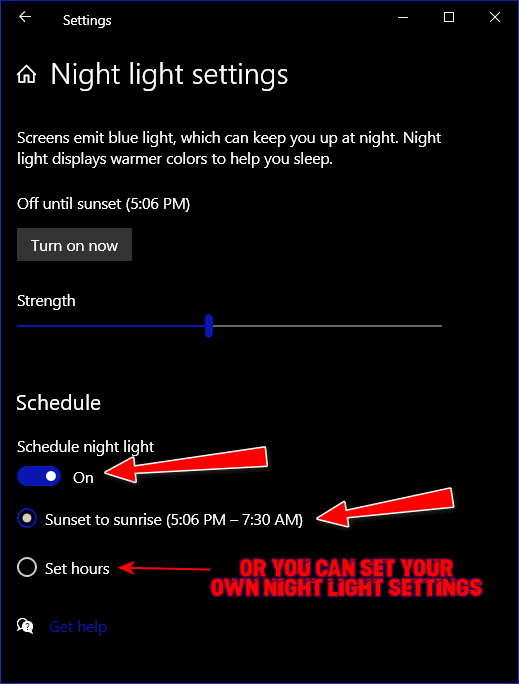 And set the "Turn on" and "Turn off" hours to anything you want.  At the time you select to turn on Night Light, you'll see a noticeable difference in the appearance of the colors on your screen… they'll be noticeably warmer.
And if you decide you can fall asleep just fine without warmer screen colors, just turn the Night Light feature off. 
Nothing ventured nothing gained, I tells ya!
Sleep well, my friends.