Thousands of Free Fonts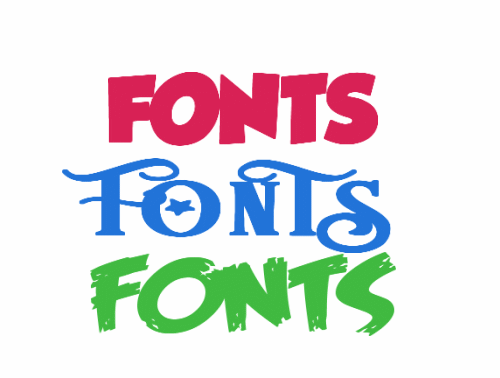 We both love free fonts – because we're broke and old and goofy. But you don't have to be broke, old, or goofy like us, to love free fonts. Anyone can love free fonts and a lot of you do.
But the world isn't always nice, so you have to be careful with many of the free font sites lying in wait for you on the web. A lot of them like to play "let's fool the suckers into downloading junk and malware or other junk with the fonts". But you don't want that, and we don't want that.
We all just want free fonts – no games, no tricks, no hassles, no malware… just free fonts.
On today's site pick, there are over 2800 pages of fonts. The site is called "1001 Fonts". Did we count them to make sure there are 1001 fonts? Nope, we didn't. But we can multiply… and we mean that in the mathematical sense only:
2800 pages x 10 fonts per page = a lot more than 1001.
The developers can make fonts and find fonts, but they don't say much at all, so we can't invite them here to give you a few words about their site because they have nothing to say. Lucky you!
And to prove we really do check out our site picks, here you go!
See? You can not only view and download thousands of fonts from our site pick, but you can also test each font right on the website. Type your text and choose a color and you'll see exactly what the font will look like before you download it. How cool is that?
Many of the fonts from 1001 Free Fonts are free for personal use only. If you're a mogul and you plan to use fonts for TV or print advertising or for advertising pork chops in the front window of your grocery store – buy a commercial license. If you just want to use them to make cute graphics or whatever, they're free. Capiche?
Get thousands of free fronts from 1001 Free Fonts
 And if you're using Windows 10, check out our tip on installing fonts.