Windows 10 21H1: May 2021 Update
We've been using Windows 10 21H1 (pre-release versions) for a while and we can tell you that it's not a major update for those of you using Windows 10 20H2 (November 2020 Update). That means that it should be a quick & easy update for those using Windows 10 version 20H2 – more like a service pack. Instead of taking hours to update, it should take Windows 10 20H2 users less than an hour. The keyword is "should". Since 21H1 has not been released yet – as of this writing – time will tell.
The good news is that Microsoft seems to be learning from the errors of the past. Windows 10 21H1 is an optional update for Windows 10 Version 2004 and Windows 10 Version 20H2 users.  According to Pureinfotech
…In 2021, the company (Microsoft) is changing the approach to continue updating Windows 10, making the first update the minor release to ensure that engineers have more time to work on the second feature update, which will be considered the major rollout.

Windows 10 version 21H1 will be an optional update available for devices running versions 2004 and 20H2. However, the company will initially limit the availability, and placing safeguard holds to prevent potential problems for not yet fully compatible devices. When the new version becomes available for your device, you will receive a "Feature update to Windows 10, version 21H1" notification to download it manually through Windows Update…

As part of the new features, version 21H1 (May 2021 Update) won't significantly change the way you use Windows 10. Instead, it will focus on some key areas, including quality, remote access, and security.

For example, if you use Windows Hello for biometric authentication, the new multi-camera support will help you to set another camera the default when using high-end displays that include integrated webcams.

This new release fixes a delay problem on Windows Defender Application Guard (WDAG) when opening a Microsoft Office. It improves file copying for files over 400MB in size when using the Robocopy command-line tool. And it addresses a problem that causes high usage of system memory when the WDAG container is idle… (Read more at Pureinfotech.)
It looks like the only major change will be the "News and interests" taskbar "widget" which Microsoft originally planned to release with the autumn update (21H2). The widget will display news and weather from the taskbar.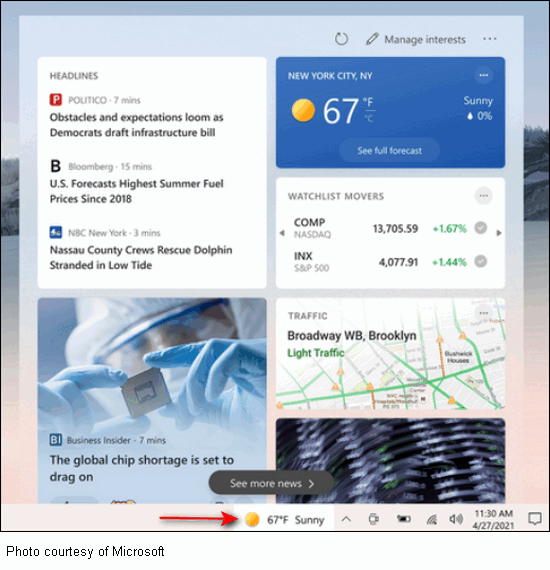 The major Windows 10 release for 2021 will be the October/November update, 21H2, also known as the Sun Valley update. In Windows 10 21H2, along with many other major changes, Microsoft will finally get rid of the old Windows 95 icons still in Windows 10 – including the old floppy disk icon.
And remember… instead of naming Windows 10 updates by the month and year of the release date (Version 1909, Version 2004), Microsoft is naming new Windows 10 by year and the first or second half of the year. For example, 21H1 means the first half of 2021 and 21H2 means the second half of 2021. , 
And… one more thing… If you're not sure what version of Windows 10 you have, type WINVER in taskbar search and press Enter.