Two More Features of Windows 10 Version 1903 We Think You'll Like
As more and more of you will be updating to Windows 10 Version 1903 (May 2019 Update), we're going to be telling you about some of the features we like and that we think many of you will like as well.  The two features we're featuring in this tip are: Pause Windows Updates and a new, easier way to access symbols like ¢₶₱©®℗÷℃°℉.
Pause Windows Updates
In Windows 10 Version 1903 you can pause regular Windows updates for up to 7 days (version updates are different and we'll cover those later).
Open Settings (Windows Key + i ), click on Updates & Security and look under Windows Updates. You'll see this: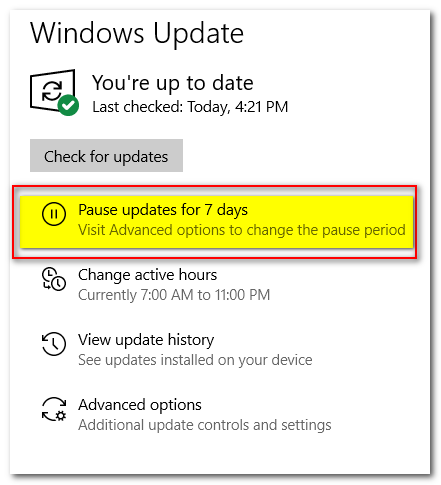 As you can see above, you will now be able to pause regular Windows updates for up to 7 days. If you click on "Advanced options" you'll see this:

You'll be able to choose the date on which you want to install the update(s) on. You can move updates back a maximum of seven days. Note: You can only pause them for seven days.  You will need to install the updates before you can pause updates again. Remember this applies to regular Windows updates. You'll be able to pause version updates for much longer.
Easier Access to Symbols
Until Windows 10 Version 1903, in order to access symbols on Windows PCs, you have open the ungainly Character Map utility by typing CharMap into a run box or taskbar search.  Remember the Windows Character Map?
Windows 10 Version 1903 introduces a new, easier way to access symbols. You can now access symbols in Windows 10's Emoji pad.  And there's a new shortcut to open the Emoji pad too – Windows key + ;  (Windows key plus the semi-colon key).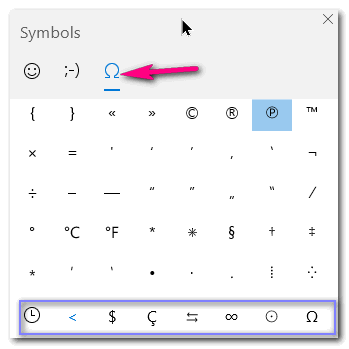 You can change character sets by clicking on the symbols on the bottom row.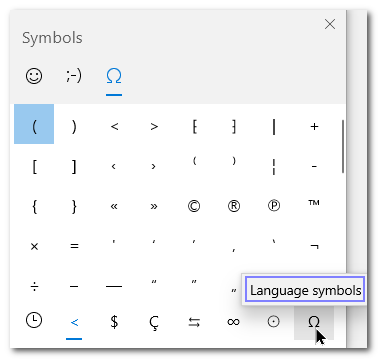 A great idea and a much easier more logical way to access symbols that you use often. Now I can say it's been a chilly day here today, the high was only 61 ℉ instead of writing out 61 degrees (F).  Or I can say EB is ½ baked.
Now, we think, you'll actually start using symbols instead of avoiding them.
©®"℗⁸Ⅳ⅞⅛°®ÂâČ¢₶⁸♪
And, we know there are at least a dozen freeware programs that make using symbols easier than the old Character Map did, but this is a really nice addition to Windows, it's really easy to use, and you don't need to download a special program – free or otherwise – to have symbols at your fingertips.
Don't have Windows 10 Version 1903 yet? Not a problem. You can save this article as a PDF file, print it, or send it to yourself by email by using the big green "Print Friendly" button at the top of this article. Then when you do install Windows 10 Version 1903 (May 2019 Update) you'll have these tips at your fingertips.
---

See our special offers for Father's Day – Something for Dad, Grandpa, and you!