How to See All the Files and Folders You've Recently Accessed

This tip is for Windows 7, Windows 8x and Windows 10
Every time you access a file or folder in Windows, it's tracked and added to a list. If you don't already know, we'll show you how you can access this list and see what's on it. And it is easy to do. Very easy.
Open a Run dialog by holding down the Windows Key and tapping the "R" key. Type RECENT in the Run box and press Enter or click "OK".
You'll see a long list of files you've accessed recently. My list goes all the way back to 3 weeks ago, which was the time I cleaned my computer using the CLEANMGR command which you can also run from a Run dialog. Note: If you run Windows Disk Cleanup or another cleanup program regularly you won't have much or anything on this list.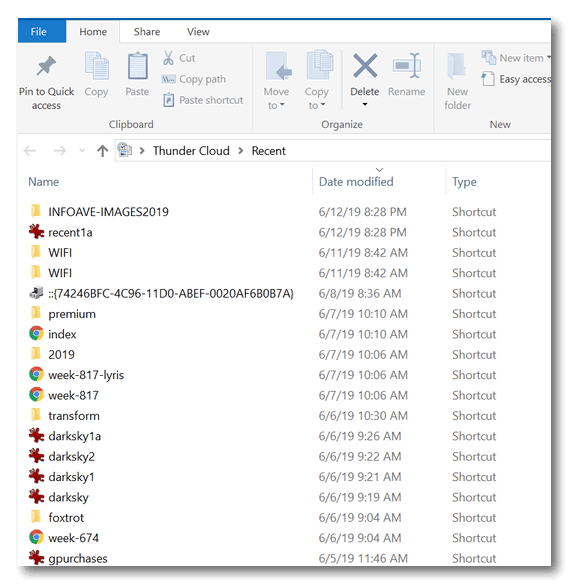 Windows 10 users will notice also that a list of recently accessed files and folders appears in File Explorer "Quick Access".
If you want to clear this list of recently access files and folders, do this:
Windows Key + R to open the Run dialog.
Type Control Folders in the run box to open Folder Options and click OK or press Enter. (Note: You can also use Control Panel / Folder Options or File Explorer / Options.) Under the General tab, under "Privacy", next to "Clear File Explorer history" click "Clear".
OK! Now you know how to see what files and folders you have recently accessed on your computer… and how to clear the list. I always love to do this with EB's computer. I bet if I saw the things she looks at I'd be embarrassed and appalled!
Windows 7 users, please note:  You will see slightly different dialogs, but the functionality is essentially the same.