One of the most commonly used icons in the Quick Launch Bar is "Show Desktop". There is no quick launch in Windows 7, but you will be happy to know that you can still "Show Desktop" with a single click. It's just moved over a bit! Look in the bottom far right, just on the other side of time/date in your system tray. See the little vertical Click it once to show your desktop; click it again to restore all open windows. See screenshot below.

You oughta be in pictures – Print photo options
Windows 7 and Windows Vista have very similar photo printing options. Windows 7 though, enhances some of those options and makes them easier to use.
When viewing an image, if you right click and choose print, you will get a lot of nice options to make photo printing easier then ever, without the need to install any additional software. The window will simply ask "How do you want to print your pictures" and many options are available, all within full view, so even a beginner can do this!
By default, only the options that are compatible with your printer will show, but you can override this option if you choose to. By keeping this option, it helps to ensure the best quality photo printing.
Other options include printer choice, paper size (dozens of choices in drop down menu), quality, number of copies per picture, and what type of picture (i.e. full page, 4×6, 5×7, 8×10, etc.).
See the screenshots below: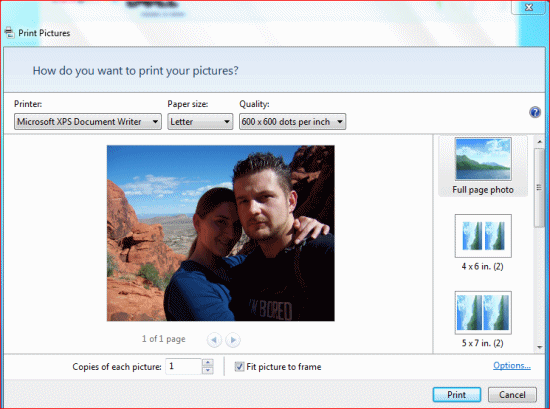 Windows 7 makes printing photos a snap – without installing any additional software.