Windows 10 Puts Weather At Your Fingertips
Recently, we had a couple of people ask  us to recommend a a good weather program for Windows. Both of these folks were using Windows 10 and neither were aware that Windows 10 comes with a very nice Weather app.  It's as good as, or better than many 3rd-party apps such as the ones offered by Weather.com and Accuweather. And there is nothing to download or install because it comes with Windows 10.
If you have never used the Windows 10 weather app, you'll find it on your start menu under "W".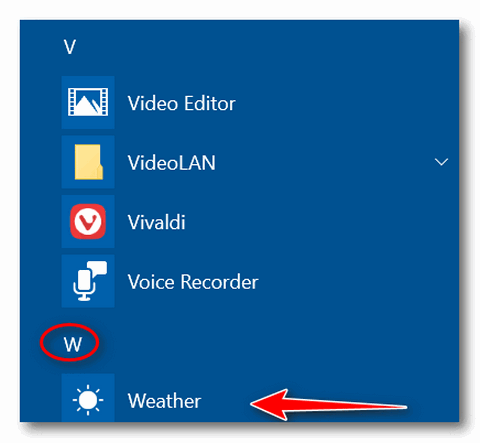 You can also type WEATHER into taskbar search to open the Weather app.
Once you open it, you'll need to configure it – and there's not much to configure.
You can choose a color mode: "Light"; "Dark" or "Windows default". You can try each of them all and find the one you like best.
If you're in the USA, you'll want to choose "Fahrenheit" unless your a masochist, a mathematician, or you were born & raised somewhere else. If you're from most anywhere else in the world, you'll want to choose "Celsius" . This also changes other items such as wind velocity, barometric pressure, et. al. to metric.
If you want to let Windows detect your location (you must have "Location" in "Settings" turned on), leave it set to default.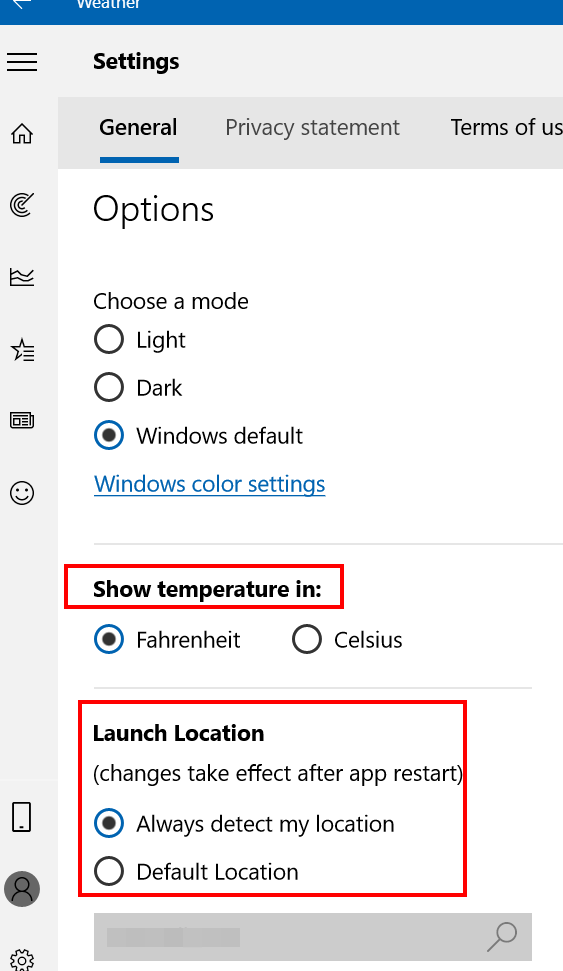 If you're concerned about Windows/Microsoft spying on you and don't want Windows/Microsoft knowing your location, you can choose "Default location". Once you choose "Default location" just type in your city's name or zip code.
Once you've set up the Windows 10 weather app, you'll see your weather forecast for the day, for the next 10 days, with a lot of details including an hourly forecast for the current date. Weather warnings show up in a yellow band across the top.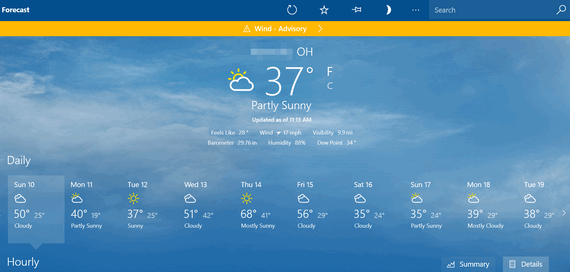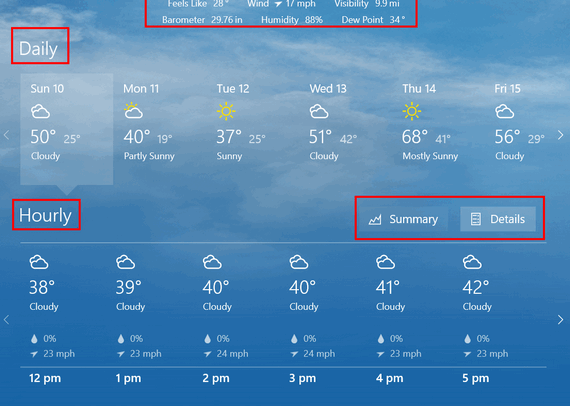 You'll also see wind direction, velocity, barometric pressure, current temperature and more on the main screen.
You can see the detailed forecast for the each day. On the daily details screen you will also see the sunrise/sunset times, moon phase, moonrise/moonset, times chance of precipitation, humidity, UV index, and Max Wind speed. You'll also see your historical weather such as the highest and lowest temperatures ever recorded for that date along with historical precipitation information.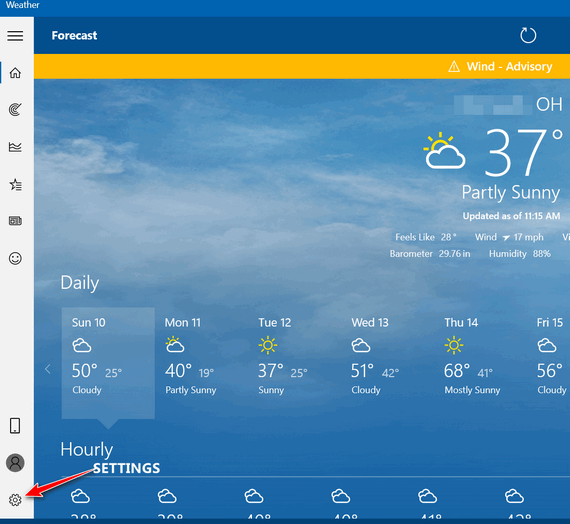 If you're an icon aficionado, you can see more settings and features by clicking on the icons along the left edge of the program. If you prefer to see a more descriptive settings menu, click on the 3-horizontal bars at the top left.

Another feature we like about Windows 10 Weather app is the ability to add more locations. If you have a favorite vacation spot, or friends or family members living in other parts of the world, you can add as many "Favorite" locations as you want and get instant current weather information about each "favorite". And if you click on any of your favorite locations, you'll get detailed information and forecasts.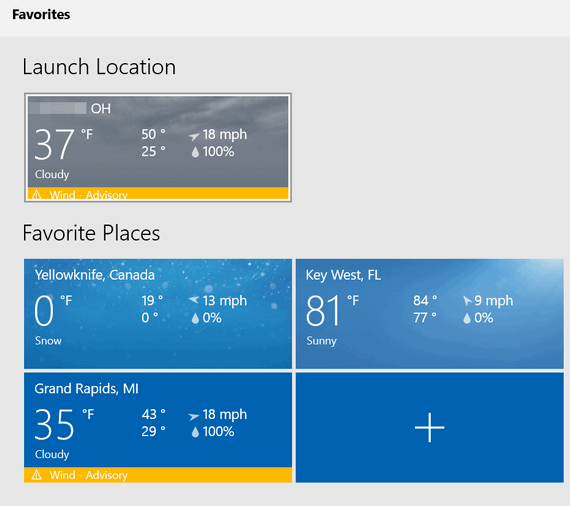 If you want to see your local radar, click on the Maps icon or "Maps" in the expanded settings menu. And you'll get an animated radar image for your location – or for any of your "Favorites".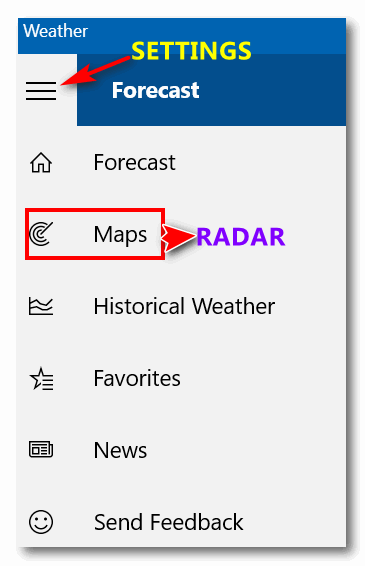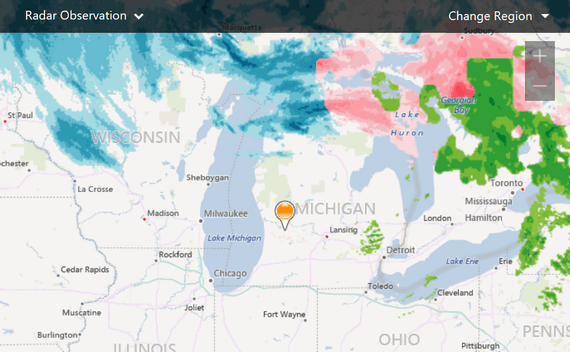 Finally, once you set up the Windows Weather App, it will be added to your start menu tiles as an animated tile. The tile will switch back and forth between current conditions and a 3-day local forecast. If the animation annoys you, you have 2 options:
You can right-click on the live weather tile, choose "More" and choose "Turn live tile off".

~ or ~

You can right-click on the weather tile and choose "Unpin from start"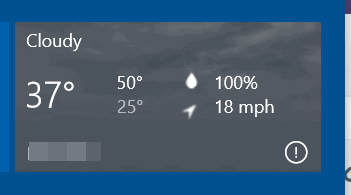 If you're using Windows 10 and you are looking for a good Weather program, you won't have to look too hard – there's a really good weather app already installed. You have weather at yoru fingertips and the app is hiding in plain sight!