If you're using a Windows 7 computer right now and you'd like to learn about all its new features, then we've got a download for you. We're not really sure how to describe this tool. It's not really a program, but yes it is a program. It doesn't perform any tasks, but it does – it teaches you all about Windows 7 in very unique way – by making all of Windows 7's features available to you — "In a Box". That's it! That's why they call this program "Windows 7 In a Box"- because it is.
— Windows7 in a Box can make the complete novice seem like a pro in just seconds.
— Uses very little Memory.
— No need to install anything.
— Sits on your Desktop or wherever you place it – it even runs from a flash drive – any flash drive
— Just click on what you're looking for and you're there. It cant get any simpler than that.
— You can access almost every function and every setting of Windows 7.
— No Spyware. No Adware. No Malware free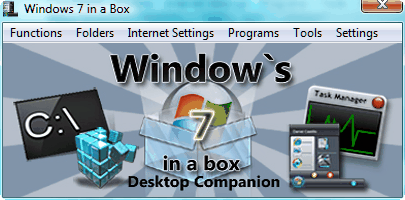 This little box sits on your Windows 7 desktop (or not – your choice)
Here's an example of what you see if you click, "Tools" for example. (See screenshot below.)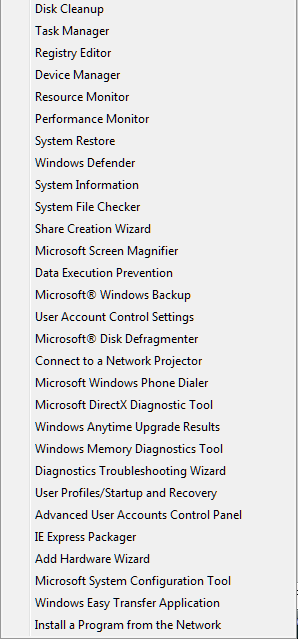 Clicking any of the items in this list opens them. What could be easier?
Windows 7 In a Box is distributed as a RAR file (250KB), we've extracted it and are making it available as an exe file, since most of you won't be able to open RAR files, and extracted this file is still less than 400KB only about a 3 1/2 minute download on dialup connections. Don't download this file if you're using Windows XP or Windows Vista. It will run just fine, but when you click the different functions, many of them won't work. DUH! Because you're not using Windows 7, of course.
You can download the EXE file here. This programs does not install. You click the EXE file and it opens. Nice program. Great if you need a zillion tips for Windows 7 and don't have time to read long, wordy tips and tricks – or Windows 7 For Dummies books.
Hope you like it! You'll learn a lot about Windows 7 by doing rather than reading.
Windows 7 in a Box works with Windows 7 – all versions (32bit and 64bit). It also works as a portable program – just download it to a flash drive and click on the executable.