Windows Driver Updates
We've been telling folks for years that some of the worst things you can install on your computer are driver updater programs. Not only are some of them bundled with badware, some of them are the badware that is bundled with some freeware. Driver updaters are not only useless, but having a program on your computer that continually scans for updated drivers unnecessarily uses bandwidth and system resources, driver updater software programs can often be right up there with malware when it comes to causing big time computer problems.
Our golden rule about drivers: If all your devices are working properly, you don't need to worry about updating your drivers. That's not to say that you will never ever need to update a driver or two.
You should never install a driver updater program. They are, more often than not, trouble. If you have a device that is not working correctly, you can check with the device manufacturer's Web site for updated drivers. And Windows has a program built in that will safely allow you to check for updated drivers for a device (or devices) not working correctly, It's called Device Manager and it's been around since Windows 95. Of course, it's been vastly improved since them. In Windows 7, Windows 8.1 and Windows 10, Device Manager makes it easy to check for updated drivers for any device that is not working correctly.
In Windows 7 and Windows 8x, you'll find Device Manager in Control Panel. Windows 10 users, can open Device Manager by right-clicking the start button and clicking on Device Manager – or by pressing Windows key + X and clicking Device Manager.
Once Device Manager is open, right-click on the device that's not working as it should and click "Search automatically for updated driver software".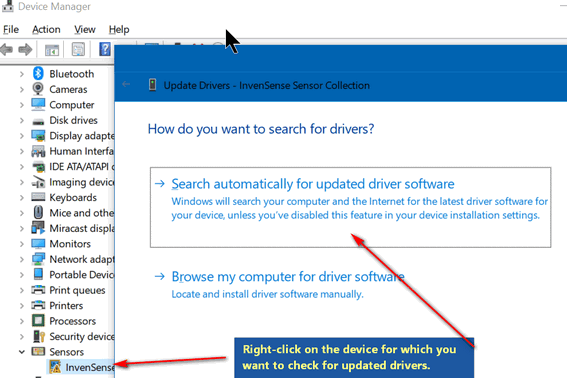 If Device Manager finds updated drivers for your hardware device, you will be able to download and install them. If it checks for new updated drivers and does not find any, you'll see this: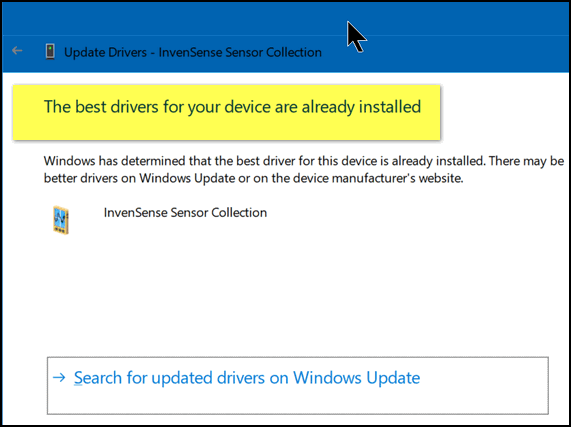 If you see "The best drivers for your device are already installed" you can be pretty sure there are not new updated drivers available. If you still want to double- check click on "Search for updated drivers on Windows Update" or, better yet, open your browser and take a trip to the device manufacturer's Web site.
WARNING: If you decide to go to the device manufacturer's web site, DO NOT search for the site using a s search engine – or you'll end up with dozens of fake sites and driver updater programs and worse. Typ in the Web site address – like www.realtek.com, www.intel.com, www.hp.com, www.nvidia.com, and so on. If you're not sure of the Web site address be very  careful if you have to search for it. See screenshot below for a big safety hint!