The guys at SysInternals create some of the best free applications around. They've received awards galore and now have their own blog on Microsoft's TechNet, which tells you something right there.
Well one of us reads their blogs regularly – always looking to pick up a tidbit or two of something to pass on to you. Such was the case today, while I stumbled around on the Web looking for a good idea for something different to present to your now-glazed eyes, I came about an article by Mark Russinovich and Bryce Cogswell – that would be the SysInternals guys of which I spoke earlier.
It seems they've been creating again and this time they've come up with a virtual desktop program that lets you display 4 different desktops on your desktop. Don't be confused folks – it's really simple.
The program is called "Desktops" and we'll let the author describe it:
"Desktops allows you to organize your applications on up to four virtual desktops. Read email on one, browse the web on the second, and do work in your productivity software on the third, without the clutter of the windows you're not using. After you configure hotkeys for switching desktops, you can create and switch desktops either by clicking on the tray icon to open a desktop preview and switching window, or by using the hotkeys…."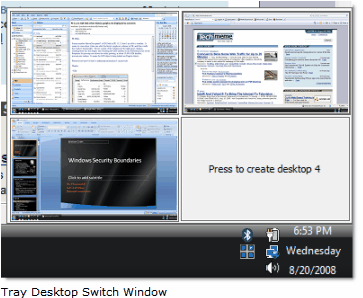 If Desktops sounds like a neat idea to you, and you'd like to learn more about Desktops – or download it – please visit this page. Like all SysInternals' software, it's not bloated garbageware – Desktops download is only 60 KB in size. That's KILOBYTES not megabytes.