2 Ways to Fix Problems with Chrome

This post has been updated for newer versions of Chrome.
One of the best things about using Chrome (or Firefox) instead of IE is that if things start going badly with those browsers, you can completely remove them from your system and re-install them.
The first thing to try: Reset Chrome.
There's a good chance that resetting Chrome will whatever problems you're having with Chrome. You can reset Chrome this way:
Go Chrome Settings and scroll down to the bottom and click " Show advanced settings". Then scroll down to the bottom of Advanced Settings until you see "Reset and clean up":


Click on the arrow to the far right (see above). The Reset dialog pops up(see below).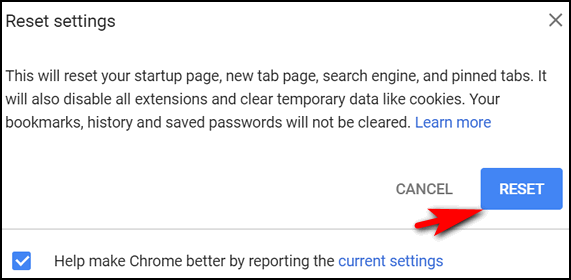 Click the Reset button. Wait while Chrome resets. Sometimes it can take a long time – be patient. When it's done,  close Chrome and re-open it. All your extensions will be disabled. You can re-enable the ones you need – but be careful. It's quite likely that your Chrome problems were caused by a wayward extension. You will not lose your bookmarks or your saved passwords – but you will need to reset your browser's start page.
If resetting Chrome does not solve your problems, keep on reading!
If your problem is caused by corrupted Chrome installation, the above won't help. But don't worry, there is more than one way to fix a flaky Chrome installation.
Another Way to Fix Chrome Problems
Here's another way, and while it's more complex than resetting Chrome – this way is almost guaranteed to fix most any problem you're having with Chrome.
Caution using this method will cause you to lose your bookmarks!
Before you proceed, you should know this procedure will wipe out your Chrome bookmarks.  If you don't want to lose them, the easiest way to keep them is to import your bookmarks from Chrome into Microsoft Edge, Firefox, IE, or your favorite browser. After you've exported your bookmarks from Chrome to another browser you can safely continue with this project. 
(Note: You can also export your Chrome bookmarks to an HTML file (web page). See this page to learn how.) 
We recommend you use a good uninstaller like Geek Uninstaller, HiBit Uninstaller, Reg Organizer's uninstaller, or Revo Uninstaller to uninstall Chrome. If you don't any of those, you can download the free version of Geek Uninstaller here. Use Geek, Revo, or another trustworthy uninstaller to completely uninstall Chrome.
After you remove Chrome you have more to do…
Press the Windows Key + E to open File Explorer, click on "View" then click on Options > "Change folder & search options" and you'll see a dialog that looks like this.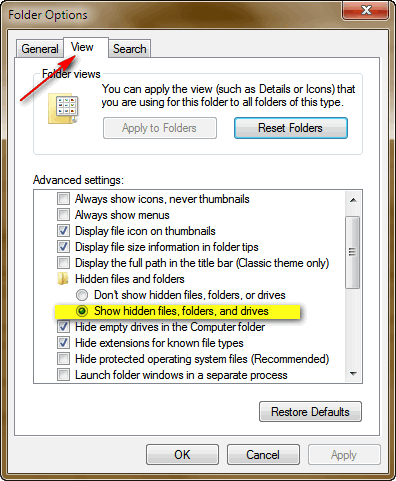 Make sure that "Show hidden files, folders, and drives" is selected.
Now press the Windows Key + E to open Windows Explorer (File Explorer) and navigate to C: \ Users \ **Your User Name** \ AppData \ Local  …
Once you're there – look for a folder called Google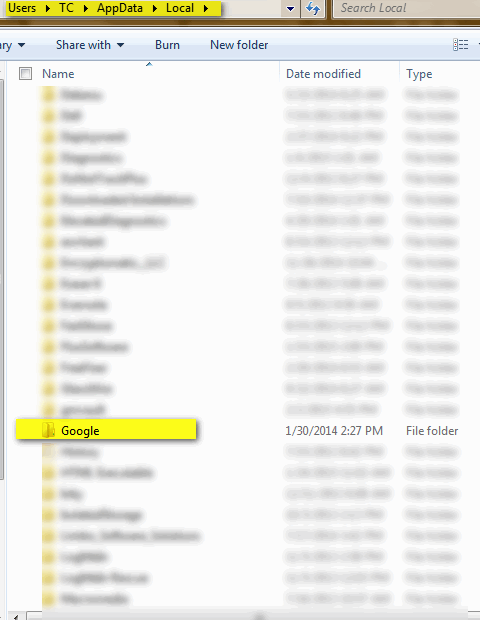 See the folder " Google ' in Users/**your user name**/AppData/ Local above? Good.
Now right-click on the Google folder and choose "Delete" 
Next… look in C:\Users\**Your user name**\AppData\Roaming and look for a folder named Google. If you see it, you'll need to right-click on it and delete it too. 
And after you're done checking for and removing the Chrome folder from both of those locations, you'll need to restart your computer. Do not skip this step. You must restart your computer before reinstalling Chrome.
After you've restarted your computer, click here to download and install Google Chrome.
After Chrome has been installed on your computer it will open automatically. Click on the Settings icon (3 vertical dots) in the top right corner:
And choose Bookmarks…
Then choose "Import bookmarks and settings…"


Now you can import them:
If you exported them to another browser, import them from the browser to which you exported them.

If you exported them to an HTML file, import them from the HTML file.
Once this is done, you will have to reinstall any extensions you want or need. Once you have all your bookmarks imported and you've installed any extensions you need…you're good to go.
Chances are good that Chrome will work perfectly for you once you've completed this project 🙂
If you have a Cloudeight Direct Computer Care Repair Key – we can do this for you if all this seems like a bit too much work 🙂
---

Big Discount On Computer Care & Repair for Our Friends 60 and Older!